​​​
   
Connected vehicle technologies are rapidly transforming the transportation industry, offering a range of benefits including improved safety, efficiency, and convenience. From advanced driver assistance systems to electric vehicle charging, telematics or digital car keys, these technologies are changing the way we travel and interact with our vehicles.
However, as these technologies offer many benefits they also introduce new cybersecurity challenges and the need for robust cybersecurity measures, which must comply with the current regulation network. Thales solutions bring trust to the implementation of these new car applications.
In the domain of connected cars, some of the key stakes for car manufacturers, equipment suppliers (Tier 1 and 2) and drivers are Automotive Connectivity and Automotive Cybersecurity. Thales solutions provide reliable connectivity and security measures that enable new car applications which are secure for both the vehicles and their occupants.
Thales also provides solutions for Electric Vehicles and Digital Car Keys, which enhance the driving experience and adapt to new mobility service users' demand.
Want to know more about Thales Automotive technologies?
Our press releases about Automotive
Our blog articles about Automotive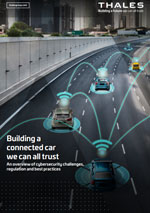 Building a connected car we can all trust
An overview of cybersecurity challenges, regulation and best practices
Read our whitepaper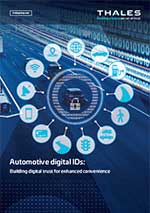 Securing connected cars for your safety
The connected vehicle is at the crossroads of multiple stakes. Among those stakes, two are of particular interest to car manufacturers (OEMs), equipment suppliers (Tier 1 and Tier 2) and drivers: connectivity and cybersecurity. The development of the connected and, ultimately autonomous vehicle requires all types of embed reliable connectivity capable of withstanding the rigors of urban environments while supporting both critical systems and infotainment applications.
Download the whitepaper to learn more about ´Securing Connected Cars for your Safety´