Connected cars and the IoT
The connected vehicle is at the crossroads of multiple stakes.
Among those, two are of particular importance for car manufacturers (OEMs), equipment suppliers (Tier 1 and 2), and drivers: Automotive Connectivity and Cybersecurity. 
Automotive connectivity
Reliable connectivity for connected cars can help with everything from telematics to preventive maintenance and accident prevention. 
Autonomous driving will be facilitated by V2X (vehicle to everything) connectivity and the emergence of 5G, which will provide a new driving experience.
However, the promise of greater convenience and safety will only happen if we navigate cybersecurity concerns with the necessary precaution. 
Cybersecurity for connected vehicles
Car cybersecurity is all the more relevant as it is now part of a European and international framework, with the upcoming regulation of the UNECE´s World Forum for Harmonization of Vehicle Regulations (WP29).
 
To succeed in this transformation, Thales supports automotive suppliers and car manufacturers to meet the highest security and connectivity standards.
Connectivity & Cybersecurity
at the heart of Future Mobility
Thales solutions for automotive IoT Thales Automotive Connectivity
Vehicle manufacturers request uninterrupted connectivity from any smart device in their cars – delays in data transmission could put lives at risk or spoil the user experience. Thales' dedicated automotive connectivity solutions offer you:
Automotive-grade, tamper-proof cellular connectivity modules which reliably transmit data even in the most extreme environments of temperature, vibration or moisture 
LTE Advanced Pro high-speed connectivity, offering high-bandwidth and low latency connectivity that improve drivers and passenger experiences
 
Automotive-grade eSIMs leadership position to identify vehicles, encrypt and secure communications. eSIMs also ensure remote connectivity provisioning as well as seamless connectivity.
Learn more: Thales automotive IoT connectivity solutions Thales Automotive Cybersecurity
Security requirements for connected vehicles are among the most stringent in the industry. Any data vulnerability puts the car at risk of theft, and, in the worst-case scenario, malicious hackers could also cause widespread accidents. Partner with Thales for:
World-renowned cybersecurity expertise, including consulting, penetration tests, security-by-design and security lifecycle management 
Secure digital IDs, credentials, and data encryption at all times to protect connected cars, their applications, and data transfer from malicious access.
 
Quality standards: our solutions comply with VDA 6.2 and TS16949 quality standards and quality processes, including APQP, PPAP, 8D reporting, and PCN process.
 
Security lifecycle management, helping you comply with relevant and emerging data privacy laws around the world. Thales Security Operations Centers (SOC) also enable car manufacturers to keep a close eye on what is happening in their fleet of cars, to be able to detect and respond immediately to possible threats.
Thales receives the Juniper "Best Automotive Connectivity Solution" Award

"Since connecting the very first car 15 years ago, the Thales eSIM connectivity management solution successfully enables automotive players to remotely manage vehicles´ cellular subscriptions across their entire lifecycle, with high security standards. The '
Best Automotive Connectivity Solution' Award
we received from Juniper Research recognizes the outstanding contribution – and future impact - of our solution to the connected car and mobility ecosystems,"
Christine Caviglioli, VP Thales Automotive.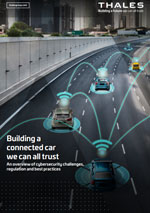 Deep dive into automotive cybersecurity regulation and best practices
With rising concerns in automotive cybersecurity, Thales supports vehicle manufacturers to understand the new regulation and how to design robust and secure architectures.
Download the whitepaper
Securing connected cars for your safety
The connected vehicle is at the crossroads of multiple stakes. Among those stakes, two are of particular interest to car manufacturers (OEMs), equipment suppliers (Tier 1 and Tier 2) and drivers: connectivity and cybersecurity. The development of the connected and, ultimately autonomous vehicle requires all types of embed reliable connectivity capable of withstanding the rigors of urban environments while supporting both critical systems and infotainment applications.
Download the whitepaper to learn more about ´Securing Connected Cars for your Safety´
Four critical features connected cars must deliver
Car manufacturers and Tier 1 suppliers need to build trust in connected cars by demonstrating that these offer: 
Cybersecurity
If a connected car can be breached, the risks are enormous - from private data being leaked to hackers taking control of the vehicle. Any connected element must implement the highest security standards. 
Always-on, reliable connectivity
Any connected car must be able to transmit automotive data rapidly and reliably. Delays could confuse the driver and even generate accidents. 
 
Device lifecycle management
It needs to be possible to remotely update, patch, and improve connected car applications and embedded devices. This process will keep connected cars working at optimal performance and protect them against new cyber risks while enhancing the user experience.
 
Worldwide and seamless operation
Any connected vehicle component or app must be suitable for deployment in any market around the world.  
Thales' dedicated automotive connectivity solutions and advanced cybersecurity expertise allow you to meet the requirements of the connected car of the future. OEMs and Tier 1 suppliers use our dedicated automotive eSIM (eUICC), high-speed cellular IoT modules, and cybersecurity solutions to enable 24/7 securely connected applications.