​​​


​
Today, mobile technology is fully incorporated into virtually every aspect of our lives. 
The promise of a "connected car" soon is extremely exciting for drivers, mobile operators, and automakers alike.
Connected car technology
Automotive-grade M2M technology is providing cellular connectivity and services enrich mobile lifestyles for both drivers and passengers offering high-speed, low latency connectivity, and a suite of advanced features including mobile Wi-Fi hotspot, Internet radio, Web services and an improved navigation system.
However, the environments automobiles encounter can be fierce and wireless technology has to withstand extreme temperatures, excessive vibration, and moisture experienced on the road. 
Besides, strict automotive manufacturing specifications add to the challenges facing an effective "smart car."
With embedded LTE solutions, car manufacturers like Audi can offer high-speed, low latency connectivity and a suite of advanced services and features that enhance "on the road" experiences for both drivers and passengers. 
Users can enjoy simultaneous embedded voice and data services, allowing one passenger to search online for the best nearby restaurant while another passenger calls for a reservation.
Embedded M2M SIMs identify individual vehicles, encrypt communications and ensure secure global connectivity for smart vehicle systems including eCall emergency solutions, vehicle telematics​​​​, navigation and more and are optimized to survive extreme environments.
Secure remote provisioning services simplify the manufacturing process and enhance security by allowing MFF2 SIMs to be embedded and installed during the manufacturing process. 
This allows to select or change wireless service providers and plans and reduces exposure to tampering and damage.
In the future, secure cloud-based service enablement and next-generation features such as secure ID-based ignition integrated N​FC and mobile​ ​wallet applications, and integration in the smart city will further contribute to convenience for drivers and passengers alike.​
Explore our automotive IoT use cases in details.
Discover the benefits of autonomous cars
​Ensure always-on Mobility
Gemalto's solution enables the use of end-users' subscriptions for infotainment services in mobility and provides the technical enabler for Infotainment/Telematics connectivity.
Gemalto can connect all vehicles with :

End-to-End Cybersecurity for Connected Vehicles (Brochure - Sept 2020):
Cybersecurity is complex and quickly evolving. Leveraging advanced and proven expertise in digital security and IoT, the Thales Trusted Key Manager provides car makers with support for digital transformation while ensuring the end-to-end security of the automotive ecosystem.
Read more

Connected cars and smart cities: securing the future.
What does the future hold for connected cars and smart cities? What will the security challenges be? And what role will personal data, connectivity and machine learning play?
Jeremy Green has worked in the telecommunications industry for over 30 years, most notably as an industry analyst at specialist research companies including Machina Research and Gartner. He shares his thoughts on how he sees the future of connected vehicles and smart cities shaping up.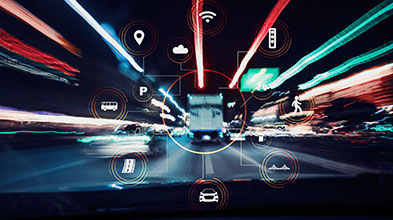 How connected cars are changing the face of the automotive industry
After a century of gradual upgrades to make vehicles faster and sleeker, digitalization and continuous connectivity are changing the face of the automotive industry and the very nature of transportation. Learn more in our series of articles and exclusive video interviews.
Read more