SIMs for the IoT: what's so special?
IoT SIM cards are Subscriber Identity Modules (SIMs and eSIMs) that enable IoT devices to identify them when they connect to 2G, 3G, LTE, or 5G wireless cellular networks.
But the IoT requires more robust, or 'ruggedized', SIM and eSIM than those employed in consumer devices.
In essence, depending on the use case, SIM and eSIM in the IoT may need to endure greater extremes of temperature, humidity and vibration.
There's more.
IoT SIM and eSIM will typically need to be adapted to longer product lifecycles and low-power designs that extend battery life.
The result?
Mobile network operators can claim and retain a significant stake in these new IoT markets. They can deliver compact and robust security technology and establish new opportunities for OEMs, IoT Service providers, IoT integrators, and other key partners.
Best IoT SIM Cards for your IoT applications
Thales offers unique competence in ruggedized IoT SIM and eSIM.
Thales M2M/IoT SIM technology is integrated to improve business processes, productivity and security across a broad range of vertical markets.

These include energy, automotive, track and trace, metering and smart grids, healthcare, security systems, routers and gateways, remote maintenance and control, and many more.
Key benefits of our cellular IoT SIMs
Thales developed a dedicated industrial platform to meet the need for an IoT SIM card (aka M2M SIM cards) that is rugged for long life in extreme conditions. It has quickly become the preferred solution for enabling secure cellular connectivity. 
Field-proven solution with warranty extensions
Already field proven, this unique platform is powered by an advanced operating system and features extended memory management and data retention for up to 17 years.
Flexible eSIM connectivity
Available in several form factors, Thales ruggedized SIMs and eSIMs contribute to the success of M2M/IoT systems worldwide, offering a dedicated component with the right combination of operating system intelligence, longevity and flexibility.
Key features of Thales SIM cards for the IoT
Our ruggedized SIM and eSIM for IoT are designed for maximum dependability under the harshest environments and offer these key features:
Explicitly designed for M2M/IoT use cases (low power compatible product)
Available in mono-profile (ruggedized SIM for IoT) and multi-profile (eSIM for IoT) versions
Choice of grades (domestic, industrial, automotive)
Available in removable and solderable form factors PK or non-PK option
Multi-network support: 2G/3G/4G-LTE/5G
Extended life span
Highly secure
Automotive certifications and quality procedures (e.g. AECQ100, ISO/TS 16949)
Thales IoT SIMs - Product range overview
Thales offers a comprehensive range of card bodies for ruggedized SIM and eSIM for the IoT, with different form factors available for both removable and solderable options.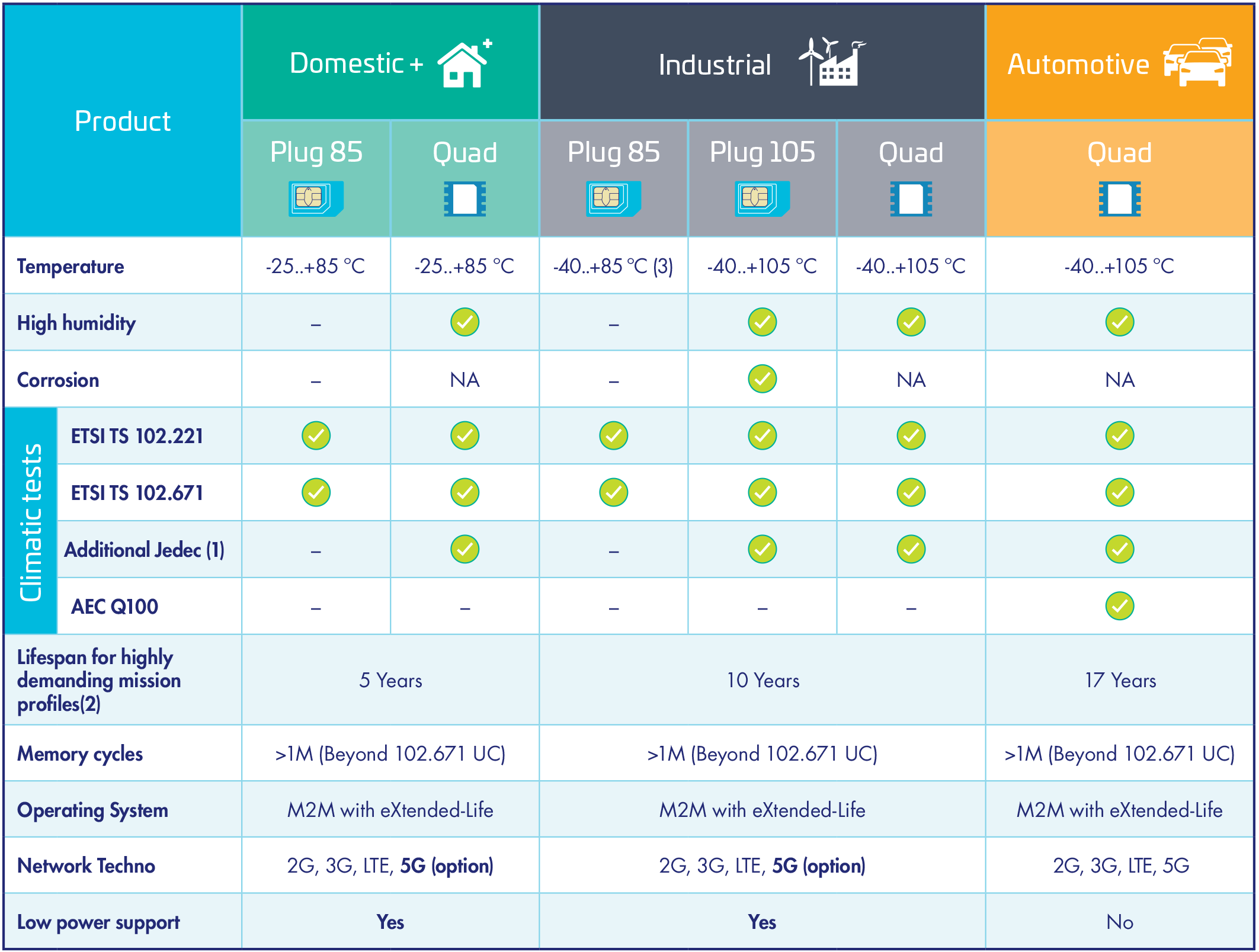 ​
Technologies associated with Thales IoT SIM cards
 Java Card OS,
eXtended life mechanism,
Global Platform,
GSM standards,
Subscription management services.
More resources on IoT SIM cards, connectivity and security