As one of the world's largest suppliers in the aerospace sector, Thales is a renowned leading provider of avionics for all major global airframers). Our flight decks, equipment, flight instruments as well as software functions are onboard the most successful aircraft programs in the air transport including regional and business jets. We also equip military air transport aircraft as well as fighters and civil and military helicopters.
Cockpit systems integrator and equipment supplier
Recent contracts have underscored Thales's credentials as an onboard systems integrator as well as a supplier of high-performance avionics equipment. As lead systems integrator for civil aircraft avionics, Thales selects equipment suppliers and integrates their products within a robust, open architecture to deliver complete shipsets comprising as many as 120 different items. We support the aircraft manufacturer throughout certification, guaranteeing that all the necessary documentation, processes and assurances are in place when the avionics solution enters service.
Our scope of civil and military products portfolio includes:
Flight deck systems,
Flight Management Systems (FMS),
Flight controls,
Autopilot,
Integrated Modular Avionics (IMA), cockpit displays and computing platforms,
Eyes-out solutions from head-up displays to helmets and head-worn displays.
Thales: a global player in aerospace domain
We are uniquely positioned to bring together the latest robust technologies to design world-class secure, easy to use interactive cockpits and avionics systems for all types of civilian and military aircraft. With extensive experience in civil and business aircraft, helicopters, military aircraft and UAVs, our innovative 'supported-through-life' strategies maximise the efficiency of aircraft and their crew.
 
On the maintenance side, more than 1,100 highly skilled avionics employees operate through locally based operations worldwide to provide a global service, supporting flexible systems architectures, ease of maintenance and upgradability.
Efficient aircraft programme and supply chain management
Working with aircraft manufacturers from the start of each programme, Thales provides advanced simulation tools and resources to validate operational concepts and tailor the avionics suite to the aircraft. With this approach, we can meet our commitments in terms of delivery deadlines and guarantee that our avionics solutions achieve the required level of maturity ahead of the aircraft's first flight.
 
Manufacturing development is planned as soon as the first prototypes are produced. Throughout the programme, Thales keeps pace with aircraft production rates, implementing flexible supply chain management solutions that are recognised by the industry for outstanding quality assurance and ontime delivery performance.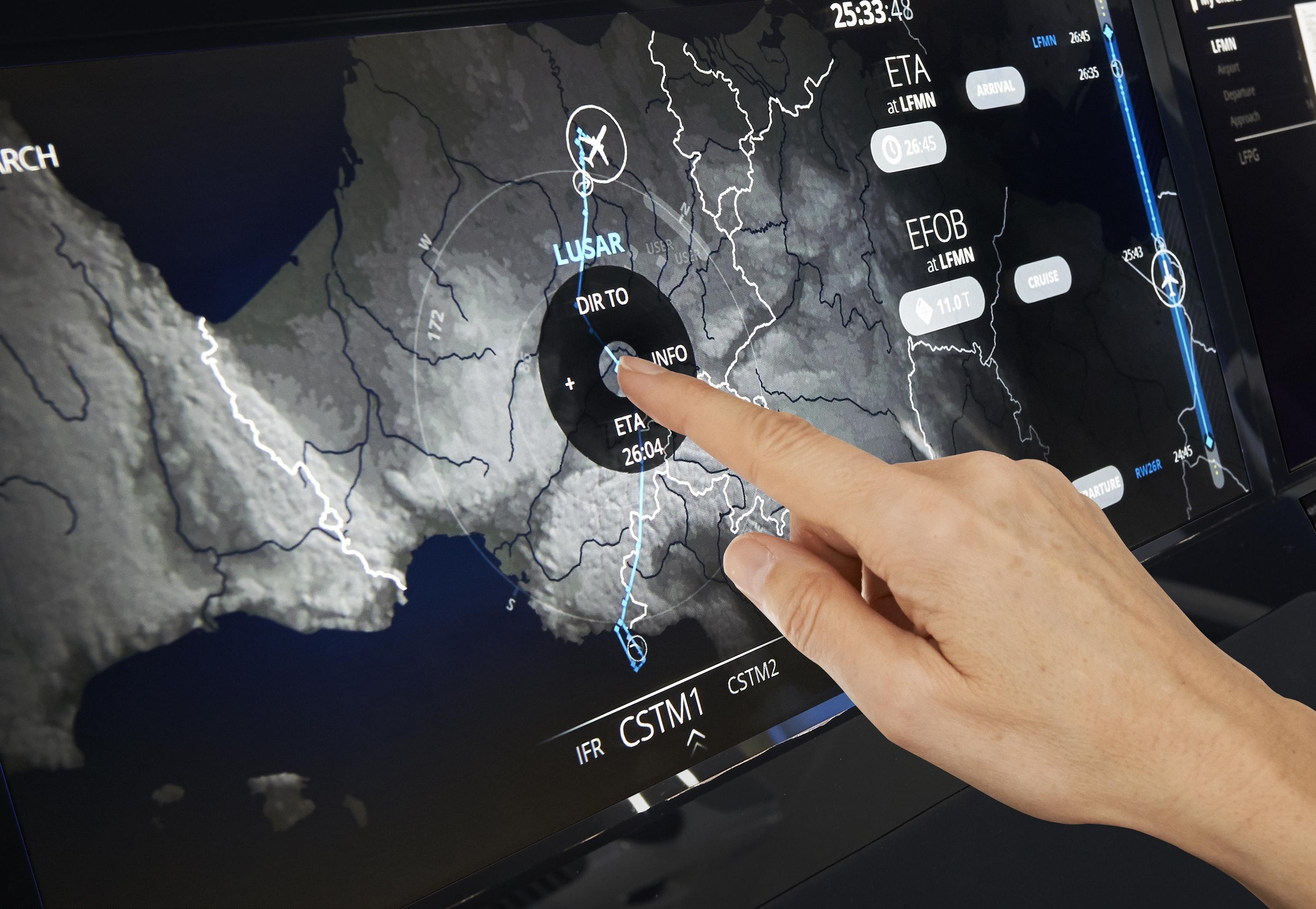 © Avionics2020_tactile_screen_and_hand_copyright_ Thales
Flight deck innovation across all aircraft types
Thales invests significantly in R&D to design avionics suites and technologies that address the future challenges of the aerospace industry and meet the exacting requirements of air transport operators. Our advanced avionics concepts help to shape all new aircraft programmes and are available as retrofit or upgrade solutions for earlier generations of airliners.
Thales onboard major programs
Thales is proud to be onboard prestigious aircraft programs amongst which (non exhaustive list):
 
In the civil transport:
Airbus A320 family, A380, A350 XWB
ATR-600
Boeing B787
Bombardier Global Express, Global 5000, 6000, CRJ700/900/1000, Learjet 85
Dassault Falcon 5X
Gulfstream G500, G600, G650
Sukhoi SSJ-100
 
In the military domain:
Airbus A400M
Dassault Mirage 2000, Rafale
Embraer KC390
Eurofighter Typhoon
 
In the helicopter sector:
Airbus Helicopter Tigre, H Force
Boeing Chinook
Leonardo A109, Wildcat
NH Industries NH90
Sikorsky Blackhawk, S76D