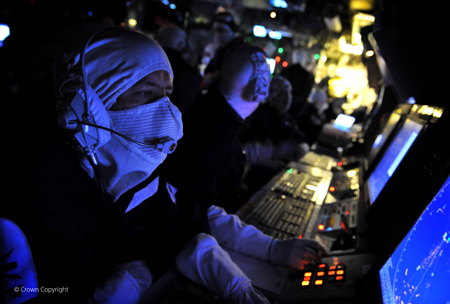 Electronic warfare (EW) detects, interprets, controls or disrupts signals in the electromagnetic (EM) spectrum, typically radar, radio or infrared transmissions, to protect military assets from potential threats.
Operating in three ways, EW ranges from passively providing situational awareness to detecting and actively disabling enemy transmissions or threats:
ELECTRONIC SUPPORT: Sensing EM activity
Informative activities and cyber measures to detect threat
ELECTRONIC PROTECTION: Safeguarding EM activity
Defensive activities and cyber measures to neutralise threats
ELECTRONIC ATTACK
Preventing threatening EM activity
Across land, sea and air, situational awareness and insight now drive global superiority in defence.
In any deployment, controlling and mining the electromagnetic spectrum for information is a primary objective: both tactical and strategic decisions depend on it. But, as bandwidth becomes ever more congested, the technical challenges faced by detection equipment are immense.
Unprecedented growth in electromagnetic transmissions across the spectrum means traditional systems are struggling to detect threats. Even in the higher bands, the radio frequency spectrum is saturated. Compromises like enforcing radio and radar silence to mitigate on-board interference or relying on costly, laborious manual filtering are simply unacceptable.
That's why Thales is reinventing Electronic Warfare.
Applying transformative expertise and advanced digital technology, only Thales delivers trusted, field-proven superiority for electronic surveillance, intelligence and self-protection.
On land, at sea and in the air, constantly see, identify and assess all enemy threats.
60 years' EW experience
Protecting populations and territories in 50+ countries
Number one European provider of advanced sensors and mission systems
Innovation and manufacturing in France and the UK
Installed global base includes 40 navies, armies and  air forces
Whether engaging conventional or asymmetric forces, today's land forces operate in a dense challenging electromagnetic environment. As connectivity increases, the need for more capable electronic warfare systems handling large volumes of signals in a dynamic battlespace is accelerating.
OUR SOLUTIONS
Scalable tactical electronic support and attack solutions to intercept and locate enemy emitters, and to jam or deceive enemy emissions.
Self-protection against Remote Control Improvised Explosive Devices (RCIED)
Electronic Warfare Centres
Facing a much wider variety of threats, and with a broader range of electronic emitters on board, naval assets need EW systems that can rapidly sift through the clutter – without compromising the electromagnetic picture, as well as appropriate countermeasures able to jam, deceive, decoy.  
OUR SOLUTIONS
Advanced EW suites including Radar Electronic Support Measures (R-ESM), Communications Electronic Support Measures (CESM) and countermeasures.
Naval EW Operational Support (NEWOS)
Airborne platforms have become the principal means of gathering electronic intelligence about an adversary's capabilities and intentions. Thales provides the heart of the advanced airborne capability for French Armed Forces.
As far as self-protection of airborne platforms is concerned, Thales aims to equip platforms entering complex operational environments with a system providing instantaneous detection, identification, designation, and countermeasures implementation. 
OUR SOLUTIONS
Sophisticated airborne detection, signals intelligence and missile threat countermeasures.