IoT in healthcare: challenges

We are at a crossroads for connected medical devices. 

With the current pandemic, IoT healthcare solutions have the potential to dramatically improve patient outcomes and save millions of lives thanks to remote patient monitoring (RPM) and Decentralized Clinical Trials (DCT) – all while meeting the challenge of rising healthcare costs and an ageing population. 

We can see a real shift with healthcare providers´ CIOs claiming a will to increase their digital processes from a 36% basis in 2020 up to 53% in 2022. 

However, the move to the Internet of Medical Things or IoMT increase the amount of cyberattacks against connected medical devices - putting patient data at risk and undermining confidence in the sector.

 

 

4 key features that IoT medical devices must include

More than ever, connected medical devices need to be carefully design to meet the requests of medical professionals, patients and governmental regulators:

Reliable connectivity
Devices that record and send critical data must be trusted to stay connected for extended periods.

Compliance with medical devices regulation
Your devices must comply with privacy and cybersecurity regulations such as IEC 62304, ISO 13485:2016, MDR 2017/745, GDPR or NIST SP 1800-30
 
Long-lasting
Devices must be future-proofed to allow secure remote software or security updates that provide optimal performance over extended periods.
 
Ease of use
For your device to be adopted, it must be easy for patients and doctors to connect and run with minimal intervention or set up.

Thales' 24/7 cellular connectivity solutions, advanced security expertise, and device lifecycle management platform offer a comprehensive solution that helps you meet your customers' needs. 

 

Together, we help differentiate
your connected medical devices.
Thales recognised as #2 Established Leader in the Juniper Research Smart Hospital Report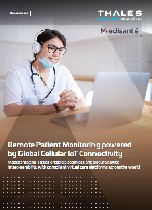 Remote Patient Monitoring powered by Global Cellular IoT Connectivity (Case Study)
By giving care teams seamless and secure access to real time health indicators beyond the walls of their hospital or practice, Medisanté – an innovator in medical IoT – and Thales empower connected care. The partnership enables device interoperability with compliant virtual care platforms across the world.
Learn more on successful Remote Patient Monitoring (RPM) implementation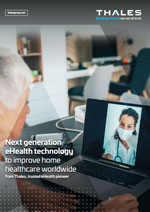 Next generation eHealth technology to improve home healthcare worldwide
Thales's innovative and agnostic eHealth solution reliably connects disparate remote medical and wellness devices with eHealth clouds and hospital information systems. We enable the secure aggregation and encrypted transfer of private patient data, for quicker eHealth adoption.
Learn more on eHealth technology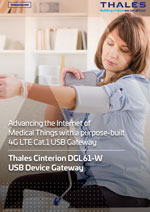 Advancing the Internet of Medical Things with purpose-built 4G LTE USB Gateway
What happens to deployed medical devices that rely on 2G/3G connectivity as those networks sunset? Thales delivers a first to market solution for retrofitting existing IoMT applications with out-of-the-box 4G connectivity, dedicated to long-life medical applications. It provides strong competitive advantage for healthcare system integrators.
Learn more on Medical Devices´ extended connectivity solution
The Thales advantage for medical IoT
Real-time cellular connectivity
Wherever your device is, wherever patients are, be confident that a continuous stream of data is being collected.
Cybersecurity you can depend on
We bring you decades of experience building cutting edge cybersecurity solutions for industry.
Device lifecycle Management
When your devices are in the field, you can be sure that they will be monitored and maintained securely.
Applications supported by Thales
Our IoT connectivity and security solutions work seamlessly with a wide array of medical devices. Contact us to find out how we can connect and secure the following kinds of devices and applications:
Chronic care management
Assisted living
Wearables and fitness trackers
Remote treatment solutions
Confidential health data hubs
Sleep Therapy devices (Sleep Apnea) 
Blood glucose and diabetes monitors
Asthma inhalers
Blood pressure meters
Cardiac rhythm monitors
And many more
 
Thales solutions for IoT in healthcare SECURE your healthcare application
Medical IoT devices transmit some of the most sensitive patient information. It must stay confidential on the device, while in transit and should only be visible by the patient's doctor and treatment team. Thales provides:
World-class ID for each of your devices and encryption-based digital signature schemes for messages sent from a device. This avoids cloning or access from illegitimate sources.
We encrypt data on all devices, as well as in transit via external platforms.
Security updates and access credentials are managed remotely by legitimate actors. CONNECT your healthcare application
When it comes to transmitting medical data, reliable connections are crucial. At Thales, we firmly believe the cellular transmission is a superior solution to WiFi for sending medical data - especially with the emergence of LTE-M and NB-IoT. These technologies connect your devices anywhere and are ideal for power-sensitive, long-life IoT applications that don't need high data bandwidth and often run on battery.
Cellular modules are 'plug and play'. The patient is not required to enter lengthy WiFi passwords when at home, at work, or while travelling.
Thales offers a remote SIM provisioning capability, which gives you the flexibility to design devices that can be used anywhere in the world. By embedding an eSIM in our modules, any mobile network operator profile can be easily downloaded once devices are deployed in the field. It simplifies device installation and ensures 24/7 connectivity, as the system can automatically swap to another operator, when and if needed. MANAGE your healthcare application
Medical IoT devices are often long-lasting companions. During their long life of operation, regular updates are essential to keep devices secure and working at optimal performance.
Patients cannot be expected to bring their medical devices back to the healthcare facility for updates. Thales offers healthcare providers a solution which pushes updates remotely, securely and simultaneously to large fleets of devices
Medical devices updates can be run in a cost and time-efficient manner, improving your TCO