Last updated 23 March 2021- average reading time: 11 minutes
"Voting is a right and taking part in his country's government is the cornerstone of democracy" Article 21 of the Universal Declaration of Human Rights. 
Without an exhaustive, credible, and reliable electoral roll, this right cannot be exercised. 
​​​​​​

Biometrics for elections and the "One person, One vote" principle​​
Many countries are still finding themselves confronted with difficulties in registering and authenticating voters. 
They are gauging the adverse effects of this on their democratic process.
Indeed, over the last ten years or so, the usage of biometric registration and biometric voting systems has become more widespread​. The aim is to ensure voter equality, based on the principle of "one voter, one vote," in other words, that everyone's vote should count equally. 
Elections are still a moment of considerable tension in many countries, from demonstrations and confrontations to extreme violence. 
Solutions that make it possible to improve the electoral process with the various political powers' approval are democratic progress for the country and its neighboring countries. 
"Democracy is always a work in progress," as stated by UNDP (United Nations Development Programme), a key player in supporting democratic elections.
We will detail the benefits of biometrics and biometric voting systems in Africa in particular. 
We will give examples and share some of our best practices.
Let's jump right in.
Modernizing the identification process: a strong trend in Africa 
We are witnessing a growing desire among African countries to digitize and secure data and documents related to civil identity. 
According to good-id.org, more than 60% of African countries plan to launch or refresh their identity program in the next two years.
It is foundational for any society that recognizes its members' real value and wishes to give them full entitlement to exercise their civic and social rights by issuing them with legal documents that provide unique and reliable proof of their identity. 
Of course, this includes the benefit of access to simplified administrative procedures, and above all, the capacity to exercise their right to vote in an electoral system with less fraud.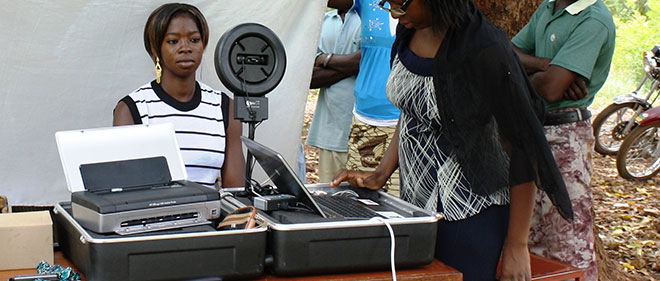 Elections in Africa​: 35+ in 2021-2022
A pioneer in digital security worldwide and a key player in Africa, Thales is deploying its biometric identification systems and solutions to modernize electoral rolls and open the way for people to exercise their civic rights. 
With more than thirty legislative and presidential elections​ in Africa in 2021 and 2022, electoral processes are a very topical issue and deserve all the attention it receives. 
 What are the challenges involved in the modernization of electoral processes? 
A democratic, reliable, and fraud-free electoral process is an essential factor in establishing lasting peace and stability in a country.
 
Elections allow individuals to cast their vote for or against a political candidate without recourse to violence and make a peaceful contribution to political change.
 
In turn, voter registration makes it possible to ensure that citizens eligible to vote can exercise their right to vote on Election Day. 
​​​​Biometrics for voter identification and authentication 
Biometrics ​is the best technology to identify and authenticate individuals reliably and quickly based on their unique physical characteristics, such as fingerprints, to cite just the most well-known example.
​For voter authentication, the prints are compared against reference fingerprints stored on an identity document or in a fingerprint database, enabling the owner to be securely authenticated as the document holder.
Identification answers the question, "Who are you?" In this case, the person is identified as one among a group of others (1: N matching). The person's data to be identified are compared with other persons stored in the same database or possibly other linked databases.
Authentication, also called verification, answers the question: "Are you really who you say you are?" In this case, biometrics allows a person's identity to be certified by comparing the data they provide with pre-recorded data for the person they claim to be (1:1 matching). 
​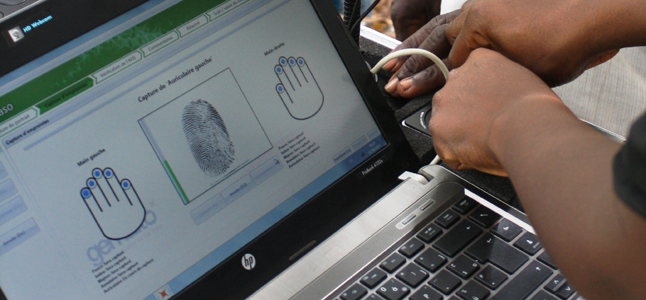 We cover this topic in greater detail in our report entitled Biometrics for use in identification. ​ 
Protecting the equality of votes: the aim of electoral biometrics​
In electoral law, the ballot is considered fair if it meets the requirements of equality and liberty, and the secrecy of voting is respected. 
The usage of biometric systems in electoral processes makes it possible to meet challenges involved in implementing the principle of "one voter, one vote," which is necessary for the holding of democratic, free and transparent elections. 
In particular, it implies an obligation to guarantee the fairness of the ballot for the electoral authorities. 
How?
All steps in the electoral process have to be taken into account, from voters' enrollment to the ballots' definitive results and electoral operations themselves. ​​ 
Biometrics for elections: 2 primary objectives 
It makes it possible to compensate for the lack of a mechanism for the identification of voters.
Guarantees the elimination of multiple enrollments on voter lists.​  
With the taking of a photograph, it is possible to visually authenticate a voter: the photo on the voter's card is compared to the holder's face and the picture in the voting office's voter lists.  
To make such identification possible, operators have to be trained accordingly. The photographs have to be of a minimum quality during the enrollment phase, and in particular, have to comply with the recommendations defined by the ISO/IEC 19794-5 standard.
This norm
serves as a reference for the International Civil Aviation Organization (IACO) 9303 standard
for passport photographs. ​
This standard imposes scene constraints (lighting, pose, facial expression),
photographic properties
that have to be satisfied, and digital image attributes (resolution, size, etc.).  
 ​
​It is often challenging to meet these constraints in rural areas. 
Technical skills are not generally the same as those required when recruiting a local government employee or electoral commission officer. 
The elimination of multiple enrollments is demonstrated by a systematic search for duplicates (based on biometric characteristics such as fingerprints) using an Automated Fingerprint Identification System (AFIS). ​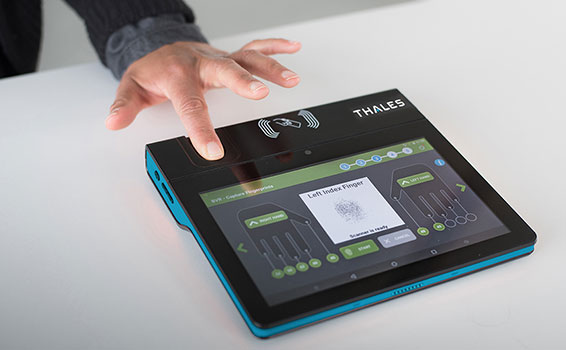 Biometrics: A tool for voter authentication​
Biometrics is thus, first and foremost, a tool for voter verification. 
It proves to be very useful in cases of electoral fraud related to identity theft. It is impossible to authenticate the voter or when statistics on persons registered to vote have been artificially inflated due to the introduction of fictitious voters. 
However, until electoral fraud cases have been demonstrated and quantified, it remains difficult to establish what contribution the use of biometrics would make to the ballot's fairness.
Biometrics is only useful in cases where the civil register or population records cannot fulfill the function of identifying voters.
The two criteria which justify the use of electoral biometrics 
The quality of the civil register plays a dominant role in this decision. An obsolete or incomplete civil registry cannot be used as an adequate basis for an electoral or referendum process. Under no circumstances can biometrics be used in an electoral process to replace a country's civil registry administration.
 
The existence or perception of fraud (relating to applying the principle of one voter, one vote) is the second criterion for using biometrics. ​

Mobile biometric voter identification on polling day contributes enormously to flexibility and reinforces the principle of "one voter, one vote."
The conditions for the implementation of biometrics serve to validate its effectiveness. 
The context in which biometrics is applied plays a dominant role in its success or failure. 
Just think about it.
In a tense political context, where there is a total lack of trust between the different people involved in the electoral process, biometrics can itself become something of a double-edged sword.
It may help to resolve problems with the identification of voters and prevent fraud of a particular type. Still, it cannot, by itself, render an electoral process reliable, credible, and transparent. 
It must take account of local specificities and the impact of cultural and human factors on the technology's limits. 
In the specific case where biometrics is introduced to compensate for a reliable civil register, it is not the electoral process that has to be biometric but the national system for identifying citizens. 
This approach is desirable as it can lead to a reliable method of identifying populations and a civil register, which can subsequently be used in an electoral context.  
​

Mobile registration kits leaving for DR Congo – summer 2016 
Biometric voting systems in DR Congo
Interview from Thales team leader
What project are you currently working on? What is your initial feedback regarding the experience?
I am working with my team on an exceptional project: the preparation for elections in the Democratic Republic of Congo (DR Congo), a country with over 85 million inhabitants and as big as Germany, Italy, Spain, France, and the UK put together. 
As part of the modernization of the national electoral register, the aim is to deploy more than 22,000 portable registration kits to enroll over 45 million voters. 
This figure is a challenge that we are currently rising to, thanks not only to our industrial capacity but also to the most notable thing - with the National Independent Electoral Commission (CENI) and its teams right from the production phase.
This challenge is being shared between the CENI and Thales. 
For example, we have incorporated experts from the CENI into our enrolment software development teams for the first time. I have to say we have been surprised at just how effective this partnership is proving to be, and it is enabling us to save a lot of time. We have also considerably sped up testing and validation processes to deliver custom software for the DRC. 
The CENI has shown a great deal of pragmatism and maturity in its approach. 
In particular, the pilot conducted successfully over the past three months managed to register over 700,000 voters in a selected region with nearly 500 kits installed. The extreme climatic conditions with average temperatures of 44-45°C meant we were obliged to redesign our equipment to optimize the ventilation, maintenance, and layout of devices. 
​
You have taken part in electoral projects in Benin, Burkina Faso, Comoros, and Guinea. What changes have you seen?
We are moving away from a solution for registration and the creation of voter lists towards a turnkey solution to revise the electoral register. It is quite a different problem.
The aim is to take some of the central organization's burdens and settle disputes as close as possible to where the provisional electoral rolls are created. 
The national electoral commissions [CENIs] have to organize the gathering of complaints (errors in names, concerning electoral districts, etc.). 
This process represents a lot of administrative work. It is more efficient to allow the Chairperson of each center to resolve these points locally during the enrollment phase. 
To conclude, I would like to underline that these projects require us to have a committed, expert, and fair approach, with an ongoing concern for the general interest because of what is at stake. 
I would finally like to express my respect and admiration for the tremendous amount of work done by the national electoral commissions [CENIs] thanks to their presence in the field and their knowledge of the geography and configuration of their respective countries that are even more detailed than what any map in existence could offer. 
Statements gathered on 23 November​ 2016
The elections were postponed several times. They were eventually held on 30 December 2018. Felix Tshisekedi (UDPS) won with 38.6% and replaced Joseph Kabila. This change was the first peaceful transition since the country became independent in 1960.
A tried and tested and accessible methodology.​
Step 1: Make the electoral rolls secure with the enrollment solution.
The first step consists of implementing a computerized voter registration system.​
This first step involves a process known as enrollment. 
The civil and biometric data for the entire voting population is collected and stored securely. This data forms the backbone of a national database reflecting the country's electorate. 
Step 2: Make the lists reliable with the automatic deduplication solution.
The second step is to ensure central consolidation of enrollment data, eliminate duplicate copies with the Automated Biometric Identification System (ABIS), print the provisional list, and manage disputes and claims. 
Step 3: Make the votes more secure with the authentication solution.
The third step in a reliable, fair, and transparent electoral process is to authenticate voters and thus guarantee them that they will exercise their right to vote in complete security. 
Voting by biometric verification represents a revolution concerning existing voting systems. Thanks to a data model developed upstream and robust hardware platforms (voting terminal, etc.), it is now possible to use this system to do one's electoral duty in complete security while reducing fraud risk very significantly. 
The biometric solution consists of comparing the biographical information on the voter's identity card with the data entered in the electoral roll.
If the biometric verification is successful, the voter's fingerprints are taken, and they are given a ballot paper. Otherwise, the supervising officer is alerted. 
The technological solutions used during ballots also allow polling stations or other intermediary information to be reported back on election day itself (rate of turnout, etc.).
They can also provide the voter with information - if they are, in fact, on the electoral list and at what polling station they are registered to vote. Lastly, reliable electronic authentication solutions can be used to respond to disputes.  
In short: the modernization of authentication methods has numerous benefits: 
Improvement of voter services
Growth of rate of enrollment at polling stations on election day
Guarantee of the principle: one voter = one vote
Traceability of the ballot by voting reports and audits.
The credibility of the ballot and a means of combating the disputing of election results. ​
Thales biometric voting systems: expertise acquired on the ground ​
Thales: expertise gained on the ground
Thales uses its teams of instructors to ensure an efficient and speedy transfer of knowledge. Its biometric voter registration and authentication solutions have been tested in real-life situations in the context of several international calls for tender.
From voter enrollment to authentication
The Thales software is adaptable and perfectly meets customers' needs looking for tailor-made solutions and is also ideally suited to upgrades such as identity card or passport projects. The files can be used as a basis for compiling a civil register. 
A wealth of experience in the registration of citizens
Each customer has specific use cases. This situation is why Thales Secure Enrollment solutions can be adapted to different types of population registration: in an office environment, in remote areas without network access or electricity, offline or online, face-to-face, or on a self-service basis at a kiosk. 
Thales' mobile enrollment units have been specifically designed to make it easy to register populations in rural areas. All the peripheral devices are integrated into a compact and robust kit for safe and easy transport. 
These units consist of a laptop, a camera or webcam, a signature scanner, a fingerprint scanner, and a printer (in the case of instant generation of a temporary voting card where necessary).
In addition to mobile enrollment units, Thales provides a comprehensive power supply system that ensures the self-sufficiency of the enrollment solution. ​

Thales relies on registration solutions developed for identity documents (identity cards, passports, and driving licenses) to offer a solution tailored to the specific requirements of voter enrollment.​
​.​The five pillars of the Thales solution ​
Robustness with mobile units or kits, tested to US military standards (MIL-STD-810), and a high self-sufficiency level thanks to high-capacity compact batteries and a specially designed e-Card.
Ergonomics is integrated upstream during the development of the software to facilitate the registration process and to increase the daily enrollment rate. The business processes are also taken into account when tailoring the software to achieve maximum efficiency and reduce registration errors.
Versatility with flexible interfaces that allow the most appropriate data flow structure to be established between the central system and the mobile stations, whatever the environment (online/offline, local/central synchronization of the database, etc.).
Optimized and dedicated supply chain capable of managing the rapid supply of components, assembly of kits, quality control, and delivery within the shortest lead times. It relies on the industrial resources of Thales, which manages more than 30 industrial sites worldwide.
Training by knowledge transfer using specific training methods for local employees, responsible for operating and maintaining the mobile units. 
​Biometric voter registration: case studies  
In Benin, nearly 3,200 registration kits were assembled, configured then deployed throughout the country to record some six million individuals' data. 

A remarkable performance has given the two major obstacles Thales had to deal with:
the problematic conditions for deployment, performed mainly in rural areas which were hard to access under severe meteorological conditions; 
the speed of execution required by the Beninese authorities (less than three months between Thales being awarded the contract and the provision of all the registration kits).
The second part of Thales' solution enabled data to be consolidated at the national level in two phases. ​
First of all, the data, collected through the kits and then encrypted, was stored on servers under provincial authorities' responsibility, then relayed from these servers to a central site. 
Once the data had been consolidated and processed centrally, a nationwide application assigned voters to polling stations then generated electoral lists. Before the voters' allocation, a biometric deduplication module enabled the system to check that no individual was registered twice and to check for any other irregularities that may have been a sign of fraud. 

In Guinea, Thales is playing a part in putting an end to identity theft and document fraud. As the October 2015 presidential elections approached, it was becoming vital for the government to restore Guineans' confidence in the electoral process. 
The people had forcefully, and sometimes violently, expressed their desire to have their voices heard and their votes count and to eliminate the risk of having someone use their votes in their place.
An urgent decision was taken to modernize the voter register. To meet this challenge in record time, Guinea chose Thales. 
The proposed solution for the project is based on biometrics with Thales Secure Enrollment, Thales' enrollment, and verification solution that makes it possible to identify and authenticate each individual. 
This solution consists of a portable kit featuring a digital camera, 10-digit fingerprint scanner, laptop, electronic power supply board, and enrollment software to support the in-situ recording of civil data, fingerprints, and digital photos of citizens.
In total, some six million people were registered and received their voter cards on time, i.e., within 45 days, between February and September 2015. 
Thales had to take significant measures to address the risk posed by the Ebola virus outbreak affecting the whole of West Africa during this period. 
Guinea is one of six Sub-Saharan countries to have chosen the Thales solution, along with Benin (2011), Comoros and Burkina Faso (2012), Gabon (2013), and the Democratic Republic of Congo (2016). 
The Commission on Elections in the Philippines selected Thales in March 2019 to ensure secure and rapid voter authentication.

Secure electoral roll to support the emergence of a modern state
Leadership status 
Every year, Thales is further consolidating its role as a leader in reliable identity solution and managing large-scale projects, especially on the African continent, where it is represented in many countries and already very present in banking telecoms. 
This leadership is of benefit to the people of those countries themselves, enabling them to exercise their rights as citizens and members of society, within particular: 
the issuance of legal documents providing unique proof of their identity, as well as the entitlement to exercise their right to vote in an electoral system that is free of error and fraud,
access to the benefits of health insurance coverage​, for example, or of social support for those most in need
access to simplified administrative procedures.
Through the secure identification of individuals, the State hopes to stimulate development by:
improved management of the people present on their territory
restoring the bond of trust between citizens and government authorities at the regional and national levels.
All this to promote the emergence of a modern state with both national and international reach.  
​How to choose biometric voter registration?
This choice means opting for:      
better identification of voters based on biometric data
reliability in the detection of duplicates
the credibility of the electoral register guaranteeing that voters are only listed once and unbiased distribution of seats proportional to the votes cast by voters in the electoral district
the trust of partners and politicians taking part in the electoral process.
Choosing Thales as an operator for biometric voter registration for seven good reasons 
Guarantee that schedules are kept to in terms of the deployment of equipment
Ensure complete and effective enrollment
Benefit from knowledge transfer and the training of local teams
Benefit from the cleaning up and updating of the voter register and the migration of existing databases
Have biometrics available for the authentication of voters on election day
Guarantee that everyone takes part in the vote
Provide a guarantee of transparency thanks to verification tools 
​