From security to passenger experience: towards a smart airport
Hosting millions of travelers a year, airports must ensure both smooth operation and high levels of security. Thanks to its long-standing experience in the air mobility industry, airport security and identity management. Thales provides a full integrated offer to secure and optimise every operation in the airport, whilst providing passengers with an optimized and fluid travel experience.   
 
A smart and safe airport ...
As world leader in airport security, Thales brings airport operators smart and innovative solutions to ensure optimum protection for passengers, staff and facilities.
Thales airport solutions are based on 3 pillars:
Smart security, ​​​​​​Thales provides both integrated security system as well as advanced modular solutions such as video analytics, abnormal behaviors or conditions detection, smart incident management and resource management tools
Passenger journey, in particular biometric solutions to manage identities and security portal accesses
Operations efficiency, in particular Airport Operations Control Center  to improve the operational efficiency of the operators and optimise airports' resources;
Thales' added value lies in its ability to weave these elements together and to bring the various services involved into working as partners.
... for optimal conditions of exploitation
By centralizing the management of operations, Thales guarantees a high level of business continuity and traffic flow within the airport. By reducing waiting times while ensuring the best possible safety conditions, the system improves passenger experience and increases infrastructure performance and profitability.
Thales solutions also enable the production of relevant performance indicators (KPIs) to inform decision-makers in real time and make the organization more efficient.
Fly to Gate : A touchless biometric journey improving passenger experience and airport efficiency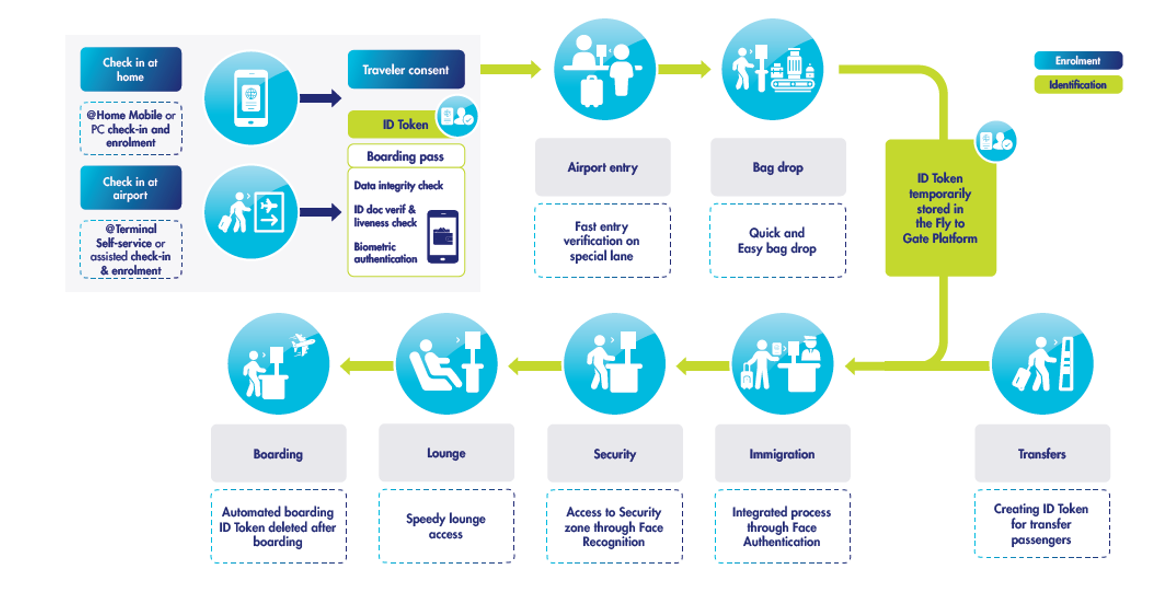 Thales Fly to Gate solution combines Thales deep expertise in  biometrics, identity management, border control, cybersecurity and  system integration.
Effective self-service solutions that airports and airlines can implement at their own pace are a must considering the rise in air travellers.
The solution makes travelling simple and more efficient by leveraging state-of-the-art technology required by the airport, airline, and immigration systems.
Thales Fly to Gate solution enables a touchless, fast and easy passenger journey  from check-in to boarding. It uses biometric authentication at all touch points and robust document verification technologies.
It can integrate with immigration processes to ensure rigorous security and leverages facial recognition technology to offer outstanding operational efficiency for airports and airlines.
The solution is made of strong biometric and travel document verification enablers to create a Digital Identity token ahead of the journey. This digital ID token contains trusted information and provides the traveler with a digital identity that he can use to be identified in seconds at all airport touchpoints without handing out his documents.
This feature is how Fly to Gate streamlines operations for airports and airlines to  improves security.
The F2G back end manages the life cycle of the ID Token in real time and provide  passenger analytics  to monitor operational performance.
 
For greater flexibility, passengers can enroll anywhere using a mobile device, or can enroll at the airport using a self-service kiosk or at the check-in counter.
Passengers are in control of their private data, thanks to a proven digital wallet that stores their Digital Travel Credential (DTC) as defined by ICAO.
 
Self-service solutions are now recognized as significantly contributing to efficient airport operations and an enhanced passenger experience.
Indeed, the time required for airport passenger processing can be decreased by up to 30% using self-service and automation.
 
This means travelers can now spend less time in queues and have more time to enjoy the retail, leisure, food and beverage services on offer at the airport.
Documents