​

Biometrics is in the process of radically transforming the "passenger experience" at airports, making it not only quicker but also much less stressful and more secure.

In this study, we will look into the following questions:

What are the challenges that air passenger travel faces today?
Why biometrics is so closely related to identity?
What type of biometrics is currently the most effective way of identifying passengers?
What is the future of biometrics in travel?

We will explain how biometrics - and face recognition in particular – can be combined with new self-service solutions to help meet the challenges of security, quality of service and the sustained growth in air passenger numbers.

Ever-increasing passenger flows

Over the last two decades, profound political and economic upheavals have led to a change in air travel practices.

The long-planned Schengen agreements (1995), followed by the enlargement of the EU (May 2004), intended to promote fluidity within the Union, now have to take into account increasingly stringent security demands.

The 9/11 attacks which took place in New York in 2001 marked the start of a long series of malicious acts that have led to a need for stricter passenger controls.

For their part, international organizations (IATA, ACI, ICAO) bringing together government and industry bodies, meet regularly to improve standards and control procedures.

But the directives put forward by several countries in the field of travel data (Advance Passenger Information – API, and Passenger Name Records – PNR) will only be effective if it is possible to identify suspicious persons in airports.

At another level, air transport is a key facilitating factor for the economy.

Wealth and job creation

Business and tourist travel is a source of wealth and job creation. The easier and more fluid air travel becomes, the more both visitors and those at the destinations they visit will benefit. See in particular the 2015 study by the European Travel Commission (ETC) on this subject.

The air travel sector (airports, airlines, national and international authorities, the security industry) find themselves confronted with a trio of requirements:

to provide fluidity for "reliable" passengers to reinforce controls to counter potential threats
and to keep costs under control. 

Face recognition on the front line 

The statistics speak for themselves: there will be nearly 4 billion air passengers in 2017, and this number is set to double over the next twenty years.

 Travellers who are in a hurry – or even stressed – and are more interested in making purchases in the duty-free shops than waiting to drop off their bags or to remove their shoes and belts when going through security.

Biometrics is going to radically change this experience as described by Bloomberg in its July 2017 forward-looking article "The Airports of the Future are here".
 

Take for example the joint response of 2 major players in the sector: IER, a specialist in the development of self-service solutions for airports and Thales, the world leader in digital security and biometric identification solutions.

They have recently launched Fly to Gate; in other words, a "passenger-centric biometric system".

The concept is simple: travellers authenticate themselves once and for all, either on their mobile device or on their tablet well before departure or at a terminal or the desk upon arrival at the airport.

After that, no more need for a passport or boarding pass!

It is the passenger's facial biometry that is used to validate the successive steps: check-in, baggage drop, security check, boarding, etc... it is even possible to imagine a way of paying for your duty-free shopping or a snack by merely looking at a camera!

But, rest assured, a strict legal framework is already in place for the protection of biometric data, and this is to be further reinforced in the future.

Biometric data and passenger travel

No more placing fingers in readers as with the older-generation gates; just smile at your laptop or check-in terminal! This unique biometric identifier will stay with you until your departure, with no infringement whatsoever of the regulatory framework.

In Europe, the Directive on the protection of biometric data strictly regulates these practices. Any investigations into the passenger's private life or business travel habits are thus quite out of the question and any such invasions of privacy carry very severe penalties.

The biometric data is erased as soon as the flight departs or, in some cases, upon completion of the return flight. It is simply used as a common point of reference for the different checks and controls.

​​

Biometrics: Key for passenger authentication

Biometrics has historically been linked to the field of the criminal investigation. 

Since these beginnings, considerable progress has been made in biometrics.

Every individual has a sum of distinguishing specific characteristics, be it behavioural features or physical metrics. Anthropometry today constitutes a promising field for authenticating a person: fingers, hand geometry, eye - iris and retina - vein network, voice, facial shape, etc.

Authentication on the fly

The aim is to move from an intrusive form of biometry - which obliges the individual to "freeze" temporarily - to more flexible biometry that authenticates "on the fly", without requiring the subject to stop - even for a camera or a sensor.

Of course, biological analyses, such as DNA, are also reliable and non-contestable, but the "proportionality" principle of the Directive on privacy restricts their use to the judicial domain.

Although very promising, behavioural analysis is still in its infancy. 

The gestural features of a signature or the driving of a vehicle indeed characterize an individual unambiguously. Still, their implementation is problematic in a context of mobility, such as travel, involving security checks or identity controls.

​

Biometrics for identification and authentication

Identification consists of presenting oneself, as in the real world, physically or else based on a document confirming one's civil status. 

The recipient may store this information by taking a photograph or store it in a database if permitted by law.

Authentication calls for a more sophisticated approach. The person is asked to prove that s/he is the person s/he claims. So this involves actuating an element of proof, the simplest being a PIN code, as when withdrawing cash from an ATM. 

But, if the context warrants it, biometrics is an incontrovertible means of confirming the resemblance between the applicant and a reference stored locally or remotely.

This is the case with "access control" which manages permissions to access industrial sites or restricted zones of airports, for instance.

It is also the procedure implemented by the biometric border control gates (PARAFE smart gates), for which Thales - in partnership with IER - has been awarded the contract by Paris Airports, following a very competitive bidding procedure.

The local "MOC" storage (for Match On Card) consists of holding one's biometric identification on a medium (a card, badge, token, etc.). 

No biometric central database

The authorities in charge of the protection of privacy (the CNIL for France) are very favourable to this method which avoids managing centralized databases. Thanks to this badge or another medium, everyone effectively carries their means of authorization. 

Response times are kept to a minimum since the applicant is confronted with his/her biometrics.

This is the approach adopted by the biometric border control gates: the traveller is authenticated with his / her passport. Should the precious open-sesame - badge, passport, card - be lost or stolen, the applicant can no longer authenticate him or herself.

In biometric jargon, an opposition is drawn between 1:1 (Match On Card) and 1:N authentication, the latter comparing the print - face, finger, eye - with a reference print stored in a local or remote database. This is the case of the Schengen Visa Information System (VIS), which manages several million biometric prints for visitors subject to visa requirements upon arrival in the European Union.

Future of biometrics and travel: Know Your Passenger

In a similar way to bankers required by the regulatory framework to know their customers better (KYC – Know Your Customer), airport service providers are now discovering the tremendous potential of biometrics, which goes far beyond strictly security-related applications.

Let's leave aside the very legitimate concerns around identity fraud and terrorism for a moment, and focus on the traveller, a central piece in the puzzle of our brave new world of IoT.

The idea is for the traveller to be able to authenticate themselves once and for all, either on their mobile device or at an airport kiosk.

And the beauty of it is no longer having to proffer boarding cards or ID!

IATA, the International Air Transport Association, wishing to restore air travel's original values - of comfort, convenience, etc., - is acting as spokesman on behalf of the customer, the passenger for whom they are claiming the right to a positive experience. 

IATA is at the origin of this innovative concept of "unique identity" that would enable us to authenticate ourselves, not for a particular trip, but, once and for all, for all our journeys. 

Biometrics would be the guarantor of this identity thanks to a card or a token that could be used in all airports.

Always innovative in terms of technology, the Australians have even surpassed the IATA proposal by dematerializing passports to store them in the cloud to facilitate travel with their neighbours in New Zealand. 

A process so in vogue that the ICAO, a United Nations agency based in Montreal, in charge of elaborating new air transport regulations, immediately created a working group devoted to digital identity and the dematerialization of passports.

A simplified and secure experience right up to the moment you hear those magic words: "Welcome aboard!"

The shape of travel to come: a fully end-to-end self-service experience thanks to biometrics

The self-service experience, a must for both travellers and operators

Faced with increasingly dense air traffic, over the past 15 years, airports and airlines have very widely opted for the deployment of automatic systems to free up bottlenecks in passenger flows - which can be a very problematic issue at peak times - by simplifying the check-in process.

These systems, in particular, automatic check-in kiosks or automated bag drop-off points have revolutionized the check-in process, allowing travellers to save time by checking themselves in, thus reducing waiting times by 30% compared to traditional check-in desks.

Studies show that the more passengers have access to the use of technology, the higher the rate of satisfaction is, thus allowing the passenger experience at the airport to be improved.

Over 1,000 million ePassports in circulation

All these initiatives reflect the current trend towards greater automation of control procedures.

The traveller, in fact, a true expert in terms of technology, spends his time surfing the web to look up a stock exchange listing, check emails or what the weather is going to be like tomorrow.

So, booking a trip, checking in, boarding, smiling at the biometric app on the smartphone, all this is frankly a breeze and our passenger now finds it odd to be waiting in line to cross a border or board a plane.

1,200 million electronic passports are now in service worldwide, which means 1,2 billion passport photos accessible in a standardized format by face recognition systems; so it seems that the time has come for us to use eGates to cross borders!

This is the most promising biometric recognition solution in use today and one that has already been implemented in a growing number of airports.

Whether using an airport eGate or their mobile phone, travellers are now becoming aware that they carry their biometrics with them, which, to the extent that IATA classifies them as "trustworthy", gives them privileges. So, whether the passenger's passport is stored in the cloud or his/her pocket; what he or she wants is to see the doors open wide and enjoy the experience of travelling.

The biometric experience: what are we waiting for?

Recent studies have confirmed the time savings of the order of 80% thanks to automated check-in and security procedures. And this, of course, is to the benefit of the shops and food & drink outlets that generate more than half of airport revenues!

 

​

Not to mention staff savings!

Bag drop-offs, passport and boarding checks all require dedicated teams that could be very advantageously replaced by simple "supervisors" in charge of making sure a battery of equipment is functioning correctly or helping novice passengers.

Find out more about the traveller experience of tomorrow.

With this "Fly to Gate" concept, IER and Thales are positioning themselves as pioneers in providing a range of innovative services that will facilitate the lives of travellers without diminishing controls or compromising airport safety.

To find out more about our airport self-service solution, consult the Fly to Gate page.

You can, of course, also contact us directly.​​​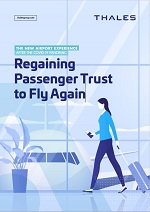 Regaining Passenger Trust to Fly Again - The new airport experience after the covid-19 pandemic
This white paper gives an overview of requirements that airports are facing with the ongoing pandemic in terms of health/hygienic protocols, safety/security procedures and capacity restrictions and how Thales delivers a comprehensive offer of innovative solutions to manage these new procedures and regulations.
Download the Whitepaper