Providing passengers with a unique, easy, highly intuitive travel experience is a top priority for airports and airlines.
We have created Fly to Gate, based on IATA's OneID concept, the end-to-end airport self-service experience for travelers.​​​​
Thales Fly to Gate solution combines Thales deep expertise in  biometrics, identity management, border control, cybersecurity and  system integration.
Effective self-service solutions that airports and airlines can implement at their own pace are a must considering the rise in air travellers.
Introducing Fly to Gate
Fly to Gate makes travelling simple and more efficient by leveraging state-of-the-art technology required by the airport, airline, and immigration systems.
Thales Fly to Gate solution enables a touchless, fast and easy passenger journey  from check-in to boarding. It uses biometric authentication at all touch points and robust document verification technologies.
It can integrate with immigration processes to ensure rigorous security and leverages facial recognition technology to offer outstanding operational efficiency for airports and airlines.
The solution is made of strong biometric and travel document verification enablers to create a Digital Identity token ahead of the journey. This digital ID token contains trusted information and provides the traveler with a digital identity that he can use to be identified in seconds at all airport touchpoints without handing out his documents.
This feature is how Fly to Gate streamlines operations for airports and airlines to  improves security. 
The F2G back end manages the life cycle of the ID Token in real time and provide  passenger analytics  to monitor operational performance.
 
Biometric enrolment
For greater flexibility, passengers can enroll anywhere using a mobile device, or can enroll at the airport using a self-service kiosk or at the check-in counter. 
Passengers are in control of their private data, thanks to a proven digital wallet that stores their Digital Travel Credential (DTC) as defined by ICAO.
Passenger processing times slashed by 30%
Self-service solutions are now recognized as significantly contributing to efficient airport operations and an enhanced passenger experience.
Indeed, the time required for airport passenger processing can be decreased by up to 30% using self-service and automation.
This means travelers can now:
Spend less time in queues
Have more time to enjoy the retail, leisure, food and beverage services on offer at the airport.
Powered by Thales leading solutions 
Fly to Gate kiosk for enrollment
Mobile ID Verification and Digital Wallet 
Thales Fly to Gate Face Pod for passenger enrollment or identification fast and accurate - supporting remote and local 1:1 and 1:n matching
Thales Multimodal Biometric Pod - an innovative Pod integrating iris and face recognition -  allowing multimodal biometric capture to both enroll and verify passenger identify.
Document reader for ID document and boarding pass scanning
Thales leading (FRP) biometric engine 
Integrated with leading eGates and kiosk vendors
Independent from airport IT environment - leveraging from Thales deep expertise as airport system integrator
Monitoring and configuration by remote capabilities
Segregated personal, biometric and flight information - secure by design approach
Passenger Analytics and Passenger handling capabilities 
Mobile Application to support staff in handling exception
A touchless passenger journey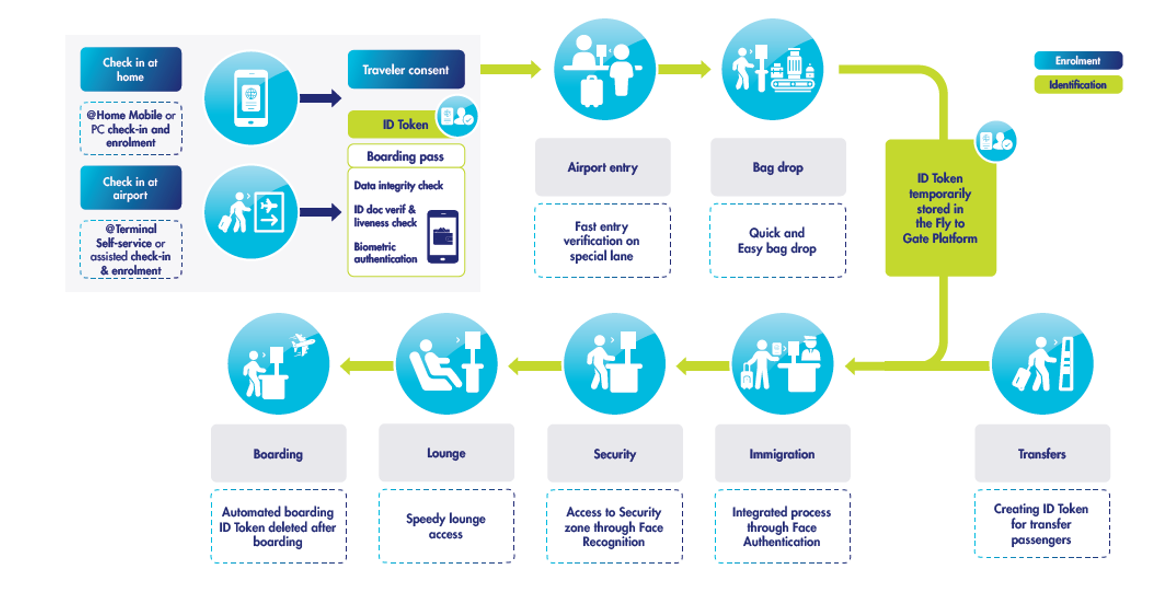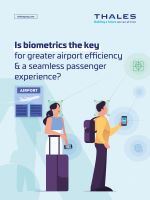 Thales Biometrics to deliver greater airport efficiency
Discover how a biometric passenger journey can support airports operational efficiency and passenger satisfaction.
Download the whitepaper
Gartner Hype Cycle™ for Transportation and Smart Mobility, 2022
An overview of the technologies shaping the future of smart mobility and passenger transportation.
Download a complimentary copy