​
Thales Visa management is now an essential component of a modern, integrated border management system. It is key to enhancing both security and convenience.
Visa Management is a full suite of service-oriented applications designed to securely manage visa applications and issue visas, eVisas and resident permits.
These applications are designed for use at visa application centres, embassies, consulates and other visa-issuing locations (e.g. visa on arrival). Thales Visa Management also features a convenient visa web portal for even greater ease of use, to begin the visa application procedure at home.
Smarter visa system 
Visa Management covers every step in the visa application procedure—from fee payment and appointment scheduling to background checks, registration of personal details, biometrics capture and the printing of visas—everywhere in the world. 
The software suite remains a cohesive whole, thanks to the life cycle management module linking every step of an individual visa application, enabling a secure and traceable end-to-end procedure. 
Visa Management forms an integral part of intelligent, integrated border management​. 
Hardware-agnostic solutions
All solutions are built hardware-agnostic to ensure independence from past or future suppliers. 
Above all, our solution protects our customers from vendor lock-in in the field of biometric and travel document scanners. 
Agility to meet existing needs
The suite can be deployed to suit any configuration. This software includes the customer's choice of centralized or decentralized operations, outsourced or internally managed enrollment and regional or central validation of visa applications. 
The modular design of our solutions means they can be run separately, without necessarily deploying the full suite. 
Their compliance with international standards enables easy integration into an existing system.​
Online visa application
​Discover why it's time to set up an eVisa portal and its impact​ on operating costs and its opportunity on revenue generation with our December 2016 web dossier on ​the online visa application​.
Customer Stories
Serving over 40 sovereign governments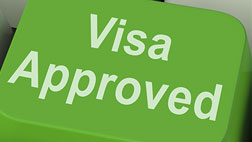 The world's largest outsourcing and technology services specialist for governments and diplomatic missions worldwide is using over 10 Visa Management Software to serve over 800 visa application centres located in over 80 countries across five continents.
​