The EU Entry/Exit System will modernize the EU's external border management (Air, Sea and Land) and to contribute combating terrorism alongside other important border management and security issue.
Regulation (Eu) 2017/2226 aims to improve the efficiency of controls at the external border of the Schengen area by creating a centralized Entry/Exit System (EES) for non-EU nationals crossing the EU's external borders for a short stay.
According to this regulation, all Third Country Nationals (TCN) will have to register with four fingerprints and a facial image when entering Schengen countries, whether that is by land, sea or air.
The data collected will be stored in the shared register in the EES central database managed by eu-LISA.
In terms of timeline, before the COVID-19 pandemic, the new Entry/Exit System was to be operational in February 2022.
As a key player in Border Management and associated self-service solution, Thales developed a complete EU EES Border Management System, designed specifically to meet the European Union, National Border Authorities and International Airports functional and operational requirements.
Thales Gemalto  EU EES Border Management System is a complete end-to-end-solution, for enabling secure, convenient and fast border clearance at the different border control points.
Thales proposes an EES Border Management system to enable Thales solutions to support all border control types (Self-service Kiosk, ABC Gates, suitcases, handhelds but also manned border equipment) for air, land and sea borders and mobile checkpoints.
Our customers can implement a consistent and centralized framework to secure borders by enabling the same checks and functionality for all border control stations.
Immigration officer's decisions are supported by information immediately available across all border points no matter where it was first captured.
The result?
This kind of cohesive and homogeneous approach prevents the vulnerability of any single point in the system.
Our complete Border Management Solution embeds a two-step border clearance
Thales BMS Solution enables a 2-step border clearance, using biometric-enabled self-service kiosks for performing traveler pre-checks and data collection and have the Border Officer handling the border clearance.
This "2-step approach" is even further accelerated by the usage of the traveler face as the identifying token when approaching the border agent booth. 
The 2-Step process consists in a registration step, performed in self-service mode by the traveller using kiosk and a border clearance final step, performed either through a manual border clearance handled by the border officer or trough  automated e-gates.
New Thales Gemalto Border Kiosk, fully EES compliant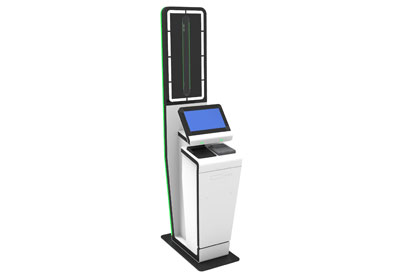 The brand-new Border Kiosk is designed to comply with the EES regulation requirements. It combines Thales' expertise in document verification, passenger biometric capture and verification to ensure the best user experience and traveler enrollment quality for immigration. The EES Border kiosk offers greater flexibility thanks to its minimal footprint (only 35cm wide), as well as provides greater passenger flow management and processes passengers faster. In less than a minute, the passengers' travel documents are verified, face and fingerprint data is captured, and the required questionnaire is completed.
Thales Border Clearance Applications for fast decision by the border guard
 Once registered traveler goes to a stationary manual border control booth, where the information pre-enrolled at the Kiosk can be retrieved immediately thanks to a Single Identity Token (or passport or fingerprint). 
The Border Clearance application automatically identifies the traveler (live face capture trough integrated camera) and triggers the traveler's profile. With the dedicated a web-based application the border guard can complete traveler border clearance and enroll the passenger into the EES.
Specific attention has been put to highlight main information and alerts while making available all data captured and all verifications performed during pre-enrolment and background inspection checks to external system (National border management system, EES, ETIAS, Control List).
Thales  Gemalto ABC Gates for a faster border clearance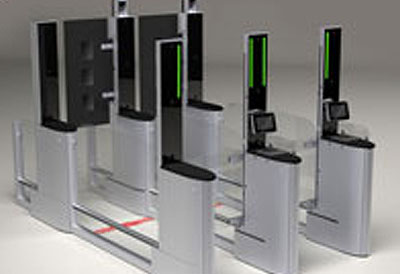 With ABC, a bona fide traveler can pass the second step in a matter of seconds, making one of the most efficient technologies on the market.
Automation of Border control can leverage an array of different equipment, from a 2 door ABC gate or smaller one door gates.
Gemalto ABC offer is declined into modular ABC gates to provide airports and border operators the flexibility they need in terms of deployment and operations to smooth EES.
Thales Inspection Platform/Back-end
A state-of-the-art software platform that provides the following main functionalities:
Real-time and secure data communication between inspection applications such as Kiosk(s), border clearance application(s) and External Systems
Automatic Recommendations to the border-crossing application according to pre-defined rules, i.e. thresholds or conditions (Decision Engine) 
Overall Business Logic and BMS workflows management centralized (Workflow service)
Traveler Identity Management during the border crossing (Single Identity Token)