eSIM-enabled devices to grow exponentially
Technology is transforming the paradigm of connected living, moving from simple mobility solutions to hyper-connectivity in the Internet of Things (IoT). 
Connected devices are growing exponentially in both the consumer and industrial markets.
For smartphones, there will be an estimated 2.4 billion active eSIM subscriptions by 2025, according to the GSMA intelligence.
Mobile connectivity, including the consumer and IoT segments, will contribute about 4.8% of the world's GDP by 2023.
That's roughly $4.8 trillion in economic value, with 25.2 billion connections by 2025.
Thales eSIM Management
In this hyper-connected world, Thales eSIM Management allows us to securely and remotely manage the lifecycle of cellular subscriptions to deliver a seamless customer experience for connecting more than 7 billion consumer and industrial eSIM-ready devices to be shipped by 2025.
With more than 300 platforms won worldwide, Thales eSIM subscription management is the world's most popular eSIM management platform across mobile operators, operator alliances, MVNOs, car manufacturers, and OEMs.
In December 2020, independent global industry analysis firm Counterpoint ranked Thales number 1 provider of eSIM solutions for the second year in a row.
Learn more about Thales' eSIM connectivity technology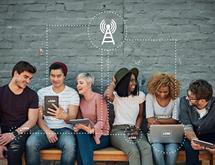 Four ways to activate eSIM-capable consumer IoT Devices
1. QR code / 2. By-default SM-DP+ address / 3. Root Discovery Service / 4. Initial connectivity.
Smart Profile Matcher
To better serve our customer, Thales "Smart Profile Matcher" adapts profiles in real-time to maximize the success of eSIM subscriptions download on most of eSIM-capable devices.
It also puts the Mobile Network Operators in full control of their subscription profiles, which can be updated at any time.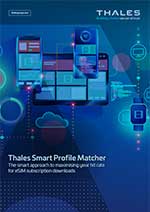 Thales Smart Profile Matcher
The smart approach to maximising your hit rate for eSIM subscription downloads
Download the eBook
Thales On-demand Subscription Dashboard
Large volumes of subscriptions and profile types also imply the need for powerful analytics tools to monitor deployments. This is precisely the role fulfilled by the Thales On-demand Subscription Dashboard, which is part of Thales' comprehensive eSIM solutions portfolio.
It enables Mobile Network Operators to optimize their mobile subscription deployment through monitoring and analysis of key performance data.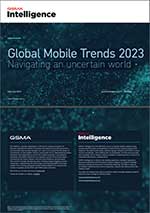 Download the whitepaper
10 things you should know about the latest "Global Mobile Trends 2023" report where you will find  highlights on 5G deployment, satellites and non-terrestrial networks, Private networks, the enterprise vertical stories: IoT 2.0, eSIM and the drive to scale, among many other impacting trends.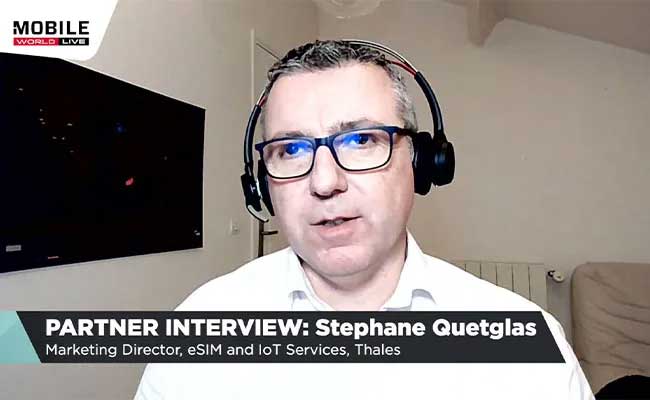 Interview on the fast growing eSIM market for the IoT
Stephane Quetglas, Marketing Director for eSIM and IoT Services at Thales  and Tim Hatt, Heard of Research & Consulting at GSMA Intelligence &talk about the fast growing eSIM market for the IoT.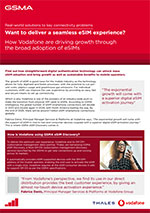 Want to deliver a seamless eSIM experience?
How Vodafone are driving growth through the broad adoption of eSIMs
Read the GSMA case study
Enhancing customer eSIM journeys with discovery services
eSIM subscriptions will become the norm in the next few years, making it increasingly important to have a complete customer digital journey.
A key part of this process is using Root Discovery Services for one-click subscription downloads. Fabiola Frantzis Borges, Thales' Marketing Manager for connectivity solutions, speaks to Mobile World Live about this technology and its benefits.
Read the interview
Boosting business in the era of eSIM
In the next couple of years, eSIM is expected to achieve impressive growth in both the consumer and IoT sectors.
It is central to operators' digital strategies and opens numerous new use cases.
Here, Mobile World Live speaks to Thales' Marketing Manager Marylene Arnoux-Roetynck about the status of the technology and operator opportunities brought about by eSIM.