Identification and accountability
for better road safety

What is a driver's license?
A driver's license is an official document issued by governmental authorities that authorizes an individual to operate various motorized vehicles on public roadways. The types of vehicles and the requirements to obtain the license depend on the issuing jurisdiction's regulations.
The driver's license has multiple uses – from giving its holder the right to drive certain vehicles to serving as a primary identity document, particularly in countries that do not have a national identity card program. 
The security of the DL is vital.
Ensuring the security of a driver's license document is key to such vital uses.
To this end, international standards such as ISO/IEC 18013, the current version published in 2018, have been developed to outline the framework for a secure credit card-format document.
The standard stipulates visual security elements comparable to those used on identity cards and passports.
It also lays down a standardized structure for the initial data set (IS0 18013-1).
The material used for driver's license cards can bring another layer of security.
Europe has adopted polycarbonate, a durable medium that is hard to counterfeit.
There's more.
This solution is also becoming highly preferable around the world.
Several jurisdictions use these high-tech polycarbonate cards in North America alone, including Alaska, Colorado, the District of Columbia, Georgia, Maryland, New Brunswick, Newfoundland, Labrador, Nova Scotia, Prince Edward Island, Quebec, Texas, and Wyoming.
p>
Two cards were recognized with a prestigious Élan Award of Excellence for Best Secure Access ID Card– Maryland in 2017 and Wyoming in 2020.
 
What makes polycarbonate so exceptional?
Polycarbonate cards are made from multiple layers laminated under heat and pressure without using adhesives or mixed with other plastics.
The result?
These intertwined polycarbonate layers provide a non-delaminable property, making it virtually impossible to swap document information or photos without destroying the document.
Polycarbonate is the same material used to make bulletproof glass. You can hear the difference: polycarbonate driver's licenses are so rigid that they sound like a compact disc when dropped.
Multiple leading-edge security features can be incorporated with polycarbonate, including high-quality laser-engraved photographs embedded into the card structure rather than more easily modified surface printing techniques.
A wide range of cards, solutions, and services​
Thales offers a wide range of cards, from secure chipless cards to high-security cards with contact and contactless interfaces, as well as comprehensive solutions for driver management and registration, the issuance and checking of documents, in addition to managed services for the issuing of licenses on behalf of Governments, as in Norway.
Thales is proud to contribute to the new Irish, Dutch, Greek, Finnish, Swedish, Senegal, Kenyan, and U.K. driver's license initiatives with its expertise in polycarbonate and innovative security features.
Several countries have already opted for credit cards and smart cards for their driving license programs by selecting Thales as their partner.
India, Australia, El Salvador, and Mexico are just some of Thales' customers in this area.
Enhanced Driver's Licenses
Enhanced Driver's Licenses, or EDLs, are driving licenses and identity cards with an embedded RFID chip issued by some U.S. states and Canadian provinces to facilitate and speed up entering the United States by land and sea from neighboring countries. 
They provide proof of identity and citizenship and are issued after a secure registration process. 
Border inspection booths equipped with contactless terminals can read the unique identifying number of an EDL over up to 10 meters. 
Officers can efficiently perform a background verification of the cardholder approaching the checkpoint before being shown the physical card for a visual inspection.  
Marquis ID Systems (MIDS), a Thales company based in Fort Wayne (Indiana), has developed solutions for enhanced driver's licenses, from secure enrollment to issuing and verifying documents for Departments of Motor Vehicles.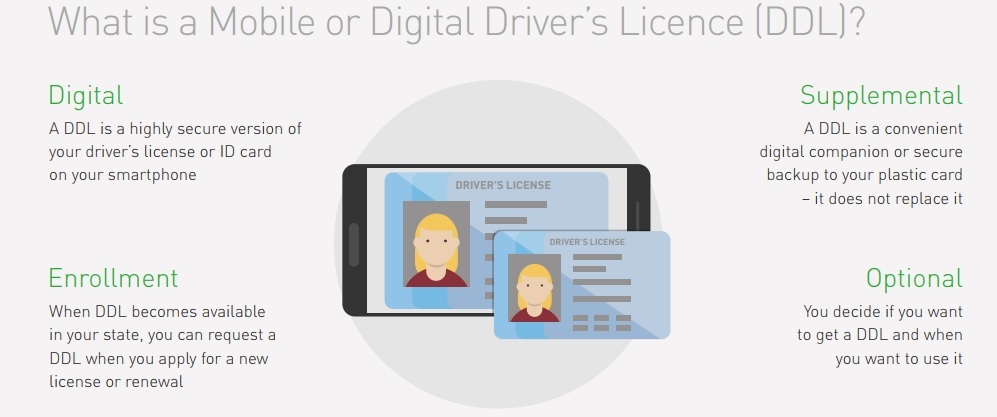 Digital Driver's License
Today, many government agencies in charge of driver licensing and identity credentials are investigating a digital version of their jurisdiction driver's license, usable through mobile devices for various identification purposes.
These digital driver's licenses, or mobile driver's licenses, bring more convenience to citizens and new, more protected opportunities for transactions that require some form of identification.
Where do we stand here?
Standards are being defined by agencies, including the International Organization for Standardization (ISO), along with governments and organizations such as the National Institute of Standards and Technology (NIST), the American Association of Motor Vehicle Administrators (AAMVA), the Canadian Council of Motor Transport Administration (CCMTA), as well as security/technology businesses including Thales. 
These standards go beyond simply storing a digital image of a driver's license and incorporate levels of security, validation, and pertinent uses.
With robust security and convenience, it is anticipated that digital driver's licenses can expand rapidly as a companion form of I.D. to physical driver's licenses.
Thales mobile driver's license solutions bring technology and implementation models which take into account user-friendliness, the local driver's license schemes and practices (drivers, law enforcement, retail businesses, and other service providers…), and offer the highest level of security in credential storage, data transmission, and verification.
In North America, Marquis ID Systems (MIDS), a Thales Company, developed solutions from secure enrollment to issuing and verifying documents for Departments of Motor Vehicles.
Gemalto, a Thales Company, was granted by NIST to conduct the first U.S. two-year multi-jurisdictional pilot on mobile driver's licenses, covering hundreds of pilot participants across four jurisdictions (Colorado, District of Columbia, Maryland, and Wyoming).
 This invaluable development and experience has driven our current mobile driver's license solution and is being adopted in the State of Florida for introduction in 2021. 
The solution for a mobile driver's license is a highly secure way to deliver, store and manage the lifecycle of driver's license information on a smartphone or other smart mobile devices such as a tablet or wearable devices.   
Digital Tachograph​​​​
Thales has contributed to numerous tachograph card projects extending to 34 different countries for more than ten years. 
This long and broad experience ensures the smooth running of new tachograph projects and the efficient achievement of mandatory certifications and type approvals.
Electronic Vehicle Registration Cards (eVRC)
There is a growing interest in introducing a highly secure electronic registration document to fight fraud, gain savings by dematerializing processes, and bring convenience to government administration, private businesses, and citizens with effective e-Services.
Thales Electronic Vehicle Registration cards offer a flexible approach for electronic vehicle registration cards and related use cases from modules to turn-key projects.
We can offer the following:
Versatile IAS electronic application for secure vehicle data storage and eServices with secure polycarbonate or PET/PVC cards
Flexible end-to-end solution: enrolment, issuance, verification, eGovernment infrastructure
Managed issuance services to leverage the power of outsourcing.
With Thales Electronic Vehicle Registration cards, you can:
provide ultimate document security and effectively prevent attempts to modify or change data
allow secure identification of the owner
facilitate efficient roadside checks
track the entire life cycle of new and second-hand cars
enable more innovative management for taxes, insurance, and fines
Smart driving licenses and vehicle registration examples
El Salvador introduced the eVehicle registration card in 1998 to streamline and centralize administrative processes, tighten security to fight vehicle theft, illegal importation, and identity theft, and reduce fraud related to counterfeit documents. 
The smart card solution helped to fully automate procedures and processes for government management of vehicle registration, licensing and tax, and fine payments. 
It also enhanced safety for the general public. Furthermore, it improved the Tax Administration's ability to collect fees compared to the previous procedures. 
In the first year of the new service, tax evasion was reduced with a 35% annual increase in taxes paid than the previous year. The higher rate of vehicle circulation tax collection was due to greater control and ease of payment procedures.
India implemented an infrastructure that now offers immediate access to information about drivers and their vehicles to Police and other authorities. The latest development has been a typical layout for eVRC with standard security features for all states (cross-border verification).
In addition to road safety prevention measures that will leverage applications such as "Point-record driving license" and vehicle control history, the Moroccan Ministry of Transport aims to use electronic driver's licenses and vehicle registration cards to provide citizens with a set of services that touch multiple facets of their daily lives.
​Morocco's eDL and eVRC could gather future public transportation applications, motorways, tolls, insurance, tax payments, etc.
Since 2013, British motorists have gotten the new polycarbonate-based U.K. driving license supplied by Thales.​
In Australia, a digital driving license solution will be piloted in the Fraser Coast in early 2020 before extending to other regional locations and being available to over 3.7 million drivers in Queensland.
Related  web dossiers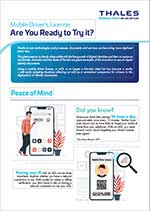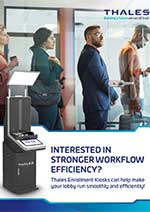 Thales Enrollment Kiosk
Interested in stronger workflow efficiency? Thales Enrollment Kiosks can help make your lobby run smoothly and efficiently!
Read more
DDL Pilot Phase One Results
Here are the complete results from the first multi-state DDL Pilot.
Download the infographic