Making Connectivity Simple, Seamless and Secure
Thales is making connectivity simple, seamless and secure. Our full suite of connectivity solutions are designed to provide the broadest, fastest and best possible solution anywhere in the world. By partnering with leading network and technology providers, we offer airlines the optimal combination of coverage, capacity and cost for every route.
 
Thales is revolutionizing air travel by putting the inflight experience directly into hands of passengers. Through an ecosystem of applications and services, passengers have access to what they want when they want it – from simple messaging and social media to full content streaming including live television. Whether seeking entertainment, education, a shopping experience or conducting business affairs, Thales provides passengers a connection comparable to that experienced at their home or at work.
 
Thales continues to create smart opportunities for the connected airline by using big data. Through real-time monitoring, reporting and data analytics, airlines can quickly address maintenance requirements, better serve passengers and provide critical information to crew. Our cloud infrastructure is designed for mobile access allowing airlines to make smarter, data driven decisions in real time, increasing airline profitability and driving a competitive advantage.
 
Thales is transforming the traditional concepts of inflight entertainment and connectivity with a holistic approach to passenger engagement, driving brand loyalty for airlines along with new ancillary revenues. Through our best in class network partnerships, we meet the airlines regional and global connectivity needs, delivering the bandwidth required for an uninterrupted at home type of experience.
Thales is connecting the travel journey for passengers and airlines through our comprehensive solution set to provide for best coverage, passenger experience and manageable airline economics. Our products have been built to be modular and scalable from the ground segment to the airborne segments, allowing a uniform standard of services to be provided to our customers across a common platform. Thales' current and future connectivity offerings and technologies are designed to meet airline's evolving requirements anywhere in the world, all the time.
Solutions at a Glance
Global Express (GX) – Thales has teamed with Inmarsat as a value added reseller to provide a global connectivity solution with a seamless, everywhere connectivity experience. The solution is currently linefit offerable on Airbus A350 and soon to be available on other Airbus and Boeing aircraft types.
Regional Ka and Ku – The best solution for regional fleets is often provided with the best satellite technology in the region. Thales has partnered with SES and other satellite providers to provide the best satellite connectivity solution for regional fleets.
SwiftBroadband (SBB) – As a long standing hardware solution provider for Inmarsat SBB, Thales provides safety services along with passenger solutions via the L-band SBB Network.
Iridium Next – Pole to Pole coverage – With the soon to launch Iridium NEXT constellation, Thales will be able to provide a pole to pole solution along with safety services for a 100% global solution. This solution is stand alone and can be combined with our broadband solutions for a complete 360 solution (passenger, crew, operations and safety services).
GateSync – On-ground connectivity – Often passenger and airline data is not required real-time; however, getting it off the aircraft economically is essential. Using Thales' GateSync solution, airlines can economically transfer large amounts of information on the ground wirelessly.
Thales' scalable live TV solutions allow airlines to find the right product to meet their needs. By leveraging partnerships with direct-to-home and global content TV providers, Thales enables airlines to provide a wide selection of regional and globally relevant content 24 hours a day, 365 days a year.
Solutions at a Glance
Regional Broadcast Live TV – Since 2000, Thales has provided regional Direct Broadcast television to commercial airlines such as JetBlue, United, Azul, WestJet and others .
Global IPTV – Live + Replay – Building on more than 16 years of live television experience, Thales is now offering a global IPTV offering providing the best of live television anywhere in the world in both live and playback mode.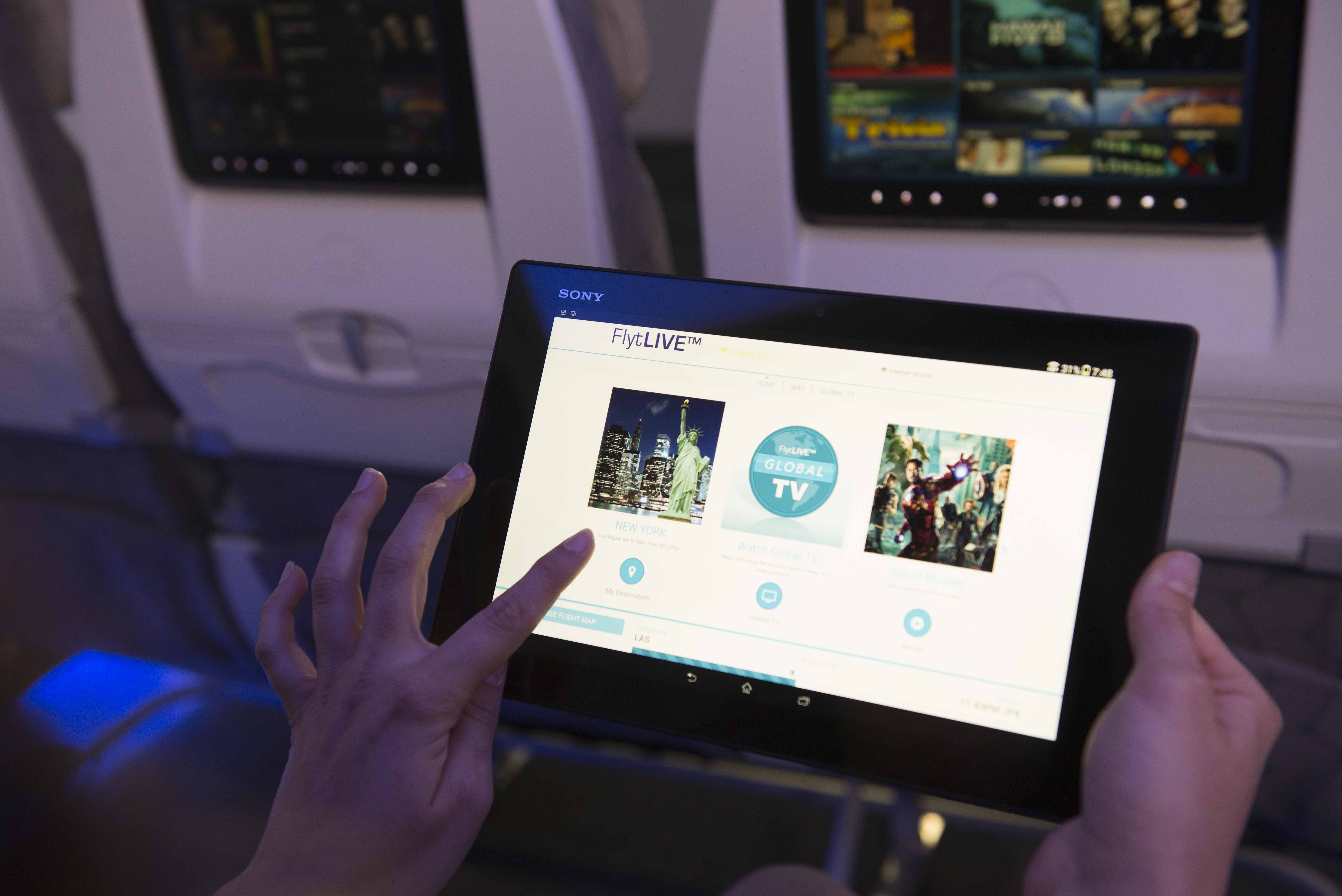 With the growth in personal electronic devices (PEDs) and the demand for content anywhere, passengers expect more from the travel experience. Our onboard cabin network offers the latest in wireless technologies to support high capacity streaming directly to Wi-Fi devices to extend the engagement between the passenger and the airline.
Solutions at a Glance
Oasis Platform  – Built with world class hardware and a leading portal platform, Thales' Oasis Wireless IFE platform delivers unprecedented performance on narrowbody and widebody aircraft.
Digital rights management (DRM) ready – Using the latest technologies to provide DRM security, Thales is ready to deliver your passengers with the latest available content.

Thales is creating smart opportunities for the connected aircraft through a full suite of airline operations services. We create an end-to-end ecosystem that enables real-time and all the time, secure, seamless services to achieve exceptional customer satisfaction. Thales's airline operations services provide actionable insights that allow airlines to operate more efficiently and make smart data driven decisions.
Services at a Glance
Real-time fleet monitoring – Thales provides the tools to allow airlines to view their fleet real time showing hardware and network status, and passenger usage for a real time view of your fleet.
Reporting and data analytics – To optimize the fleet and revenue, Thales' Datacubes delivers an unprecedented view of the aircraft and passenger usage in an easy to view format.
System health reporting – Thales delivers a monthly system health status to enable airlines to view trends and provide analysis of system performance.
Operations messaging – Either real time or store and forward, Thales' systems deliver the needed operations data to deliver on the airline's promise to their passengers.
Portal customization – The ability for an airline to update their portal with new pricing, advertisements, color schemes and more in real time, enabling them to meet market demands and drive ancillary revenue.
Content management – Thales delivers content to the aircraft via several methods, from real time delivery over connectivity to at the gate delivery to data loaders, all tested and integrated in the Thales state of the art content management center.
Revenue generating services – Thales' new revenue generating services enable airlines to provide an unprecedented passenger experience, while maximizing revenue from on-board sales to increase their return on investment .
Real-time payment processing – As a global leader in systems security, Thales offers real-time payment processing that is protected and certified with payment card industry (PCI) compliance standards and cyber security.