Why a frictionless online payment customer experience matters
Payment is a critical step for merchants and one of the consumers' most significant friction points.
Many new players in the retail industry aim to offer a frictionless customer experience and set the bar high.
The demands of online shoppers leave no room for a poor payment experience – which immediately impacts merchants.
After a bad experience at the checkout, one in three online shoppers won't return. 73% of consumers identify customer experience as essential to their purchasing decisions.
Online shoppers stop using a payment mean after being falsely declined
of all people point to customer experience as an important factor in their purchasing decisions
As the retail environment becomes increasingly competitive, customers know they are in control.
Therefore, merchants must ensure they look after their customers at every stage of the shopping journey – from offering the right products at the right prices to delivering the best customer experience.
They must improve every element of their consumer journey, including the most critical stage: payment checkout.
That's where network tokenization comes into play.
Take Card on File payments to the next level with network tokens
With Thales eCommerce Token platform, your tokens never gets outdated, which guarantees they can always be used for payments.
What are the critical challenges of eCommerce?
It is no surprise that eCommerce is rising, but merchants need to be up to the challenge, as in 2023, one out of three people worldwide will be online shoppers, and eCommerce sales are set to grow by 50% over the next four years.
The growth opportunities are booming.
But to ensure they can take advantage of these opportunities, they need to improve eCommerce payments by addressing two key issues:
how to increase the conversation rate
how to reduce fraud

Network tokenization as a means to match card-present conversion rates
The card-present approval rate tops 98% in many countries, while the card-not-present approval rate hovers at about 85%.
Online merchants can do something to bridge the gap between the physical and the digital thanks to automatic card life cycle management and by reducing the false decline rate.
That's why the online payment ecosystem is rapidly moving towards adopting network tokenization through mandatory regulation or strong payment scheme recommendations to benefit merchants and their customers.
The good news?
Merchants adopting network tokenization transform frustrated consumers using a legitimate card into satisfied buyers, remove the dissatisfaction of false decline from the equation, reduce the risk of fraud, and increase trust.
Network tokenization is at the heart of a frictionless customer experience.
What is Network Tokenization?
Network tokenization is a type of payment technology that allows an online retailer to accept one payment method in lieu of multiple forms of payment. In other words, it allows merchants to accept all major credit cards at once rather than having to set up individual systems for each card type.
Network tokenization works by replacing sensitive data like card numbers with an encrypted code known as a token. An example would be replacing your customer's credit card number with a random string of numbers and letters that can only be decrypted and used by the eCommerce company that issued it.
Network tokenization speeds up the checkout process for customers because there are no more forms or PINs to fill out—the entire process happens automatically behind the scenes when your client enters your shipping address and billing details. This helps reduce the cart abandonment rate and increase conversions!
How to slash fraudulent transactions?
eCommerce fraud currently makes up 79% of all fraudulent card transactions.
As the number of transactions increases, so does fraud.
But existing risk management solutions have not yet met merchants' expectations. They result either in additional authentication steps – which increase customer friction and cause cart abandonment – or, even worse: declined transactions, which add to consumer frustration.
Because of the increase in eCommerce transactions and fraud, regulations in some countries require merchants to migrate to secure and proven solutions to address this issue. 
For example, in India, the Reserve Bank of India notified merchants in September 2021 that they were prohibited from storing card data and had to replace it with alternative solutions such as card-on-file (CoF) tokenization. 
While it is not yet a legal requirement in most countries, EMV tokenization is unarguably the solution to slashing fraud.
For example, according to Visa's 2021 annual report, across more than 8,600 issuers and 800,000 merchants, tokens have led to a 2.5% increase in approval rates and a 28% reduction in fraud.

EMV tokenization is a must-have for merchants
Payment networks are introducing financial incentives, regulators deliver migration mandates, and customers are voicing high expectations.
There's more.
Merchants facing fierce competition want to play an active part online, with platform revenue forecast to grow by 50% in the next four years.
Retailers cannot pass up the move to network tokenization – every day without it is a missed opportunity.
What should online merchants look for when migrating to network tokenization?
There are three key elements:
Faster time to market and ROI
Scalability to increase traffic via the leading payment networks
Scalability to capture value from future innovations 

Consumer loyalty and trust are fragile, and any poor experiences immediately come back to bite the merchant. The most successful online merchants are the ones that retain their customers by providing the best payment checkout experience.
Competition online is fierce, and time is vital in implementing a payment solution that enables merchants to retain consumers. Every day counts, and merchants cannot afford to lose customers.
Reducing the time to market will ensure they are a step ahead in the eCommerce revenue battle. There's also a double benefit: EMV tokenization will increase the conversion rate while lowering the interchange fee, helping achieve an early ROI.
Merchants are under constant pressure to be efficient and react quickly. Hence, they need to look at solutions that can be integrated into a concise time frame, are ready to use, can be scaled up on demand to support multiple payment channels, and have a robust backend to support future innovations.
The latest payment innovations have EMV tokenization at their heart to ensure that future security solutions, such as enhanced tokenization with device verification, user authentication, and click-to-pay, can be plugged in seamlessly.
How can Thales help payment service providers and merchants to deliver a frictionless customer payment journey?
Thales has built a brand-agnostic eCommerce platform in close collaboration with the world's major payment schemes over the past two years.
Beyond initial integration, Thales takes care of API maintenance and delivers updates, and rolls out new features every year. That capability to adjust and provide new iterations makes innovation a standard, helping Thales customers to stay ahead of the curve.
It allows merchants to achieve a single EMV tokenization integration in only four months, covering the most common international payment schemes: Visa, Mastercard, UnionPay, Amex, and Discover, and domestic networks such as Elo.
It saves merchants from having to do all the time-consuming legal work and maintenance updates. With the main networks introducing differentiated pricing, transacting with PAN has become more expensive than using a network token. As a result, improving the time to market for network tokens has become even more crucial.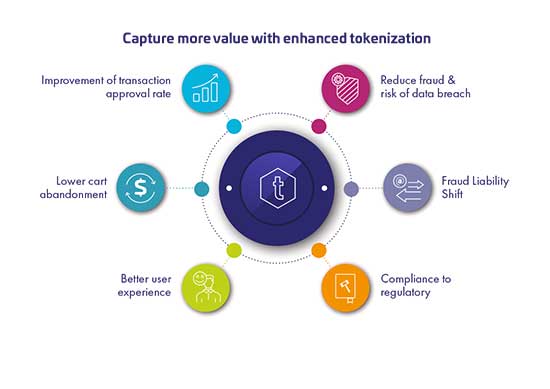 Choosing the right solution provider is vital, so merchants do not miss out on these new features that will make them stand out.
 
But that's not all! Why stop here?
Network tokenization is only one step in addressing card-present acceptance rates. We can also support merchants implementing the latest ecosystem updates, such as enhanced tokenization with user authentication, device binding, and click-to-pay.
Enhanced tokenization provides a superior user experience and security thanks to three layers of protection:
Cardholder verification
Device verification
User authentication
Enhanced tokenization can improve conversion rates and cut fraud by combining authentication and additional risk parameters.
As well as increasing performance, it paves the way for a liability shift, relieving merchants of the responsibility for fraudulent transactions.
Two extensive payment networks – Visa and Mastercard – promote this as a critical improvement to current network tokenization. Security measures are implemented when the card is stored and at the payment stage via user authentication. This ensures the cardholder is the device owner and guarantees the payment by pairing the device with the cardholder.
Thales Enhanced Tokenization smoothes all friction points at the ultimate stage of the consumer journey to deliver the best frictionless payment experience.
Customer payment conversion is converging to card-present, with no compromise on their data security. Merchants can gain the trust of their customers and can further reduce fraud and achieve greater value with increased conversion rates.
 
Now is the time to offer your customer the best payment experience with Thales
Be up and running in only four months via a single and easy technical integration with 24/7 support plus the ability to accelerate your path to innovation and scale up anytime with Thales eCommerce Gateway.
Contact us if you want to learn more about network tokenization, the latest innovations, and how we can help you get started.
Complete the contact form at the bottom of this page, and we'll get back to you.
.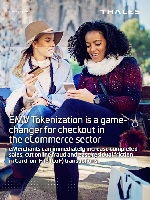 Tackling involuntary churn in the subscription economy with EMV tokenization
Read the whitepaper
Get in touch with us
For more information regarding our services and solutions contact one of our sales representatives. We have agents worldwide that are available to help with your digital security needs. Fill out our contact form and one of our representatives will be in touch to discuss how we can assist you.
Please note we do not sell any products nor offer support directly to end users. If you have questions regarding one of our products provided by e.g. your bank or government, then please contact them for advice first.