Every year, 4.5 billion SIM cards are produced globally. This is equivalent to 20,000 tons of polymers (PVC, ABS), and to the weight of almost 2 Eiffel towers or 40 Airbus A380 at take-off. Most of them will end up in the garbage.
Thales can help to make SIM cards greener by offering an unrivalled, ecological SIM portfolio to mobile operators looking for sustainable strategies and willing to reduce environmental impact of their SIM activity while improving brand awareness in front of their end customers.
 
The world's first SIM made of 100% post-consumer recycled plastic 

Eco SIM, the world's first SIM made of 100% post-consumer recycled plastic 
This new Thales´ eco-designed product is part of an innovative offer (which includes the eco-friendly Eco Touch SIM packaging) for Telecom operators looking for real sustainable strategies and willing to reduce the impact of their SIM card activity while improving brand awareness in front of end customers.

Turning old fridges into new SIM cards  
After three years of joint development, Thales and Veolia, the global leader in optimized resource management, have mastered the process of turning polystyrene waste from old fridges into pellets that are then used to manufacture the SIM card body.
 
Our key milestones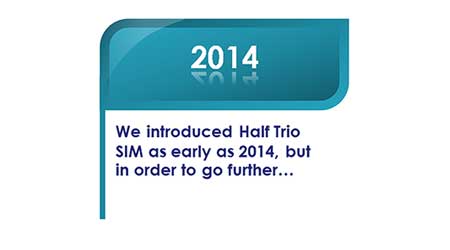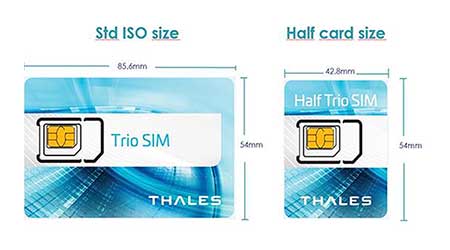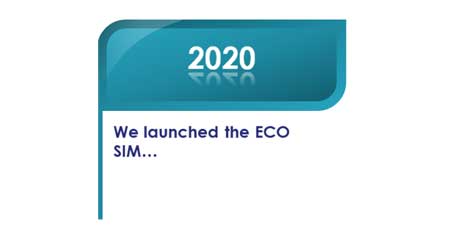 … we launched the ECO SIM. Co-developed with our patner Veolia

An Eco-friendly Packaging Offer

Small and smart layouts to reduce paper consumption
Vegetal & water based inks  for safer products 
Recycled papers to decrease waste Certified papers to protect forests
With more than 300 million packs delivered each year and more than 30 years of experience in the telecommunications sector as the world ́s number 1 provider of SIM packaging, at Thales we understand how fast this environment is evolving and all the great challenges that it imposes. By continuously improving our offer in terms of innovation, quality, security, operative efficiency and social responsibility we walk hand on hand with our customers to make life better, greener and safer.
Carbon offset Program

Thales commits to offsetting the carbon footprint of the other components that cannot be reduced (e.g. the chip) in order to achieve a controlled environmental impact. The carbon footprint of each EcoSIM has been calculated and offset through a certified offsetting model that includes impactful emission reduction projects (such as energy savings and renewable energy development in developing countries).

Thales: a member of the Trusted Connectivity Alliance (TCA)
Together against 'greenwashing' practices.
We're working with the Trusted Connectivity Alliance to support the connectivity ecosystem in building a more sustainable future.
Find out more in TCA's latest paper.
> Learn more on: http://www.trustedconnectivityalliance.org or on Thales ECO SIM.

Thales: a member of the United Nations Global Compact (UNCG)
We're working with the United Nations Global Compact (UNCG) to create the world  we want. 
That's our vision…
> Learn more on: https://www.unglobalcompact.org/what-is-gc/participants/9172