Increase your product visibility and stand out from the crowd
 

Packaging helps prevent tampering with the SIM card and content and plays an important role in terms of brand promotion and differentiation.
Whether you require packaging that is ready for in-store display or targeted to highlight your eco-friendly approach, Thales has a large catalog of packaging products with an extensive choice of designs, materials, and dimensions.
Thales also offers a unique portfolio of card body shapes, precuts, and key fobs to ensure visual appeal and greater differentiation. You can use the card body support to hold all your essential information such as logistic bar codes, ICCIDs, phone numbers, or even the PIN/PUK values that can be optionally protected with a scratch label.
Key features
A one-stop-shop for packaging and a unique interface for mobile operators
Quality and security are assured from SIM production through packaging design to product delivery
A broad portfolio of packaging products
Large choice of card body and plug-in only product shapes.
SIMTrio
From Micro to Nano: dealing with the rapid evolution of SIM cards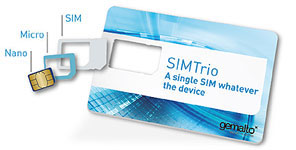 Mobile devices and handsets are evolving faster than ever. Faster, thinner, more powerful, shinier, more colorful, even curved… the list is endless, and opportunities abound.
But what lies at the heart of this revolution The SIM card and the evolution of its form factor.
Handset manufacturers are increasingly adopting standardized MicroSIMs (the third form factor), which means that more operators are also embracing MicroSIM.
However, the latest iteration to hit the market (the NanoSIM, or 4FF) creates a whole new challenge. As handset manufacturers start to move towards NanoSIMs, the question is how mobile operators will keep up.
Adaptors and combi cards have been designed to address multiple form factors, but this leads to complex and costly challenges of their own (logistics, inventory, and order management issues).
There is clearly a need for a solution to bridge the form factor decision, which is why Thales has just announced SIMTrio, an innovative product that simplifies SIM management.
With SIMTrio, mobile operators don't need to choose one form factor over another, and they don't have to deal with costly and complex headaches. Instead, they can offer all three SIM options to their customer base. With three plugs to address all 2FF, 3FF, and 4FF devices and two thicknesses to ensure full ETSI (European Telecommunications Standards Institute) compliance, SIMTrio is the solution to form factor challenges.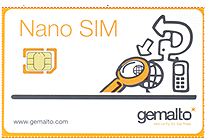 Thales is at the forefront of digital security innovation for mobile communication, with leading mobile operators worldwide starting to mass deploy its Thales NanoSIMs for the latest smartphone model. Thales' global network of production facilities delivers best-in-class responsiveness and ability to scale up quickly for multiple customers to simultaneously meet global demand.
We have been an active contributor in ETSI in designing the new fourth-generation form factor (4FF), which is now the certified standard for the industry. The new NanoSIM from Thales meets the ETSI standards for thinner and smaller physical footprint and is ready for NFC and 4G LTE. It is also available with a handy card body design for easy handling by mobile operators' subscribers while still allowing space for branding and artwork.
SEED, our new eco-friendly shape

SIM card body unplug manual
A guide to learn how to correctly unplug your different 2FF/3FF/4FF SIM card form factors
Download our manual