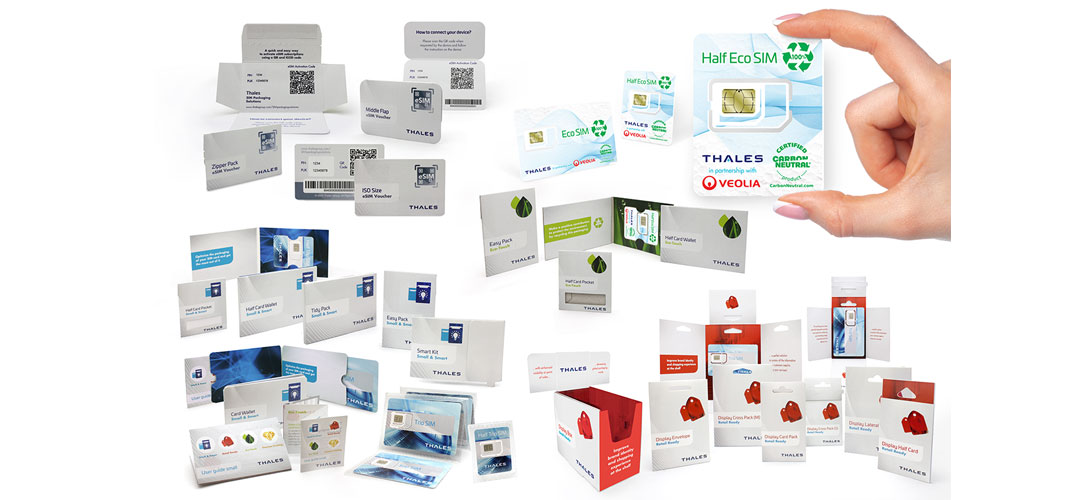 Increase your SIM card visibility, embrace the green trend – and ramp up eSIM activation
Three decades after their first commercial launch, approximately 4.5 billion SIM cards sell each year (ABI Research – Sept. 2020).
In addition, new generations of mobile devices (including wearables) require further miniaturization and now rely on the latest and smallest SIM form factors, i.e. 3FF and 4FF.
Thus SIM card body and packaging solutions continue to be a must for logistics, user experience, and brand reasons.
Then the growing ecological awareness in many countries coupled with increasing stringent Corporate Social Sustainability regulations create opportunities for mobile operators to launch eco-friendly products, such as Thales' Eco SIM, the world's first SIM card made of 100% post-consumer recycled plastic.
In parallel, eSIM has definitely enjoyed a very successful beginning. 1.1 billion eSIM-compliant consumer devices, such as smartphones, wearables, and connected PCs, have been already shipped end of 2021.
And more than 3 billion units in total are expected to be shipped between 2021 and 2025 (source: ABI Research – Feb. 2021).
The arrival of the eSIM has been a game-changer for the mobile industry and has accelerated operators' digital transformation while requiring a new process for end-users eSIM subscription ramp up : eSIM voucher.
At Thales, we understand how fast this environment is evolving and all the great challenges that it imposes.
With more than 300 million packs delivered each year and more than 30 years of experience in the telecommunications sector as the world's number 1 provider of SIM packaging, we've designed the largest & most innovative portfolio of SIM card body, SIM packaging solutions, and eSIM vouchers as well.
Let's dive into details.
 
SIM card body & form factors
Thales offers a unique portfolio of card body shapes and form factors (from a regular Mini-SIM (2FF) up to a Nano-SIM (4FF), in different possible combinations) to ensure visual appeal and greater differentiation.
Operators can use the card body support to hold all their essential information, such as logistic bar codes, ICCIDs, phone numbers, or even the PIN/PUK values that can be optionally protected with a scratch label.
Eco SIM, the world's first SIM made of 100% post-consumer recycled plastic
Turning old fridges into new SIM cards

After three years of joint development, Thales and Veolia, the global leader in optimized resource management, have mastered the process of turning polystyrene waste from old fridges into pellets that are then used to manufacture the SIM card body.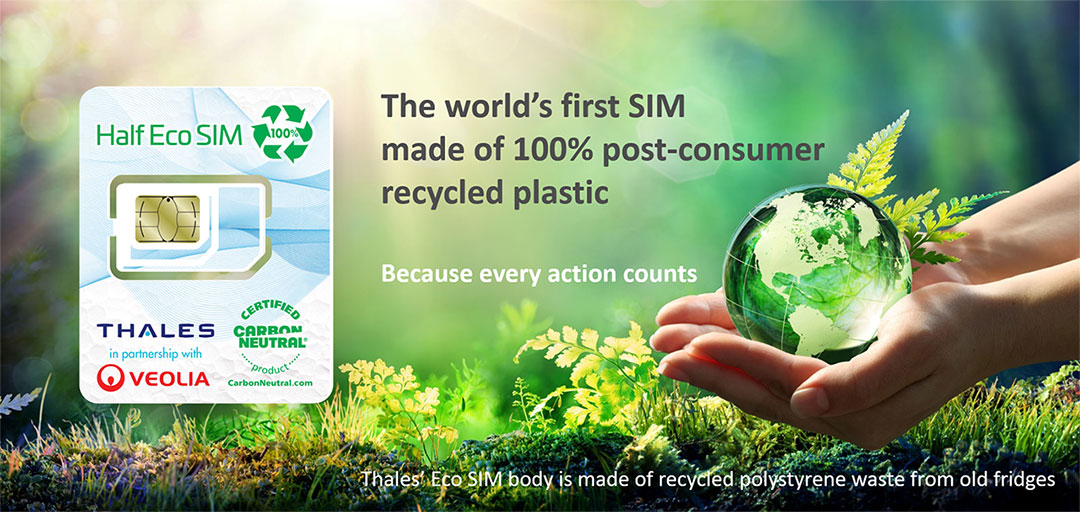 Let's have a look to how an Eco SIM is manufactured.
Eco SIM, the world's first certified carbon neutral SIM card
Eco SIM, an innovation recognised by the industry

Thales: a member of the Trusted Connectivity Alliance (TCA)
Together against 'greenwashing' practices.
We're working with the Trusted Connectivity Alliance to support the connectivity ecosystem in building a more sustainable future.
Find out more in TCA's latest paper.
> Learn more on: http://www.trustedconnectivityalliance.org or on Thales ECO SIM.

Thales: a member of the United Nations Global Compact (UNCG)
We're working with the United Nations Global Compact (UNCG) to create the world we want. 
That's our vision…
> Learn more on: https://www.unglobalcompact.org/what-is-gc/participants/9172