FlytX, the new generation tactile flight deck for helicopter and airplane
The FlytX flight deck system with tactile interaction and large displays will fit any size of civil & military cockpit such as helicopter, turboprop and regional electrical aircraft, business jet and Air taxi for Urban Air Mobility (UAM) .
FlytX integrated flight deck: crew-centric, compact, customizable, connected
The solution, which is available for installation on board commercial airliners, business jets, helicopters and military aircraft, is underpinned by four key principles:
Crew-centric

Compact

Customizable

Connected 
Crew-centric tactile screens with interfaces made with pilots for pilots
Flight crew operations are at the heart of Thales FlytX, which has been designed to reduce training, optimize workload and increase safety. It is the result of in-depth research conducted in cooperation with pilots, ergonomists, physicians and engineers. Design is focused on intuitive and task-oriented interfaces. Only relevant and necessary information is displayed when needed.
Choose the means of interaction you want
With FlytX, you introduce touchscreen capacities at your pace in the cockpit. A Control Cursor Device and a keyboard remain available.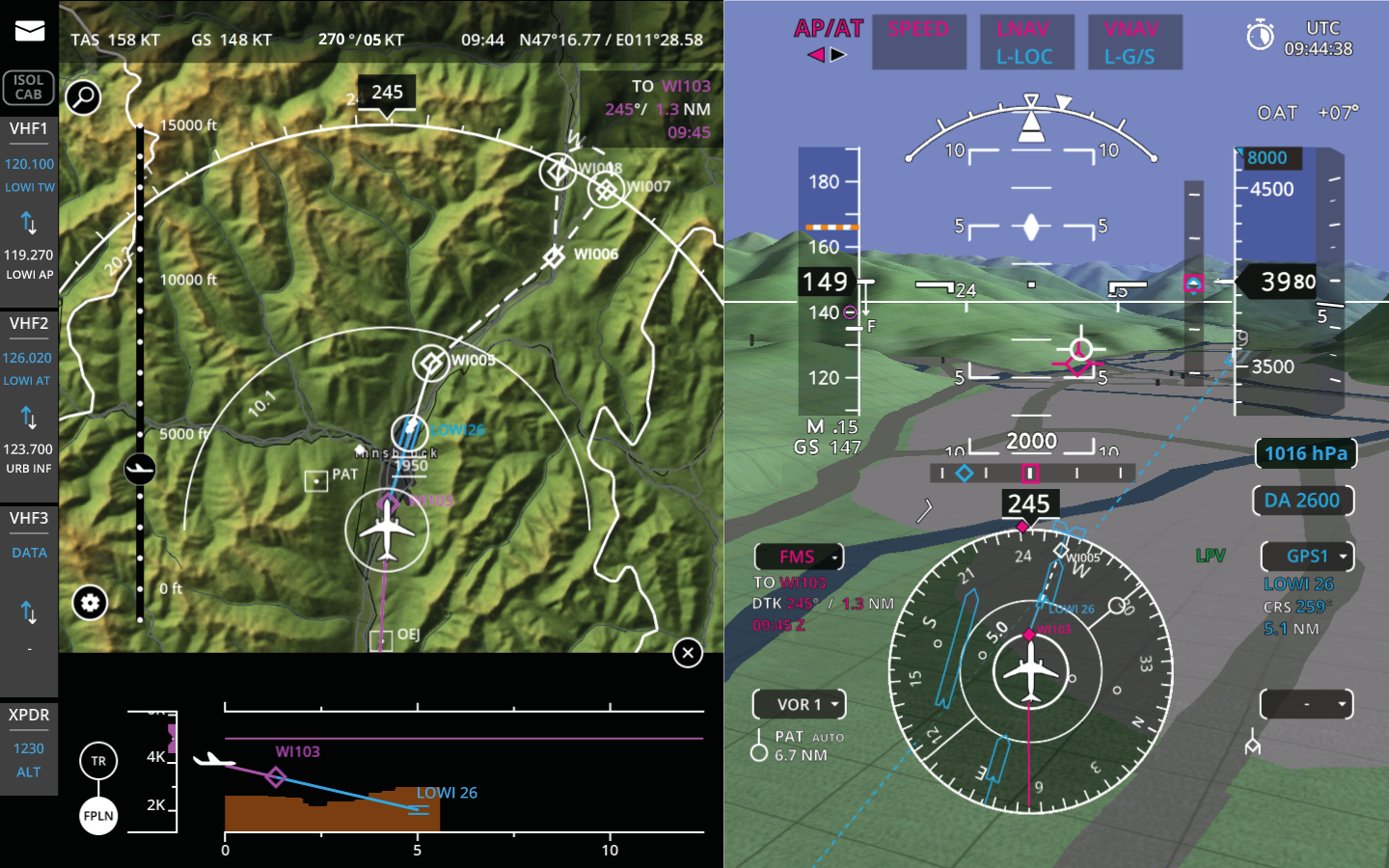 FlytX allows new features such as SVS, Digital Map and new navigation HSI.
New way of displaying flight information
A new timeline concept has been introduced to create the link between flight phases and associated necessary tasks to be completed. Colors and contrast were chosen to decrease visual fatigue while presenting clear indications for alerts. Additionally, touchscreen capacities enable new ways of interactions with avionics. Pie charts are a new way of displaying and selecting menus. 
Focus on the mission and increased operational flexibility drives Thales FlytX development
It provides precious decision-making help and assistance to restore time margins in emergency situations and reduce workload complexity of a large variety of operators' mission profiles. The use of the FMS has been strongly simplified by direct interaction with the flight plan, on the digital map or on points of interest. Pilots will be able to focus ever more on their tasks to enhance safety and make the mission more efficient.
Compact flight deck thanks to Integrated Modular Avionics
Thales FlytX achieves a 30 to 40% reduction in size, weight and power consumption compared to legacy avionics. This decrease is the result of the IMA's strong integration of avionics applications such as FMS (Flight Management System), HTAWS (Helicopter Terrain Awareness and Warning System) and RMS (Radio Management System) inside the display. There is no more need for specific hardware and the number of LRUs (Line Replaceable Units) has been dramatically reduced. In the meantime, the virtualization of control panels, moving from buttons to touch interactions, has brought additional gains in weight and LRUs.
Customizable with number of displays and your own functions
FlytX is a cockpit family to build upon your needs:
From 1 to 4 large displays for helicopters
From 1 to 3 large displays for eVTOL and UAM markets
From 3 to 5 large displays for regional turboprops and jets
Incremental certification for new piloting and mission functions
FlytX embeds Thales IMA technology, which has already been certified for numerous in-service aircraft types. With incremental certification, it has the capacity to add new functionalities or modify existing ones while retaining the certification credit of the other functions. It also assures the hosting of additional functions from the airframers themselves or other third parties without having to add specific hardware.
Tailoring your flight deck
Advanced mission functions, utilities functions or other eyes out functions are typical candidates. Thales IMA technology is the major differentiator as regards traditional market solutions whose hardware and software design optimization is conducted at the expense of the openness and seamless capacity to grow. Thanks to a specific toolbox, OEMs can easily customize the HSI (Human System Interface), colors, system pages and 3D views to meet specific requirements.
Connectivity and media delegation to ease mission
The FlytX solution has been developed to be integrated to the connected aircraft environment. It can securely link avionics systems with operation centers, other service providers, and the open world (third-party mission applications) making the cockpit more mission-oriented and flexible. FlytX can display and interact securely with a connected tablet (e.g. Electronic Flight Bag) thanks to a Cyber-by-design architecture which guarantees a strict separation between critical flight information and data coming from open-world sources (autonomous IT bubble).