Pilot helmets for all helicopter, transport aircraft and fighter missions
We propose a whole range of monocular and binocular helmet-mounted display and head-worn display for fixed or rotary wing aircraft and fighter like Tiger, NH90, F-16 and F-18. Our pilot helmets are used for all civil, para public and military missions with integrated night vision system and full-color symbology.
HWD: information displayed on pilot and operator head-worn visor
The concept of the Head-Worn Display (HWD) is to integrate the eyes of the pilot/operator into the mission system by taking the HUD technology to the next level, creating a permanent/continuous display worn by the pilot and/or operator.
On top of piloting capabilities:
Designation of a point of interest to the mission system (cueing)

Visual acquisition of point of interest from mission system (aiming)

Information display: 

Flight data (height, speed, altitude, heading, etc.)
Tactical data from weapon and mission systems
Terrain data thanks to Enhanced Vision System (EVS)/Synthetic Vision System (SVS)/Combined Vision System (CVS)
After 40 years' experience of developing and manufacturing Helmet-Mounted Display Systems, Thales presents a range of head-worn equipment boosts operational efficiency through line-of-sight (LOS) sharing, points of interest and seamless interaction with mission systems, a minimal footprint in the cockpit and a unlimited field of view with high accuracy. 
TopOwl: HMD night vision and sight for military helicopters
The helmet-mounted digital display system for military helicopter crews. Already combat proven in high-risk conflict zones, TopOwl seamlessly links the pilot, external environment, weapons and avionics system for improved operational coordination. 
HMD TopOwl Digital Display 
Successful military missions
The Thales TopOwl Digital Display helmet-mounted sight and binocular display has been deployed continuously on the battlefield aboard the Tiger helicopter and the NH90 in different military operations. Continued mission success is a result of the sophisticated and additional capabilities delivered by TopOwl.
Most advanced night vision system
TopOwl has demonstrated its operational benefits and its ability to increase mission success rates on a daily basis. French Tiger helicopter crews have come to view the system as their "cat's eyes". Night visibility is unlike any other Helmet-Mounted Display and supports stealth missions under cover of darkness by delivering ultimate visibility and therefore a clear advantage in terms of vision and mission.
Scorpion: HMD for all aircraft and helicopter missions
The most advanced visual evolution for military, civil & parapublic forces. Scorpion is an easily-installable and affordable HMD compatible with fixed and rotary wing platforms. Using technlogy already proven in military arenas, Scorpion augments your vision and enhances your situational awareness to ensure mission success. 
Scorpion for mission aircraft                            Scorpion for fighter                          Scorpion for mission helicopter
For mission aircraft
Scorpion helps Mission Aircraft Operators who want to enhance their mission success rate and responsiveness by improving target designation capabilities and coordination between crew members, reducing time and energy required to address a point of interest unlike head-down stand-alone mission sytems.
For fighter
Scorpion helps Air Forces to improve their mission efficiency by connecting the pilot's eyes to the weapon/mission systems.
For mission helicopter 
Scorpion helps Mission Helicopter Operators who want to improve their mission efficiency and effectiveness by creating a bridge between the pilot's eyes and EOS mission systems.
TopMax: Head-Worn Display for civil aircraft and business jets
The Head-Worn Display (HWD)  brings a new visual dimension to fixed-wing business, commercial and cargo pilot perspectives. TopMax offers the best combination between operational benefits, technical feasibility, life cycle cost, simplicity and cost of installation for all civil aircraft.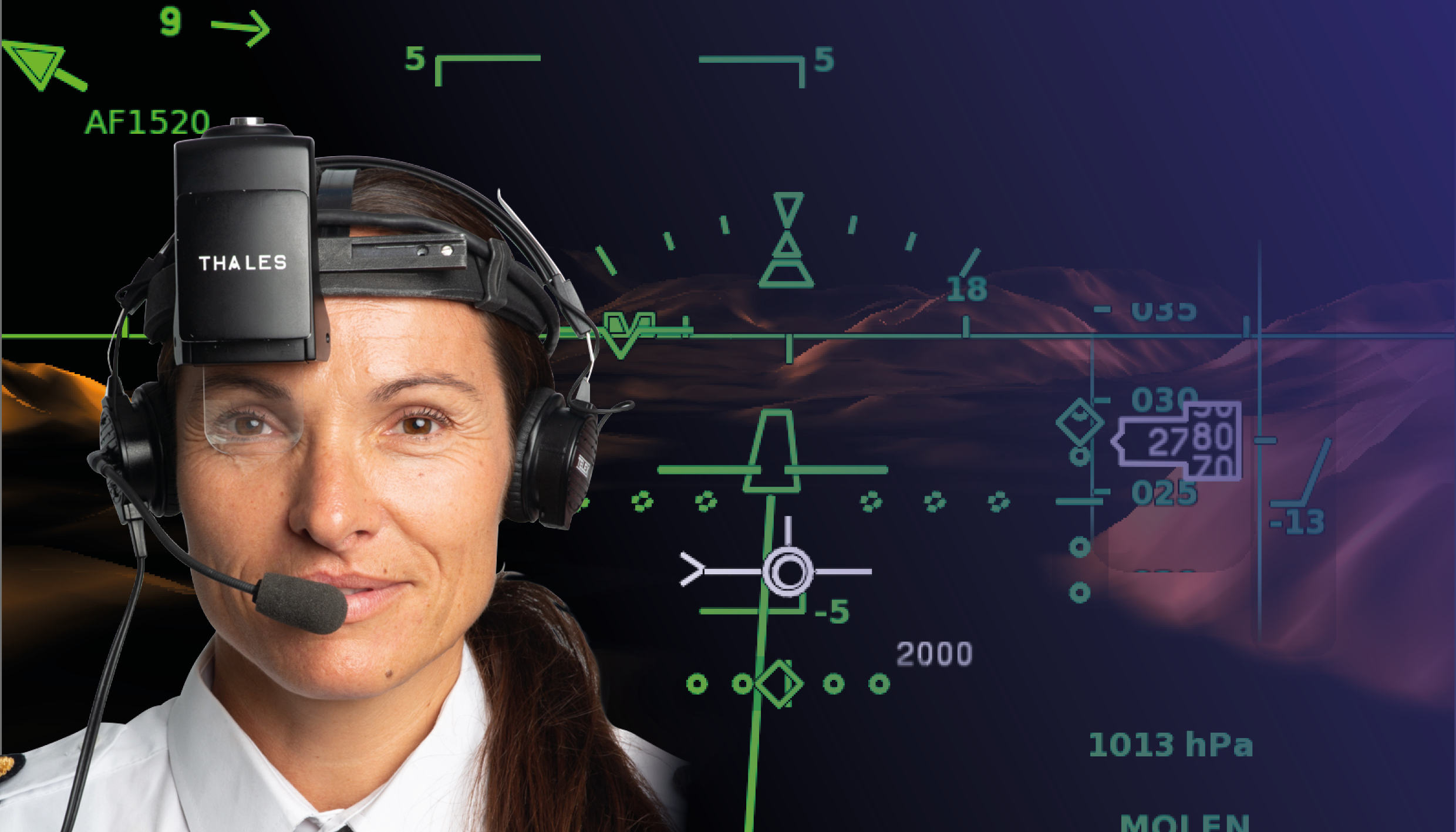 Optimized design
Designed by pilots for pilots, TopMax is a lightweight full-color HWD for business jets, regional, commercial aviation, and cargo operators delivering a cost effective solution for optimized flight operations.
Facilitate civil mission 
TopMax provides the means of keeping the operational benefits of HUDs while obtaining competitive advantages, by decreasing weather dependencies (reduced delays, diversions and cancellations), improving safety and situation awareness, and reducing the total life cycle cost of operations.
Our references for all platforms
Thales has been chosen by a large number of countries for its pilot helmet and is on board major types of platforms like:
Helicopter platforms
Tiger, NH90, AH-1Z Viper, UH-1Y Venom, Rooivalk, T129, Fennec, H125M, H135M, H145M, H225M, EC-725, EC-645, MD-530G, LAH Korea
Military aircraft platforms
AC-130W Gunship, A-10 Thunderbolt
Fighter platforms
F-16, F-18, Rafale