​​​​​​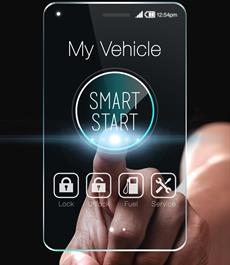 Gemalto offers alternative or complementary ways of entering and starting a vehicle, such as Mobile Virtual Car Key frameworks.
When deploying a Virtual Car key Solution, user trust and convenience are fundamental.
Virtual car key enables the full digitalization of the customer journey for private cars, vehicle fleets, car sharing​ or rental cars. It removes user's need to physically pick-up car keys at home, at branch or at desk. It facilitates key management with enhanced security and greater user convenience. No need to worry about losing time or car keys.
Gemalto's solution securely stores keys in the mobile phone or any wearable device in a secure environment (eSE, TEE or Secure Element) using agnostic communication protocols (Bluetooth, NFC). Keys are managed and protected thanks to a Trusted Service Hub​ and secure download of the keys is guaranteed.​ Now with the car key in the phone, a driver can open and start the car with no need of network coverage.
The Virtual Car Key Valeo InBlue™ example 
Gemalto teamed up with Valeo to develop the Virtual Car Key system  Valeo InBlue™, which leverages the Gemalto Trusted Services Hub (TSH) security solution. This solution provides secure Over-the-Air (OTA) deployment and lifecycle management of applications and sensitive credentials for vehicles. Our security solutions make sure virtual car keys are securely sent to smartphones and stored with a high level of security that is comparable with current mobile payment solutions, deployed with banks around the world. The Valeo InBlue™ solution is based around on-board equipment, connected to a Software Development Kit (SDK) hosting a secured virtual car key, provided by the Valeo cloud-based platform.
With Valeo InBlue®, authorized users can remotely register new connected devices for use with a vehicle and receive vehicle information such as car location and fuel level, enabling easy secured car sharing and simplified rentals.
Gemalto is a pioneer of secure connected car technology and its proven Trusted Service Hub has helped us deliver next generation services with enhanced security for drivers and car manufacturers. Marc Vrecko, President of Valeo, Comfort and Driving Assistance Business Group
The Daimler "Mercedes Me" smartphone-based digital vehicle key example​ 
Gemalto provides its Trusted Services Hub (TSH) to support Daimler AG's new smartphone-based 'digital vehicle key' for the Mercedes-Benz E-Class range.​
Gemalto's TSH enables seamless and secure over-the-air deployment of the digital keys to any type of phone that supports the solution. 
With the key safely downloaded to a secure element via Gemalto's TSH, drivers can lock/unlock their cars by simply placing the smartphone against the door handle.​
As an integral part of the 'Mercedes me connect' program, the digital vehicle key will connect seamlessly with services that meet the demands of modern mobility and digital lifestyles. 
"For Daimler AG, this aim is fully supported by our solutions, which enable it to offer customers innovative services through their preferred device, without compromising security."