​​​​​​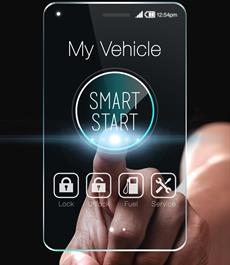 Over the last few years, Thales has continuously been involved in developing alternative or complementary ways of entering and starting a vehicle.
The objective is to offer digital keys to car users and drivers to lock/unlock their vehicles and start the engine using their smartphone or any other mobile device.
Taking it from here, digital keys open a variety of automotive use cases that will make access and sharing of vehicles much easier:
Private car owners can digitally share car keys with family members or friends, possibly with a fixed duration, and without the need to physically meet 
 

Company car fleet owners can digitally share car keys with employees, possibly giving access for a specific day or period.
 

Rental car owners can digitally share car keys with customers, physically removing the need to pick up car keys at a rental desk.
Needless to say, digital keys enable car owners to easily manage the use of their vehicles from a smart device in a very seamless way.
 
The Car Connectivity Consortium
The Car Connectivity Consortium (CCC) aims to develop a standardised ecosystem for global smartphone-to-vehicle connectivity solutions. The CCC represents a large portion of the global automotive and smartphone industries, with over one hundred member companies. 
The joint effort among all these members led to the CCC Digital Key Certification, providing a standardised solution to ensure interoperability and security of implementation. This should ensure a large adoption of the CCC Digital Key by all mobile device OEMs and car makers.
Thales has been a member of the CCC since 2017 and the early stage of the CCC Digital Key standardisation. We actively contribute to developing the CCC Digital Key specification and certification program. Thanks to our chair position in the CCC Digital Key Certification working group, our standardisation team has led the certification activities since 2019. 
 
Automotive digital keys require trust and convenience 
Mobile devices and vehicles must connect securely to build users' trust and maintain the highest security level. 
To do so, digital IDs and associated digital keys must be provisioned and stored securely in each ecosystem component: in mobile devices on one side and vehicles on the other. 
This way, both sides can recognise each other through a secure and mutual digital authentication based on encryption mechanisms.
 
While the CCC Digital Key Release 2 already enabled a mobile device to be used as a key to enter and start a vehicle, the latest Release 3 (issued in May 2021) now provides even greater convenience:
Bluetooth connectivity, in combination with Ultra Wideband (UWB), enables a driver to unlock and start his car without presenting his mobile device close to the vehicle. This enhanced feature lets drivers keep their mobile device in their bag or pocket, enabling passive keyless access and engine start. 
Further remote key functions, such as seamlessly 'opening a trunk', are being introduced, which can reveal practicality for smart package delivery to a customer car. 
Thales supports the digital key solution,
for seamless car access
Thales provides a secure, end-to-end solution for automotive stakeholders looking to implement the latest CCC Digital Key specification.
We provide our connectivity and cybersecurity expertise from car drivers' enrollment into Digital Key service platforms, the provisioning and storing digital IDs and associated keys, and credentials renewal and revocation. 
Digital ID generation and key provisioning
Thales generates diversified, random IDs, keys, and credentials securely provisioned into smart mobile devices and vehicles. These are the security foundation for vehicle-to-car mutual authentication.
 
Digital key storage credential management
On the mobile device side:
Thales has been manufacturing embedded Secure Elements (eSE) and applets for the telecom industry for decades. These offer a tamper-resistant environment inside mobile devices to store digital IDs and keys and protect them against hardware or software-based attacks.
On the vehicle side: 
Thales supports car makers to protect digital keys stored inside their vehicles. Our deep knowledge of the attack landscape and cybersecurity protocols enable us to provide CCC Digital Key-compliant storage protection based on Thales embedded Secure Elements, applets and firmware.
On the cloud side:
Thales Hardware Security Modules (HSM) are powerful credentials storage machines that manage distributed keys' lifecycle (distribution, renewal, revocation) and ensure crypto-based authentication between the smart device and vehicle.
Extra features for digital car key solutions
Looking further, Thales supports extra features for car makers and digital key service providers to complete a fully secure and seamless experience:
Secure driver authentication
The use of biometrics technology, specifically the Live Face Identification System (LFIS), can complement the digital ID check process, making sure only the driver associated with the smartphone can unlock his car and start the engine.  
 
NFC Card
Thales offers NFC Cards fully compatible with the CCC Digital Key standard. This brings a secure keyless access alternative to car users who don't have their smartphones or want to provide limited access to a foreigner for valet parking or car washing services. 
Contact us below for further details on how Thales supports deploying digital keys for seamless car access.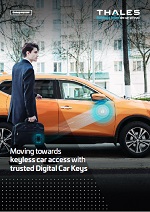 Moving towards keyless car access with trusted Digital Car Keys
The automotive industry has been working on a seamless solution for keyless car entry, locking/unlocking, and starting connected cars, without physical keys or key fobs. Thales secures the solution with the right cybersecurity elements to provide trust and convenience to the innovative Digital Car Key
Read more