Enhanced efficiency
Reliable, secure, efficient, and connected healthcare IT systems are essential for reducing costs by cutting the hefty administration bills usually associated with public healthcare programs. 
They are also vital in preventing fraud - one of the biggest problems in balancing social security budgets.
There's more.
The deployment of smart health cards and eHealthcare IT systems streamline the prescription process, improves the quality of care given, and simplifies electronic healthcare records management through a coordinated health service process.
To discover how to slash fraud and error better, read our web dossier on intelligent health card technology assessment done in countries with universal health care.​​
An experienced player at your service
Thales is a trusted partner in several countries worldwide and contributes to more efficient national healthcare systems to benefit patients, health insurance, and professionals.

Thales' eHealthcare IT solutions mean better control and services. 
Providing the complete eHealthcare IT solution or part of it, Thales is the digital security expert for protecting personal health data while securely connecting all actors.
Thales offers a complete set of flexible, personalized solutions to meet all requirements and suit your needs:
Complete eHealthcare IT system
Personalized smart health card insurance card
Health professional cards tokens
Health card readers
Authentication gateway
Card Management System
Trust center technology
With references in Algeria, Bulgaria​ (military), Azerbaijan, Gabon, Germany, China, Finland, France, Mexico, Puerto Rico, Slovenia, Sweden, and Europe with the European health card, Thales is a reliable and robust partner.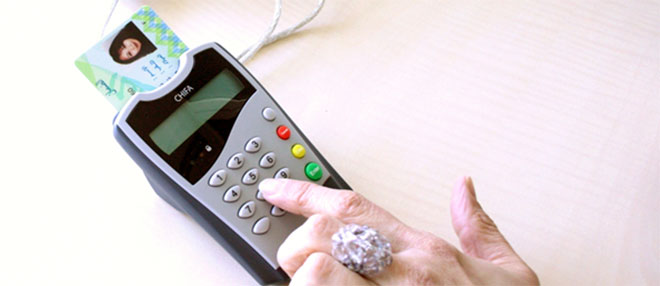 The Algerian health program CHIFA utilizes smart health cards for patients (here in a reader) and smart USB tokens (with a secure microprocessor) for professionals.
​Why use a smart health card? 
​By identifying the holder and their affiliation to an organization and verifying their rights, a smart card acts as an essential component of the IT system to create and secure the transmission of standardized medical expense claims. 
Dematerializing the medical prescription from paper to electronic format helps organizations reduce costs and increase efficiency. 
Smart card solutions enable the pre-authorization of the health transaction by storing the validity of the patient's rights. 
​Costs are divided by 6 to 7 when processes are dematerialized.​
Do you know that, according to
CNBC
, administrative costs account for 8% of total national health expenditures in the United States? The other countries (Sweden, Germany, France, Japan) range from 1 to 3%.
A smart national health card is a secure document.
Unlike paper documents, which can easily be forged, smart health cards are tamper-proof devices challenging to forge or unlawfully manipulate. 
They benefit from the inherently high levels of security already implemented in other sectors, such as: 
It secures identification and authentication.
An electronic cash functionality stored within the card ensures the distribution of social funding to low-income groups. 
The card body itself becomes a secure identification tool by adding the user's picture and extra anti-fraud features – all of which have been previously developed for banknote and national ID applications and can be easily re-used eHealthcare systems. 
Smart health cards can also include biometrics to offer strong biometric authentication making sure health services are being delivered to the right patient.
This robust technology can also strike at the heart of fraud mechanisms, often with minimal investment in infrastructures without significant changes for patients and healthcare professionals. 
It protects privacy 
​Finally, the smart card enables the ultimate privacy protection by filtering access to sensitive data – only authorized people can read it, such as the cardholder and their doctor. 
Assessment: smart card technology in healthcare
​Smart card technology is often under-used in areas where it can achieve excellent results.
Strong identification and authentication for patients and healthcare professionals are critical features of microchip cards and should be implemented in the healthcare sector. Yet this is not the case in many countries.
Implementing healthcare smart health cards with an identification number and PIN or biometric authentication would enable the creation of personalized online services, a quintessentially "patient-centric" approach. However, these initiatives are still in the development stages.
The ability to verify benefits, expiration dates, repeated and multiple uses are under-used.
Thus far, the benefits of paperless, electronic medical data exchanges have not been fully tapped. Yet cards have a role in creating consistent databases, automatic reading of data, and temporary or permanent confidential local storage of additional data such as blood groups, allergies, chronic diseases, and associated treatments.
Now it's your turn
If you have a question about health card benefits or patient identification in general or want to learn more about how smart cards are transforming the world, we'll be glad to help.
We're looking forward to hearing from you.