​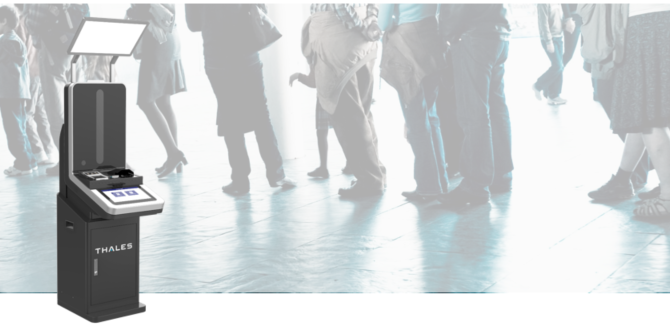 Our self-service enrolment kiosks deliver new standards of security, convenience and efficiency for governments and their citizens. This innovative approach provides significant workflow improvements for public administrations, enabling them to increase inclusivity in serving their citizens. 
Convenient access to enrolment service​s for all
The self-service Kiosks from Thales are designed to support government's digital transformation initiatives.
Administrative costs are slashed, and front desk staff can be redeployed to higher value tasks.
Quality of service is improved significantly: queues and data entry errors are reduced, and accessibility can be extended beyond regular office hours.
Deployed in government locations, post offices or other authorized public areas such as malls, Thales self-service Kiosks will enable government bodies to reach the entire population all over the territory. Thales Enrolment Kiosks are designed to be robust and highly suitable for a public environment with heavy daily use. They ensure a homogeneous quality in biometric capture all over the territory.
Kiosks have proven to reduce enrolment time by up to 60%, which has a significant impact on overall staff time and demand. They can be used both with and without agent supervision, to be even more accessible for citizens and residents to use, and in accordance with to local legislation.
Thanks to their inclusive design with automatic adjustment capabilities, our fully automated self-service Kiosks can easily be used by citizens, no matter their physical ability or computer proficiency. 
Thales Enrolment Kiosk features Modular Design and Auto Adjustment Capabilities
The Enrolment Kiosk unit automatically adjusts to each person's height for comfortable use, whether short or tall and for those in a wheelchair. 
The camera also automatically adjusts to the user's eye level for excellent ICAO-compliant photos. 
Throughout the process, each user is guided by an intuitive help screen with step-by-step instructions and even specific adjustment requests, such as to remove glasses or to dry a finger if needed.
Thales Enrolment Kiosks can lower overall agency costs and increase operational efficiency for a high quality biometric capture, while also adding convenience for citizens. 
Design your self-service Kiosks
Thales self-service Kiosks provide the best possible user experience. A compact footprint and high level of customization ensure optimum flexibility in terms of deployment and usage.
Thales Kiosk solutions for enrolment services allow for a variety of customized options including capturing ICAO-compliant photo, clear signature, high quality fingerprints, and other biometric data that may be required.
As the last step, if required, the user can proceed with the payment and even print a receipt and/or a legal temporary document, all through a convenient self-service kiosk.
Thales has selected and validated a wide range of devices that can be integrated into the Kiosk.
They include:
contactless card reader,
supervision webcam,
numeric pad,
payment terminal (contact or NFC),
receipt printer.
Modular Components to Customize Thales Kiosks
The Kiosk's finish is adapted to your preferred colours and logos.
A unique and attractive solution is then ready to deliver trusted and convenient enrolment services to end-users while fitting perfectly inside government offices, modern smart branches, or post offices.
The success of your enrolment strategy
Thales self-service Kiosks will enable authorities in charge of citizen registration to maximize citizen convenience and adoption, while ensuring protection against fraud and investment optimization.
With the most experience in enrolment kiosks – over 1650 Kiosks deployed – Thales will optimize and simplify the application process for all citizens in a self-service one-stop shop.
Thales will make the most of advances in biometric technologies, ensuring optimum biometric capture, and the highest personal data protection and overall system security.
With its pioneer experience in enrolment and identity management projects, Thales relies on a proven expertise as a Biometric solutions provider to offer a full chain of trust for a State's biometric enrolment Kiosk project.
Second generation self-service enrolment kiosks
Delivering new standards of security, convenience and efficiency for governments and their citizens
Download the position paper