​Our government self-service kiosks enable government agencies and organizations at all levels to better reach citizens and residents and to make access to online services even more inclusive.
This innovative approach provides significant efficiency gains for public administrations and improves the end-user experience, boosting the adoption of online services and digital public services in particular.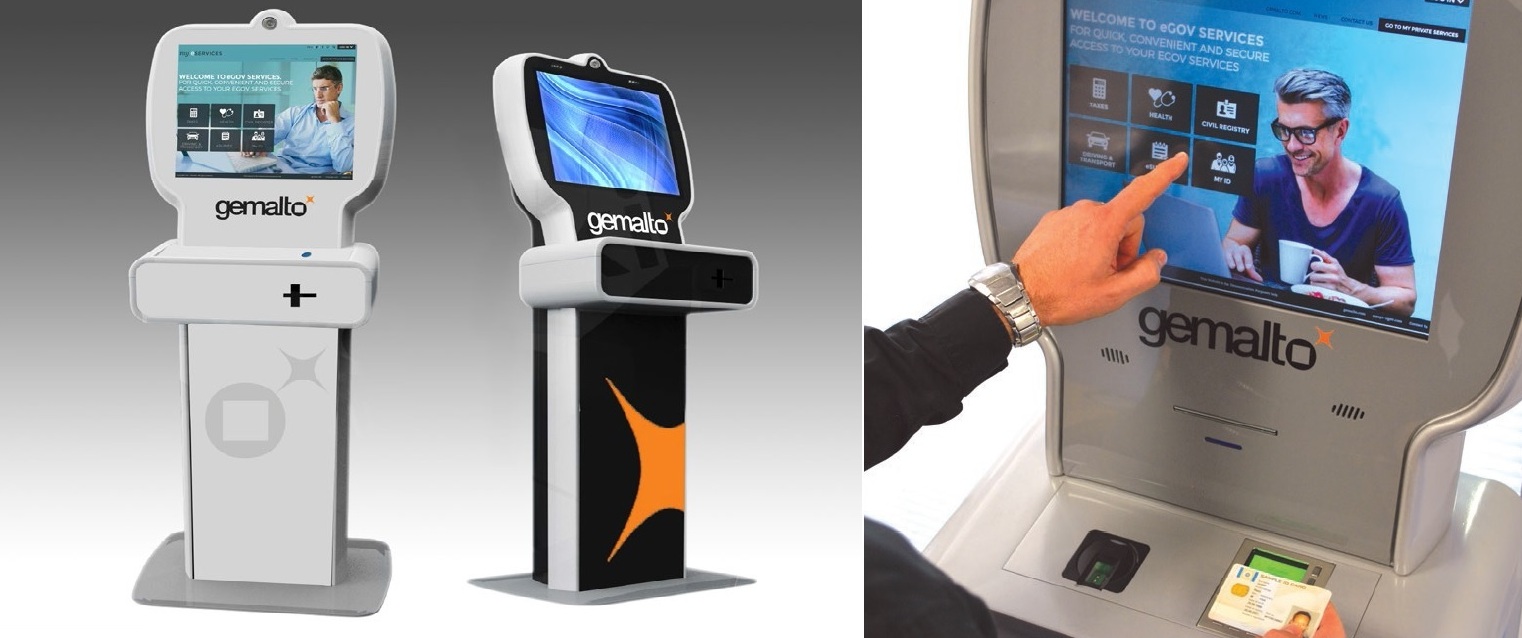 Convenient access to eService​s for all
Deployed in post offices, government offices or other public areas such as malls, Thales Gemalto eServices Kiosks will enable government bodies to reach the entire population.
In particular, support can be provided for people living in remote areas, and citizens who do not have the means or inclination to access public online services or eGovernment applications from home.
In essence, the very people who need public services the most.
The Gemalto eServices Kiosks from Thales are designed to transform how government bodies deliver services.
Administrative costs are slashed, and front desk staff can be redeployed to added value tasks.
Quality of service is improved significantly: queues and the risk of human error are reduced, and accessibility extended beyond regular working hours.
There's more.
Multi-lingual interfaces can be offered, providing comfort to all citizens and residents.
Select your applications
The eServices Kiosk creates a single gateway to eServices.
It enables users to access different types of online services, potentially from various organizations or providers, after authenticating with an eID card, biometry, or simple password.
As the last step, if required, the user can proceed with the payment.
Depending on your uses cases and existing ecosystem, Thales can provide a turnkey package with web applications, kiosk monitoring solutions and Thales software platforms:
Government Digital Identity Services​ for authentication and eSignature
Post-issuance for card administration
Document Management System to manage the life cycle of eDocument
The most popular services include:
Civil registry procedures, including online registration of births, requests for birth certificates, and printing
Declaration of a lost or stolen eID or passport
Application for an eID or a passport renewal
On line tax declaration and eSignature
Payment of taxes, fines, utility bills
Card administration: activation, PIN unblock, PIN change, certificate loading and renewal, information updates such as change of address (eID) or new beneficiary (eHealthcare), and loading of new applications.

Design your eServices self-service Kiosks
Thales creates robust and highly serviceable eServices Kiosks.
They provide the best possible user experience. A compact footprint and high level of customization ensure optimum flexibility in terms of deployment and usage.
Thales has selected and validated a wide range of devices that can be integrated into the kiosk.
The centre section is highly customizable: up to six devices can be integrated.
They include:
a contact card reader
a contactless card reader,
a fingerprint reader,
a webcam
a numeric pad,
a payment terminal (contact or NFC)
a receipt printer.
The kiosk's finish is adapted to your preferred colours and logos.
A unique and attractive solution is then ready to deliver trusted and convenient digital services to end-users while fitting perfectly inside modern smart branches or citizen shops.
The success of your eGov strategy
These self-service kiosks can represent the complementary link to a multi-modal integrated approach to your e-administration and eGov strategy with:
Continuity - uptake is built up around the continuity of the fundamental frameworks, i.e. finding eGov services access in administration buildings.
Provide something visible and tangible – to encourage uptake, especially for environments where the internet and digital technology have not reached the deployment critical mass.
These kiosks can also be attended with an assistant, and it is then all the simpler for citizens and residents to transpose into e-Services the reality they are familiar with - the points of reference are thus acquired, and the necessary learning has taken place.
To learn more on successful digital government strategies and leverage your program on tactics that are already proven to work, please read our web dossier on digital benefits.
To learn more on biometrics for secure identification, visit our report on biometric identification​.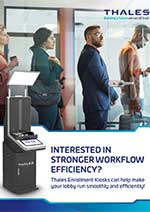 Thales Enrollment Kiosk
Interested in stronger workflow efficiency? Thales Enrollment Kiosks can help make your lobby run smoothly and efficiently!
Read more