Driving digital transformation with the power of the IoT
Thales delivers innovative IoT technology that simplifies and speeds enterprise digital transformation. For 25 years, our customers - in a wide range of industries - trust our IoT solutions to seamlessly connect and secure their IoT devices, maximise field insights, and accelerate their global business success.
Our 360° approach provides the essential building blocks needed to simplify design, streamline development and accelerate time-to-market for the world's most challenging and trusted connected solutions:
Connect assets to wireless networks and cloud platforms
Manage the long lifecycle of IoT solutions
Secure devices and their data
Analyse real-time data transforming it into business intelligence that improves decision making
Explore the Thales Products and Services to bring your IoT product to life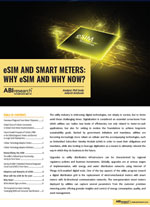 eSIM And Smart Meters: Why eSIM And Why Now?
Download this whitepaper from ABI Research to understand how to streamline daily metering operations with new technologies
Download the whitepaper
How to become an IoT master
Customer Cases






Discover some innovative IoT examples
Live Webinar: Global IoT Approval
In this live webinar our experts present regional certification schemes, MNO approval requirements, processes, and solutions how we can support you to navigate the complex approval landscape with confidence. You'll be able to interact with Thales experts to ask them directly questions: it's the perfect opportunity for you to get your issues solved!
December 9, 2020, 5:00 p.m. CET / December 10, 9:00 a.m. CET
IoT Power Optimisation
Estimating, calculating and measuring the power consumption of cellular IoT devices is notoriously difficult.
We have teamed up with Qoitech to deliver an intelligent energy measurement platform so you can design smarter, equipped with a powerful toolkit to measure and optimise IoT device power consumption.