​Everywhere today, people rely on cards and mobile phones to pay. 
Many are already benefiting from the convenience of fingerprint biometrics on smartphones without having to remember a PIN code.
Let us show you how.
Now fingerprint biometrics is finally coming​​ to cards.
​
Discover biometric authentication applied to EMV cards.
Fingerprint payment is made simple.
With a fingerprint sensor right on the card body, paying with an EMV card just got easier than ever before:
​with a simple touch, no need to enter a PIN code on the Point-of-Sales  (POS) Terminal to perform a payment transaction, both in contact mode and in contactless mode
no more limit on contactless payment transactions! The users are securely authenticated with their fingerprint and can enjoy the convenience of contactless for any amount.
n​o upgrade is required on the POS, as the biometrics check is directly performed on the EMV biometric card and nowhere else​
Biometric card: enrollment is key
A simple yet rigorous enrollment process is vital to protect the cardholder biometric data.
The enrollment procedure can be performed at home or at the branch. 
When performed at home, the cardholder fingerprint reference data is securely installed in the card using a self-enrollment sleeve shipped with the card (see picture below). By simply inserting the new biometric payment card in the sleeve and by following a straightforward walkthrough procedure, the cardholder completes his/her enrollment, in a manner of seconds. Activation is then completed at the first transaction at the POS. 
Alternatively, the cardholder may go to the bank branch and get the assistance of a teller using a secure enrollment tablet, or 24/7 kiosk.
The biometric data never leaves the card.
The ​​fingerprint reference data captured by the biometric sensor is securely stored in the card's secure chip. 
It is not kept on the Bank's servers nor sent over the air to a personalization bureau.
The very rigorous and privacy-friendly enrollment process described above is critical for the success of fingerprint payments.
It is very similar to popular self-enrollment processes available on leading smartphone brands.
Communication about this aspect is certainly key for customers.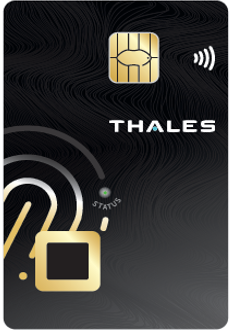 The Thales  Gemalto biometric credit card combines a fingerprint sensor and EMV technology. The biometric data never leave the card.
The biometric payment card experience
​
The fingerprint biometric sensor is large enough and well-positioned enough on the card body to enable a perfect seamless user experience.
It sounds simple, and it is.
By holding the card pretty much as always before, the cardholder will perform biometrics verification with his/her enrolled finger.
A card insertion (contact mode) or tap (contactless mode) on the POS will be sufficient to complete the transaction. 
PIN code can be used as a fallback solution whenever the cardholder's fingerprint can't be used - like ATM cash withdrawals, for example.
The new fingerprint sensor is compatible with all other EMV card options, such as contactless​.
In the future, Dynamic Code Verification with an e-Ink display on the card body.  
Biometrics is also compatible with the ISO dimensions of the card.
The result? 
The biometric payment card can also be used at the ATM with a PIN code.
There's more.
Identification for social benefits cards 
Another new and interesting value proposition for the biometric EMV card is that unlike PIN code, which is an authentication method, biometry is an identification method. 
A PIN code can be shared by the genuine cardholder, but biometric data can't be shared. 
This identification approach brought by biometrics can be used by card issuers to ensure that the genuine cardholder uses the benefits. This enables social benefits distribution via an EMV payment card. 
There's no change on the EMV payment performance, but a very robust identification of the cardholder.
Fingerprints and identity:  According to calculations made by Sir F. Galton (Darwin's cousin), the probability of finding two similar fingerprints is one in 64 billion, even with identical twins. 
 
A solution certified by major EMV payment schemes.
Thales Gemalto EMV contactless biometric payment card has already been certified by major EMV payment schemes like Mastercard and Visa. After a series of successful trials around the world, the industry-first contactless biometric solution is ready for commercial roll-out.
 
Customer References & Quotes
More than 20 projects already developed by Thales. Fingerprint biometrics set to be the authentication method of choice for EMV payment cards.
 
BNP PARIBAS
After a trial of the Thales biometric payment card and its positive outcome, we have now opened the offer to all our customers with confidence. This premium solution addresses several challenges such as convenience, safety and contactless. A simple yet rigorous enrollment process has been set in the branch so the biometric data never leaves the card. This is a key pre-requisite as we take the privacy of our customers' data very seriously.  Jean-Marie Dragon, Head Of Payments and Cards, BNP Paribas.
[Read Thales Press Release]
RBS/NatWest is the 1st UK bank group to unveil EMV biometric payment cards​​
In partnership with Thales, RBS/NatWest is the 1st UK bank group to unveil EMV biometric payment cards.
RBS Group adopts fingerprint biometric contactless payment cards​
They launched a three-month national trial with VISA debit cards in April 2019 with 200 customers, which allowed to confirm the benefits of the new fingerprint card.
In financial services, biometrics are gaining ground as a secure and convenient alternative to passwords and PINs. This technology has the potential to make the lives of consumers easier and provides greater choice to confirm their identity. At Visa, we're committed to working with partners to develop and invest in emerging capabilities that deliver a better, more secure payment experience for consumers. Jeni Mundy, managing director, UK & Ireland, Visa
​​
RBS/NatWest/Coutts successfully deployed a second pilot from the 7th of October 2019 with Mastercard credit cards with 150 customers, to test the technology and its potential further.
Feeling confident that your information is protected is paramount. That's why we're delighted to partner with NatWest_Help and Thales to pilot the first biometric fingerprint credit card issued by a UK bank. Bob Reany, EVP, MasterCard
Bank of Cyprus
Thales has been selected by Bank of Cyprus to supply the world's first EMV biometric dual interface payment card for both chip and contactless payments.​ 
Using fingerprint recognition through a biometric sensor instead of a PIN code to authenticate the cardholder, the card is compatible with existing payment terminals already installed in the country. 
When customers place their fingerprint on the sensor, a comparison is performed between the scanned fingerprint and the reference biometric data securely stored in the card. 
The biometric card is powered by the payment terminal and does not require an embedded battery.
In other words, there is no limit from battery life nor on the number of transactions. ​​​
​​First biometric cards for Bank of Cyprus ​​​
To bring seamless authentication to the banking sector, Thales has leveraged its extensive expertise from secure government documents and leadership in biometric applications. Our customers will benefit from this innovative payment solution with the peace of mind that their biometric data never leaves their hands. Stelios Trachonitis, Card Centre Manager from Bank of Cyprus
More resources
Related topics:
Areeba introduces contactless biometric payment cards to the Middle East.
UK consumers ready to use biometric payment cards (research paper)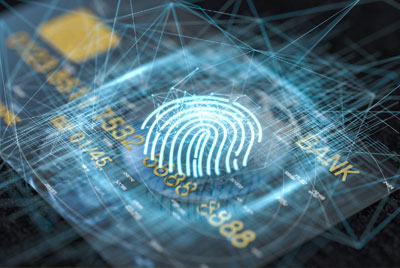 A new biometric payment technology: The case of the biometric banking card.
Discover why biometrics for credit cards is the ideal payment technology to migrate the entire card experience to contactless, regardless of the amount.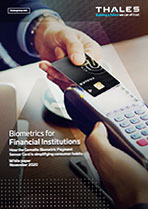 Biometrics in payment: The case of the biometric bank card (white paper)
Check out the latest developments and technologies in biometrics
Read more

3 Reasons to deploy the new Biometric Sensor Payment Card
Check out what unveils the solution and what makes it different from EMV payment cards
Download the brochure [PDF - 2.2mb]