RBS/NatWest is the 1st UK bank group to unveil EMV biometric payment cards​​
In partnership with Thales, RBS/NatWest is the 1st UK bank group to unveil EMV biometric payment cards.
RBS Group adopts fingerprint biometric contactless payment cards​
They launched a three-month national trial with VISA debit cards in April 2019 with 200 customers, which allowed to confirm the benefits of the new fingerprint card.
In financial services, biometrics are gaining ground as a secure and convenient alternative to passwords and PINs. This technology has the potential to make the lives of consumers easier and provides greater choice to confirm their identity. At Visa, we're committed to working with partners to develop and invest in emerging capabilities that deliver a better, more secure payment experience for consumers. Jeni Mundy, managing director, UK & Ireland, Visa
​​
RBS/NatWest/Coutts successfully deployed a second pilot from the 7th of October 2019 with Mastercard credit cards with 150 customers, to test the technology and its potential further.
Feeling confident that your information is protected is paramount. That's why we're delighted to partner with NatWest_Help and Thales to pilot the first biometric fingerprint credit card issued by a UK bank. Bob Reany, EVP, MasterCard
Bank of Cyprus
Thales has been selected by Bank of Cyprus to supply the world's first EMV biometric dual interface payment card for both chip and contactless payments.​ 
Using fingerprint recognition through a biometric sensor instead of a PIN code to authenticate the cardholder, the card is compatible with existing payment terminals already installed in the country. 
When customers place their fingerprint on the sensor, a comparison is performed between the scanned fingerprint and the reference biometric data securely stored in the card. 
The biometric card is powered by the payment terminal and does not require an embedded battery.
In other words, there is no limit from battery life nor on the number of transactions. ​​​
​​First biometric cards for Bank of Cyprus ​​​
To bring seamless authentication to the banking sector, Thales has leveraged its extensive expertise from secure government documents and leadership in biometric applications. Our customers will benefit from this innovative payment solution with the peace of mind that their biometric data never leaves their hands. Stelios Trachonitis, Card Centre Manager from Bank of Cyprus
More resources
Related topics:
Areeba introduces contactless biometric payment cards to the Middle East.
UK consumers ready to use biometric payment cards (research paper)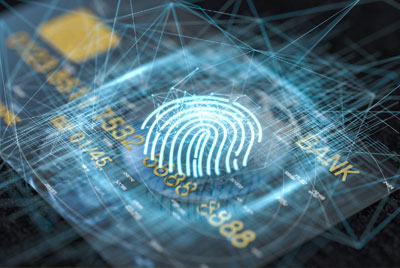 A new biometric payment technology: The case of the biometric banking card.
Discover why biometrics for credit cards is the ideal payment technology to migrate the entire card experience to contactless, regardless of the amount.