Payment card issuers require modern card programmes.
They need a modern card issuing platform to launch state-of-the-art card programmes that precisely match their use cases. That's exactly what Thales D1 delivers.
Modern card issuance to unleash new potential
Banks, wallet providers, and card issuer processors want to energise their brands through modern card programmes: their customers expect to be in control, via their mobile device, 24/7 of all their payment cards' life cycle steps. They demand services to be instantaneous, simple yet secure. 
As innovation in payment is set to accelerate drastically with new services beyond mobile payment such as 3-D Secure, Click-to-Pay, pay by instalments, alerts and control, card issuers want a new card issuing platform capable of launching new services quickly and cost-efficiently. 
They need to invest in a new card issuance architecture that is scalable for the years to come.
The good news?
This new mobile user experience revolution and the upsurge of digital cards, virtual cards and physical cards bring tangible benefits to card issuers:  more card acquisitions, transactions, and fewer frauds for online purchases.
From "physical-first, digital-later" to "digital-first, physical-later"
The rise of eCommerce stimulates new payment methods for online purchases. 
At the same time, the mobile banking app is now the preferred communication channel for cardholders interacting with their banks.
There are three main drivers for card issuers to shift to a modern card program:
Cardholders count on real-time service delivery and settings —no more trips to the branch or paper applications form. Everything from ordering a card to getting its PIN code or setting spending limits should be easy to do, immediate, and just a few clicks away.
Cardholders want to be in control, preferably via the mobile banking app or a web interface. In essence, the mobile phone is the new bank branch. It's open 24/7, and there is no waiting in line.
Cardholders expect a comprehensive offer from their banks, including all physical, digital and virtual cards, to meet all their payment needs at stores and online.  As innovation accelerates, the mobile app becomes a services marketplace with easy new services discovery and frictionless onboarding.
The challenge?
Tech-forward fintechs, neobanks and crypto-exchange platforms have already implemented this digital-first, all-in-one mobile app.
We foresee that all card issuers will adopt this approach in the short and medium-term. 
Quite simply, the consumer demand for this new mobile experience is too strong to be ignored by incumbents.
With a modern card programme, card issuers can leverage new benefits in four essential domains and increase their business:
Enhance UX by providing 24/7 services via the mobile app will stimulate card acquisitions, trigger the top-of-wallet effect and lead to more transactions.
End-user engagement will surge with new products such as virtual cards, push-to-wallet and push-to-merchant services and additional innovative services.
Marketing and branding will be strengthened by new physical card ordering and tracking services as well as through brand consistency across the entire products and services.
Operating costs will be reduced thanks to the scalability and the elasticity of the cloud platform and the digital delivery channel will slash costs and help reduce charges associated with traditional customer touchpoints. Faster release cycles will shorten time to market for new features and functionalities.
For example, the instant issuance of a virtual card, immediately available at account opening and ready to be tokenised and pushed into digital wallets and merchants stimulates the usage of EMV tokens.  This results is a measured +15% of overall transaction volumes and +10% in card acquisition (for existing customers in North America.)
A modern card programme is a win-win-win initiative: 
A win for cardholders who are in control and get the perfect card for each payment situation they face. 
A win for card issuers who increase card acquisition and transactions and reduce online payment frauds thanks to EMV tokenisation. 
A win for merchants who improve the payment journey for online shoppers and the overall conversion rate.
To launch such a modern card program, card issuers must re-invent their card issuing platform.
They need to integrate their existing core banking systems (accounts management, transactions management, fraud, authorisation, claims and settlements management) with a real-time, secure modern front-end that can scale up with the latest innovations introduced by payment schemes.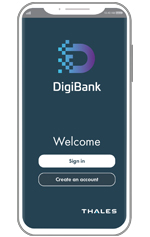 Try Thales D1 Demo
Bring to life the digital first user journey. Discover for yourself how your customers can get the best mobile experience with instant digital card payment - online & in-store, while letting them have full control over their payment credentials.
Experience the customer journey
Thales: a digital reference on banking and payment solutions
Thales is a global leader serving 3000+ financial institutions worldwide.
You can rely on us to accompany you to deliver an optimised mobile-first experience for your customers wherever you are.
Thales D1 is a solution that makes banking intuitive, secure, and convenient – it's the smartest way to manage how you pay!
 
More resources on modern issuing solutions and digital first banking
Debbie performs her quick mobile onboarding with:
Document verification
Facial recognition 
Liveness detection
Fraud prevention 
AML checks
John uses his virtual card for easy and secure online payments with:
Strong Customer Authentication
Secure display of the virtual card in the mobile app
 
Emily gets her digital card ready to use in a few seconds with:
Instant digital card issuance
Push to wallet 
Automated provisioning
Debbie receives her new digital card immediately and gets her physical card later with:
Combined digital and physical card issuance
Card order status and activation straight from the mobile app
 
Debbie controls her digital cards in real-time, on her mobile with:
Real-time management of digital cards
Easy setting of payment domains and limits for all digital cards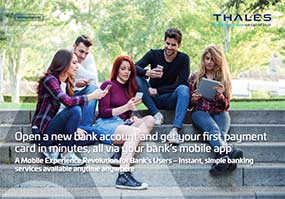 A mobile experience revolution with instant, simple banking services available anytime, anywhere (e-Book)
Open a new bank account and get your first payment card in minutes, all via your bank's mobile app
Read our eBook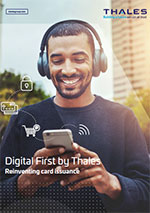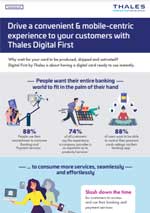 Five key reasons to roll out your digital first banking and payment services
Drive a convenient & mobile-centric experience to your customers with Thales Digital First.
Read our infographic on Digital First