eSIM activation via a reusable QR Code
Discover how Mary gets multiple devices independently connected to a cellular network.
​​The increasingly rapid deployment of eSIM (embedded SIM) and the different methods for eSIM activation are adding further momentum to the digital transformation in the telecom industry.
In conjunction with specifications defined by the GSMA remote eSIM provisioning, eSIM-capable devices open the door to secure, remote eSIM activation of mobile subscriptions anytime and anywhere.
In response, MNOs (Mobile Network Operators) must meet rising consumer expectations regarding eSIM activation for their eSIM-capable phones, smartwatches, tablets and laptops.
That's why they are increasingly looking for innovative ways to reach customers and streamline the management of their subscriptions.
How do you activate eSIM devices?
This is precisely where our new eSIM QR code for eSIM activation fits in.
Part of Thales' eSIM activation solutions, the Thales eSIM Generic Voucher provides a single and reusable eSIM QR code. It delivers a seamless and secure means for MNOs to promote and manage subscription offers.
A host of new techniques for attracting customers is now within easy reach.
How does a reusable eSIM QR code work?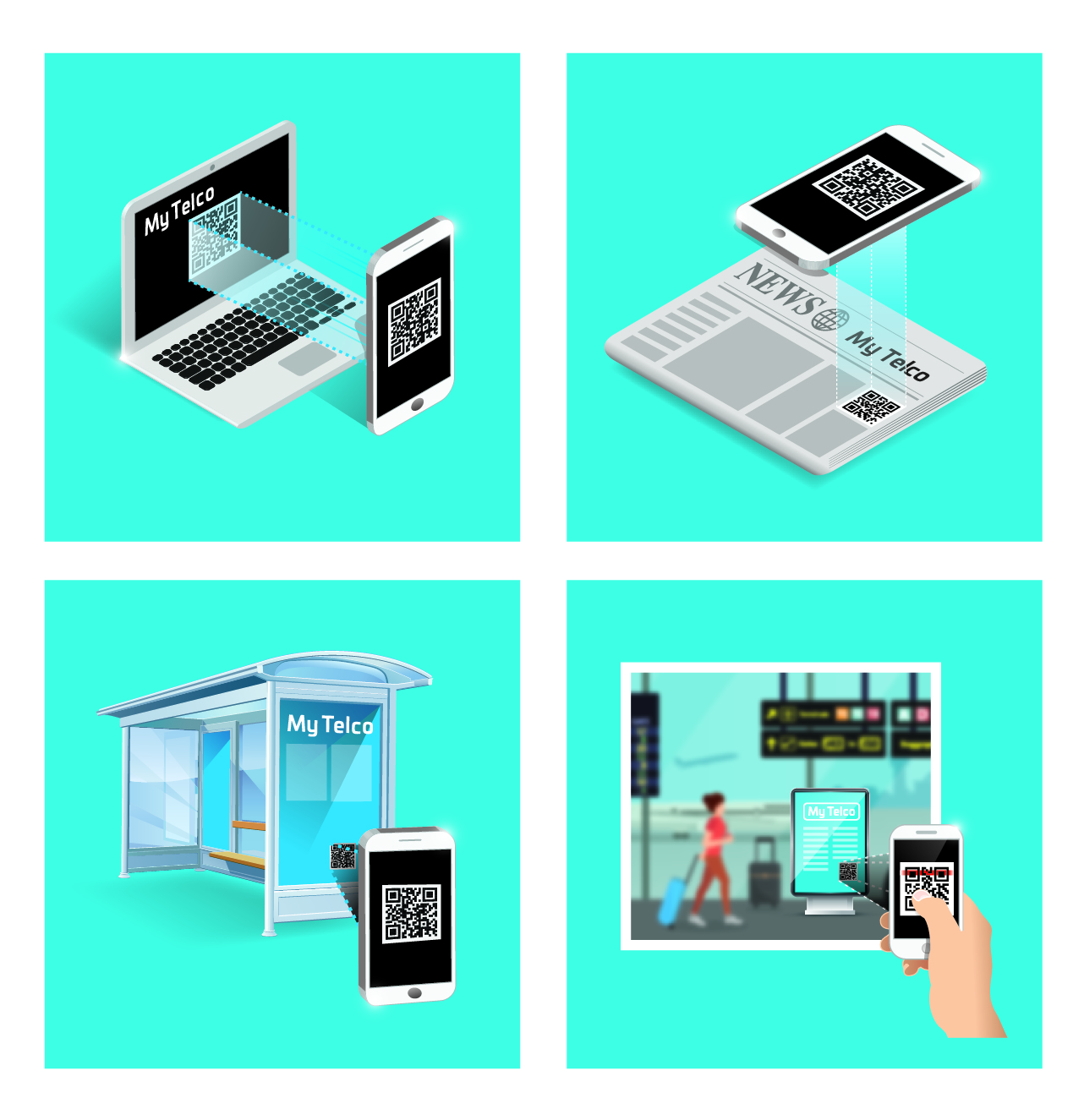 With this new eSIM activation voucher, MNOs can now allocate and activate numerous new subscriptions via a single eSIM QR code.
Not only does this simplify subscription management, but it also enables the creation of a wealth of different marketing campaigns.
How?
For example, a single QR code can be promoted to numerous potential customers through print media, outdoor posters and digital signage.
Moreover, with the eSIM Generic Voucher, MNOs can effortlessly track and measure the effectiveness of each element of their marketing campaigns. 
This eSIM activation method is as simple as scanning the QR Code for customers signing up for a new subscription.
Wherever an ID verification service is required before activation, Thales' Trusted ID platform of services integrates all the technology bricks needed to complete a swift and convenient verification process. 
Our solution is flexible, too – here are just three of the many exciting use cases for the eSIM Generic Voucher:
Targeted prepaid offers for inbound travellers
See how Jane buys a prepaid offer right upon her arrival at the airport with QR code activation.​
This offer lets travellers use a QR code to activate a prepaid subscription in their destination country.
MNOs can, therefore, run "push" advertising campaigns for their prepaid offers using media such as printed flyers.
It sounds simple, and it is.
Travellers simply scan the featured QR code with their eSIM-capable phones, and mobile subscriptions are downloaded to the devices.
The user then only needs to validate the activation offer to be connected to the MNO's network and get a new local phone number. 
For maximum flexibility and reach, the eSIM Generic Voucher containing the QR code can be used with virtually any media type, including newspapers and advertising sites at airports, hotels, and taxis.
Furthermore, the effectiveness of media can be measured quickly and easily via the number of subscription activations generated via the reusable QR code. 
Swift enrollment of multiple devices under a single contract

Another exciting opportunity is marketing a single QR code to activate subscriptions for various devices (smartphone, tablet, wearable, etc.), all covered by a single contract.
This approach will prove increasingly compelling in a highly connected world, with an ever-wider array of devices and objects needing to be securely and seamlessly enrolled with their owners or users.
With eSIM Generic Voucher, making it happen is straightforward. 
Streamlined management of smartphone fleets for enterprises

Using eSIM Generic Voucher, MNOs can enable enterprises to manage a fleet of smartphones with different profiles quickly and seamlessly, even if they are already in the field. 
Different functions within the same organisation, such as sales, remote employees and corporate HQ staff, have other subscription profiles for their connected work devices. Thales' new solution means that MNOs can offer enterprises the convenience of issuing a QR code for employees to download and activate the right subscription profile.  
The benefits of the eSIM Generic Voucher for MNOs
Our solution will: 
Maximise the ability to reach new customers and activate subscriptions using innovative QR code-based push marketing campaigns and use cases 
Create new sources of revenue via business agreements with service partners that promote the eSIM Generic Voucher through their own media: taxis, airports, hotels, e-travel portals, etc... 
Streamline customer acquisition costs with effective digital onboarding of new customers and effective management of their subscriptions. 
Strengthen control over subscription marketing and management. A dedicated customer care interface puts MNOs in charge of subscription profile management, QR code generation and download rules. MNOs can create, generate and publish generic vouchers following their own strategies and policies, for example, defining how many times a profile can be downloaded to the same device. 
Integrate easily with existing infrastructures without impacting data generation processes (input files/output files). 
The benefits of the eSIM Generic Voucher for end-users 
End-users will: 
Get access to a seamless and secure end-to-end process for eSIM activation. Nothing more than an eSIM phone is required to scan the QR code promoted by an MNO in any location where a Wi-Fi connection is available: at home, in an airport, a hotel, etc.
No need to download any app – They'll just scan the code
Effortlessly enrol all their connected devices under a single contract