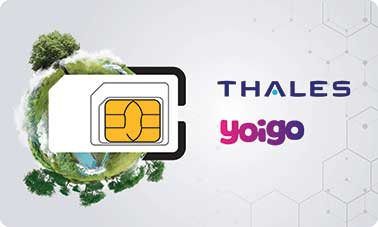 We are very proud to be a trusted collaborator of Yoigo, in developing their sustainability strategy.
Thales and Yoigo have joined forces to revolutionise the way we use SIM cards, taking us one step closer to a greener future. 
Find out more below about the history and beneficial impact of the recycled plastic SIM cards that Yoigo offers to its end customers.
July 28, 2023
Yoigo has begun to distribute the EcoSIM cards to strengthen its commitment to the planet with concrete actions and a real positive impact.
"One of the trusted collaborators for this has been Thales, who also offered us an interview with some questions that seem vital to us when assessing the importance of this milestone for the brand."
Thales interview for Yoigo
What is the percentage of recycled plastic?

In collaboration with Veolia, Thales has developed a process to reuse polystyrene waste from discarded refrigerators into usable granules. These granules are used to manufacture our EcoSIM, the world's first 100% Recycled SIM card.
 

Where does this plastic come from?

Thales uses recycled plastic from large cold appliances, including refrigerators and air conditioners, as a complete replacement for virgin plastic in the SIM card manufacturing process. This is what we call post-consumer waste, which in comparison to post-industrial waste, refers to waste generated from the manufacturing process that led to the creation of the source. This product has won many awards.

To encourage short supply trips (in line with the ecological project), all discarded refrigerators are collected in Europe and transformed into usable granules in France.
 

Where are EcoSIM cards manufactured?

Always concerned about carbon reduction, our EcoSIM cards are produced in our factory located in the north of France (Normandy), and are produced with low carbon energy to meet the needs of our European customers.
 

What happens to the remaining carbon footprint of these Yoigo EcoSIMs?

The carbon footprint (Life Cycle Assessment) is a technique to evaluate the potential environmental aspects and potential aspects associated with a product, by preparing an inventory of the relevant inputs and outputs, materials, their transport, their transformation. , its use and management at the end of its useful life.

Having reduced the carbon footprint thanks to an ecological product, MASMOVIL can benefit from a net zero carbon footprint for its SIM cards, thanks to the carbon offset included exclusively and free of charge by Thales in the design of each ecological SIM purchased.
 

Thales EcoSIM Cards are CarbonNeutral©, but what does it mean?

It means that carbon emissions issued from raw materials, manufacturing, packing, packaging and product distribution have been calculated and offset in accordance with the "Carbon Neutral" protocol, the leading framework for carbon neutrality.
 

How do you calculate the carbon footprint of your SIM cards?

The carbon footprint is calculated according to a model designed by a recognized body and accredited by our carbon offset partner: Climate Impact Partner (CIP).

This model integrates not only the material we use to manufacture our product, but also the transportation of raw materials to our production center, the energy consumption there, and the transportation from there to the customer's facilities. And, finally, the use and end of life of the product.
 

 Is the Thales EcoSIM card the only eco-design offering?

EcoSIM cards come accompanied by a complete and new packaging offer with a wide range of designs and materials, all of them made with certified or recycled papers, which are the perfect companion to the green or ecological card (both in ISO size or half card ).
 

What is the benefit of a certified paper?

Certified papers such as (Forest Stewardship Council) and PEFC (Program for the Endorsement of Forest Certification) are sustainable forest management solutions that guarantee that the paper used for the production of the pack comes from protected forests.

Material is controlled throughout the supply chain, from forest to market. An FSC ecological label is printed on the pack. More information at https://fsc.org and https://www.pefc.org/.