The way we pay for things has changed massively in recent years as consumers increasingly adopt innovative and ground-breaking ways of paying digitally… But the Covid-19 pandemic has shown that it's a handy tool for everyone – from tech-savvy digital natives to silver surfers and even those who are taking their first tentative steps into the online world. People who had rarely used digital devices before this year are embracing the technology and encouraging their friends and relatives to become part of a new digital generation, effortlessly making payments with a wave of their device, confident in the knowledge that it's safe, secure and more hygienic than traditional ways of making a purchase.
The rapid adoption of this method of making payments is a trend that's set to continue, and many payment wallet providers are coming to the fore. By 2025, there will be 5.9bn smartphone users worldwide, and their desire for even more convenient, easy-to-use and secure services will drive further demand for payments innovation.
Now is the time to make your mark on the digital payment services market by associating your brand with mobile payment services and delivering innovative experiences that best meet consumers' needs.
To be successful, you need to deploy technology that satisfies the varied demands of the always-on generation as well as later adopters. You need to ensure your payments platform is:
Secure
Stable
Widely available
Easy to understand
Easy to use
Secure and stable
A digital platform must be secure and reliable so payment wallet providers can maintain the trust of their customers. This means ensuring that the technology complies with internationally recognised standards for interoperability and security regardless of the security of the device.
Widely available
EMV tokenisation is at the heart of digital payment systems, providing open access for banks to a wide range of digital wallets, including Apple Pay, Google Pay, and eMerchants like Amazon and Netflix. In fact, according to research by Thales, by 2024 there will be 15bn EMV tokens in existence worldwide.
Easy to understand and use
Smooth and lean user experience is essential in digital payment systems that are enabled in a mobile app–if they are to target the diverse needs of both digital natives and late adopters. In turn, they give banks and other payment wallet providers a perfect opportunity to get closer to their customers, improve the consumer experience and enable new ways of promoting more services, while driving increased mobile banking usage.
Stay at the top of your game
You know why consumers like digital payments – and you know what innovations your customers want. So why not focus on creating innovative solutions and building your payments brand, while leaving security technology experts to worry about the nuts and bolts of your digital payment services?
Choose a payments partner which:
Supports your need to be device agnostic
Offers the best security available – and which works regardless of the security level of the smartphone
Can handle the whole process, regardless of the size of deployment, to ensure seamless adoption
Supports the main international networks and domestic schemes to provide the broad reach that your customers demand
Ensures your solution is user friendly and trusted by end users.
Years of experience
Thales has years of experience in digital payments innovation, with a proven record of successful deployments in more than 50 countries worldwide. So you can trust us to provide the breadth and depth of services needed to roll out a digital payments project, regardless of its complexity.
Thales Gemalto TSH Pay 
We developed the Gemalto Trusted Services Hub (Gemalto TSH Pay) cloud platform that is designed to digitise any card from any brand into your banking application or payment wallet.
It comes with a cloud offer and a payment SDK or a white label wallet.
The Gemalto TSH Pay cloud service is already connected and live with major international and domestic payment networks.
Gemalto TSH Pay SDK 6 is the smallest payment SDK on the market. It offers built-in security and complies with the latest specifications from all the major payment brands. This flexible, technology can be integrated into your mobile app – or it can be used in our off-the-shelf wallet for:
Card enrolment;
Identity verification; 
Payment keys replenishment; 
Token lifecycle management; 
Plus proximity and in-app payment.

Zero compromise on security
Gemalto TSH Pay SDK is certified by major schemes including Visa and Mastercad.
Security varies from one device to another and they are not certified. Gemalto TSH Pay SDK v6 takes the security a step further by combining both:
•    Hardware security based on Android Keystore and iOS secure enclave. 
•    Our in-house developed device-agnostic software protection, which is embedded in the SDK with the following three security layers: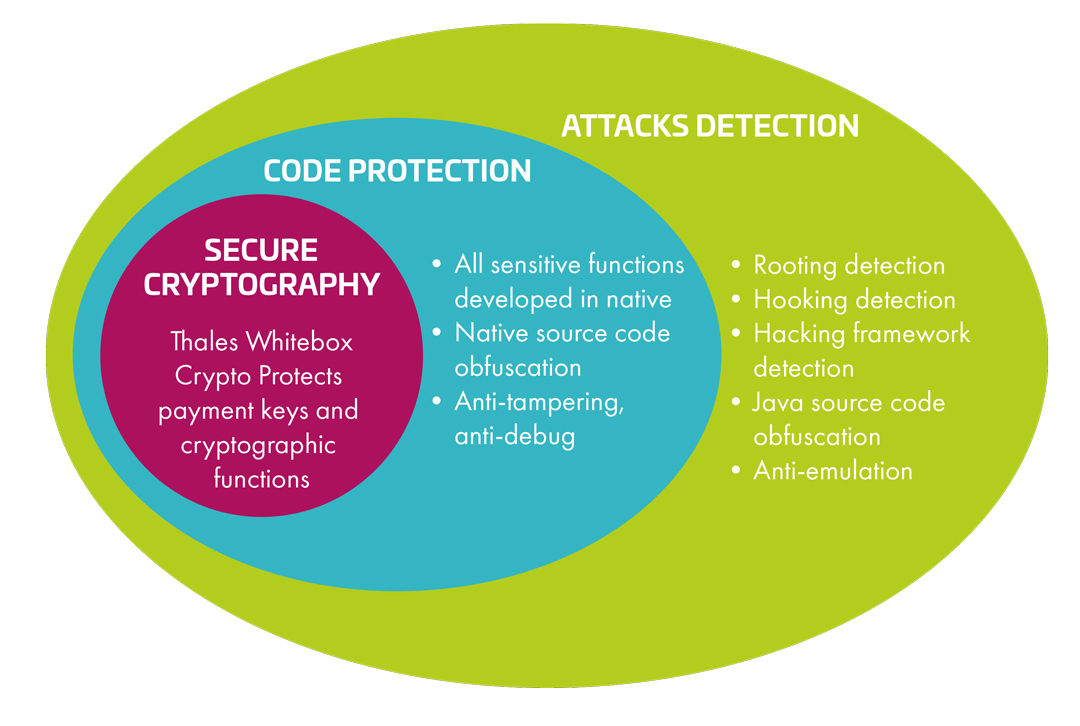 Maximise enrolment success rate on your app
 You might think that providing cutting-edge innovative services could end up in the creation of a big and cumbersome app. But it doesn't have to. The Thales Gemalto TSH Pay SDK approach is lean, resulting in a small, yet powerful, mobile payments app of only 4MB. This is important because if an app is too big, fewer people will download it.  
Plus, if it is big, it is more likely to be deleted from a mobile device when a user needs to free up space.
Simpler and faster user experience
Small also means speed: the bigger the app, the longer it takes to start up, providing a slower user experience.
No need for an app to run in the background, The new Gemalto SDK6 for TSH Pay enables Mobile App developers to deliver a 20% faster Tap&Pay mobile payment experience.
Our approach means we have managed to shrink the SDK to a fifth of the size of the competition, without compromising on quality, offering access to multiple schemes and multiple payment channels. 
Launch your own mobile wallet in record time 
•    No need for dedicated White Box Crypto (WBC) generation per wallet app on delivery.
•    No need for WBC key ceremony for each payment wallet
•    Same team handles both customer onboarding and Level 2 support
•    A development portal and sandbox cuts your integration effort by half. 
All the needed use cases supported
Easy enrolment
Our focus is on simplicity – from the app being downloaded to enrolment and everything in between and beyond.
Whether your customer has lost their physical card or simply opened a new account, the Gemalto TSH Pay SDK 6 gives them a chance to get their new digital card straightaway via their mobile banking app.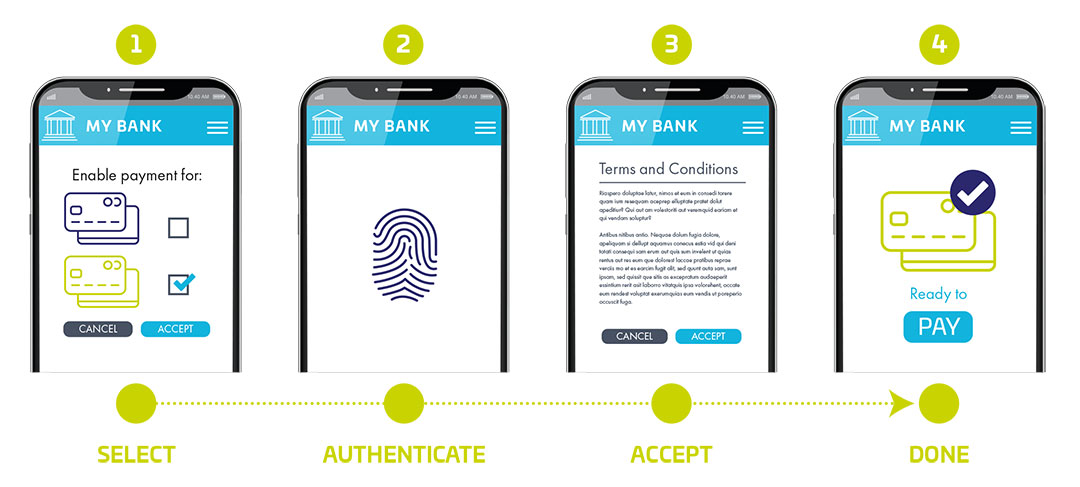 But the innovation doesn't stop there: Your customers can also digitise any payment card on their preferred payment wallet.

Multi-channel payment application
Speed and simplicity are key – and in the Covid-19 world they're even more essential. Using the Gemalto TSH Pay V6, your customers can access Visa, Mastercard, domestic payment schemes and soon American Express. They can pay in store using NFC via contactless POS or via a transport reader (as it supports ODA and CDA). Or they can pay with a QR code using Android and iOS devices.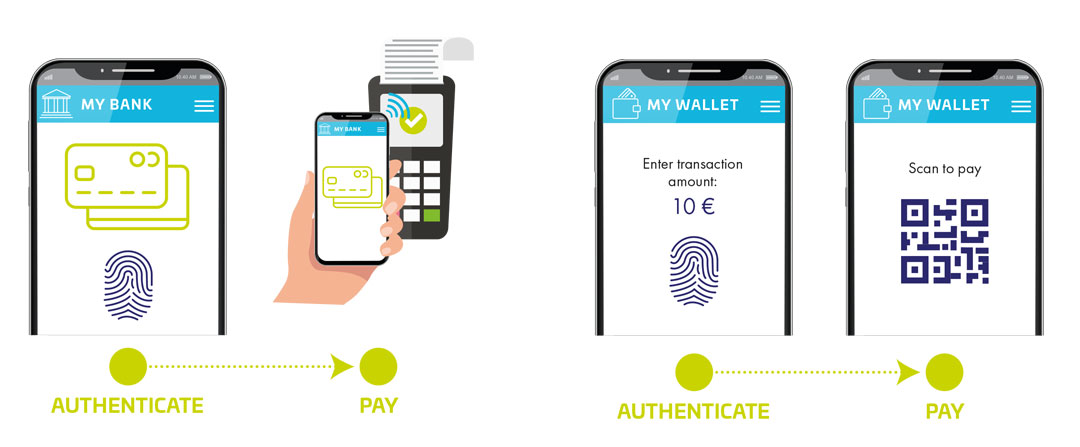 The technology can also be used for eCommerce based on in-app purchases.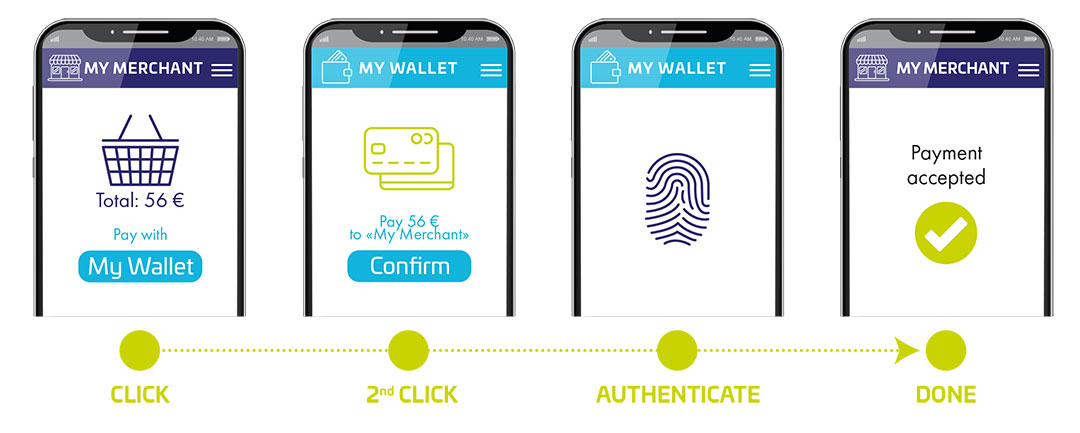 Staying on top
Having created a buzz around your innovative payments offering, you'll want to keep control and ensure that your service continues to meet performance targets. Our Digital Payment SaaS platform keeps you in the driving seat by helping you manage your tokens and keep up to speed with traffic, billing and service metrics in real time.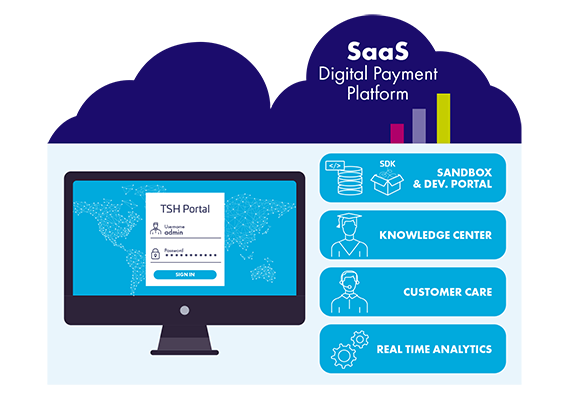 It helps cut integration efforts by half and provides one centralized place for online on-boarding; a built-in test sandbox; tokens lifecycle management; and online training and sample source codes .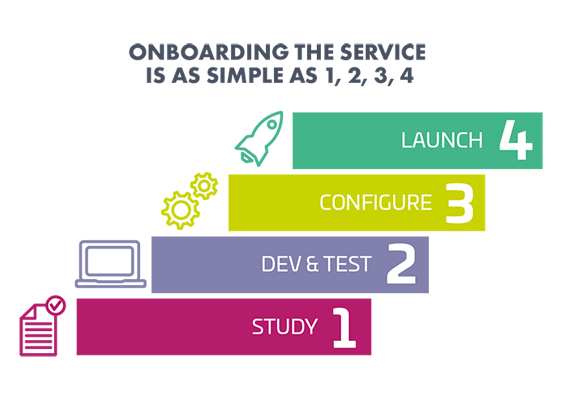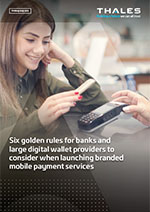 Six golden rules for banks and large digital wallet providers to consider when launching branded mobile payment services
Banks and Large Digital Wallets Providers have a vested interest in embedding mobile payment services into their existing mobile app. We see 6 technical and user experience challenges that they must consider to be successful in the following White Paper.
Find out more about our white paper