Card customisation makes a difference.
With all the changes in payments, the card is still consumers' most common form factor. Statista even forecasts that 29 billion cards will be in circulation globally in 2023 (vs 25 billion in 2021.) 
The reality is that for many clients, even digital natives, the card is still relevant today. 
Credit, debit and prepaid cards have continued to release a steady stream of innovations that can boost differentiation, loyalty and spending. 
Service is introduced to let the cardholder visually customise their card with pictures or images from topical galleries, freehand illustrations, or signatures. Cardholders can add a creative twist to their card, increasing activation, retention and transaction rates for financial institutions. 
Card customisation to build an emotional connection
Providing debit or credit cards with customer-selected photos has proven to be an innovative tool in differentiation and retention strategies. 
In fact, according to a 2018 report by Aite Group, banks and fintechs that provide such card artwork tools to their customers experienced an average of + 6% in card activation.  
Moreover, the custom design cards outperformed the generic card with an additional +21% in transactions and+ 18% in customer retention.   
Why?
Card customisation allows holders to express their personalities, identify with their cards and build an emotional connection.  
Today, Thales is going one step further in hyper-personalisation and self-expression. It introduces Thales Gemalto SketchMyCard, a card customising solution targeting new consumer trends led by   Generation Z (born between 1997 and 2010). 
Another choice of customisation with Thales Gemalto AllAboutMe allows users to use the most beautiful photo of their choice and create a unique design of the card. 
Similarly, the company announces Thales Gemalto AllAboutMetal, the ability for metal card cardholders to add their handwritten signature, a subtle and exclusive customisation touch.  
First, let's look closer at Thales Gemalto SketchMyCard, Thales Gemalto AllAboutMe and Thales Gemalto AllAboutMetal card personalisation framework. 
Enhancing the emotional connection: Thales Gemalto SketchMyCard.
Gen Zs are up to 24 years old. According to McKinsey, they already represent $150B in spending power in the US alone. In Brazil, they represent 20% of the population. 
GenZs are more sceptical and more individualistic than millenniums but also financially focused.  
Needless to say, as true-digital natives, they are tightly connected to online communities.  
So, they demand cool, unique experiences where self-expression is key. 
The new SketchMyCard module is an attractive addition to existing user-selected image customisation. It's also inheriting hundreds of customisation programmes powered by AllAboutMe. 
The software lets the user draw their own sketch or choose one from our gallery. 
Doodles are welcome and let the user put even more authenticity and self-expression in the card design.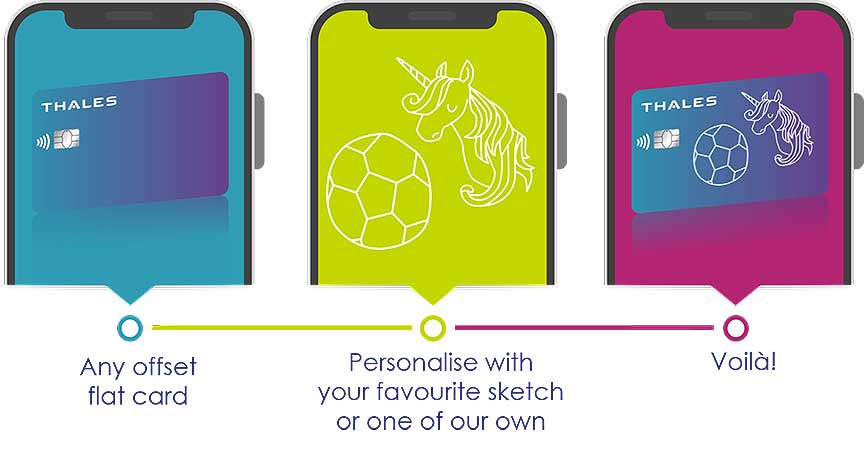 SketchMyCard's motto: "Make your card your own and have fun designing it." 
In other words, it's the opportunity to align your hyper-personalisation goals with the future generation of customers with a proven robust platform that processes 4M designs a year. 
SketchMyCard represents a compelling yet simple way to add personalisation to all cards, from basic PVC to very innovative and complex cards and select creative background effects. 
Card customisation with SketchMyCard turns the personalisation design into a creative and fun process. This unique feature reminds your customers how much you trust and value your relationship.  
This exclusive personalised experience, combined with all the benefits of your card programme, will encourage your customers to stay loyal.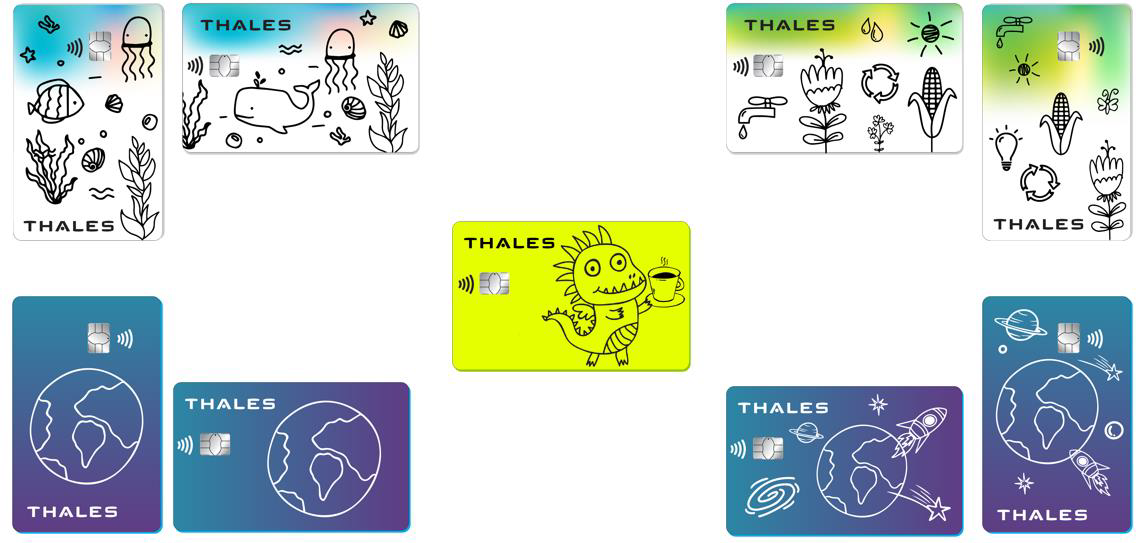 Examples of personalised sample cards designed with black or white sketches and Emojis.  
Take personalisation to another level with Thales Gemalto AllAboutMe.
AllAboutMe is Thales's turnkey card design application that allows cardholders to create their cards online.  
Available via PC, tablet, or mobile, cardholders can select a favourite photo of a loved one, pet, memorable event, or preferred place in the AllAboutMe online gallery.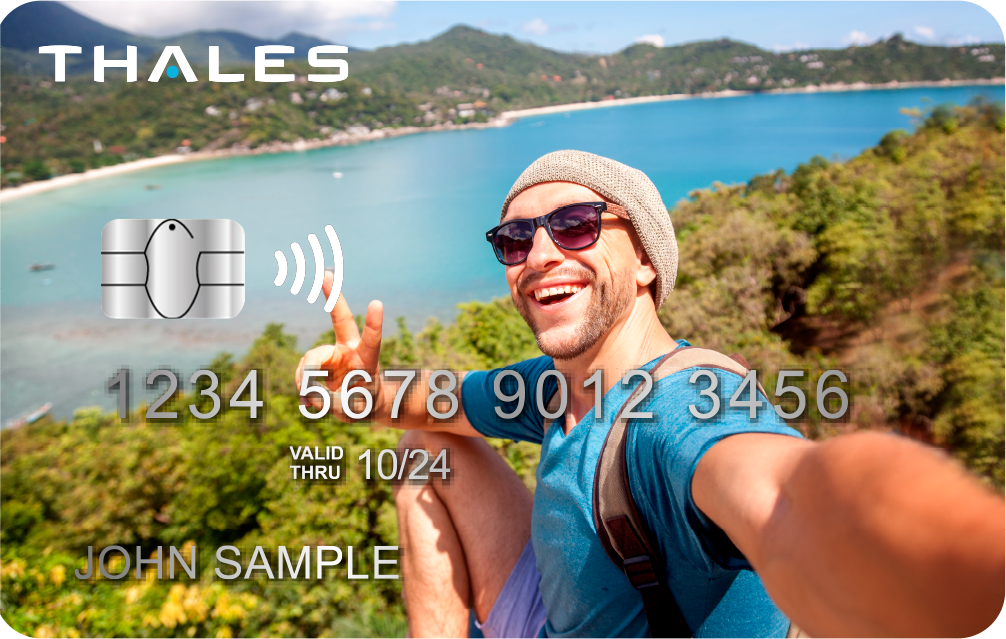 Once the image has been uploaded, it is displayed behind a template showing the "fixed" elements of the card design, including the card association logo, issuer's logo and embossing. The image can be flipped, scaled or rotated until users are happy with the result. 
Designing a card is a truly participative internet experience. The pride and excitement cardholders feel very often drive conversations on and off-line, potentially triggering invaluable viral marketing effects. 
The online interface blends seamlessly with your brand and can be easily implemented with the support of our team of experts. 
A simple 3-step process 
It's also a proven end-to-end automated 3-step process: 
The customer designs the card 
The card design is approved by the Bank or Thales 
The card is printed and delivered (centrally or at the branch)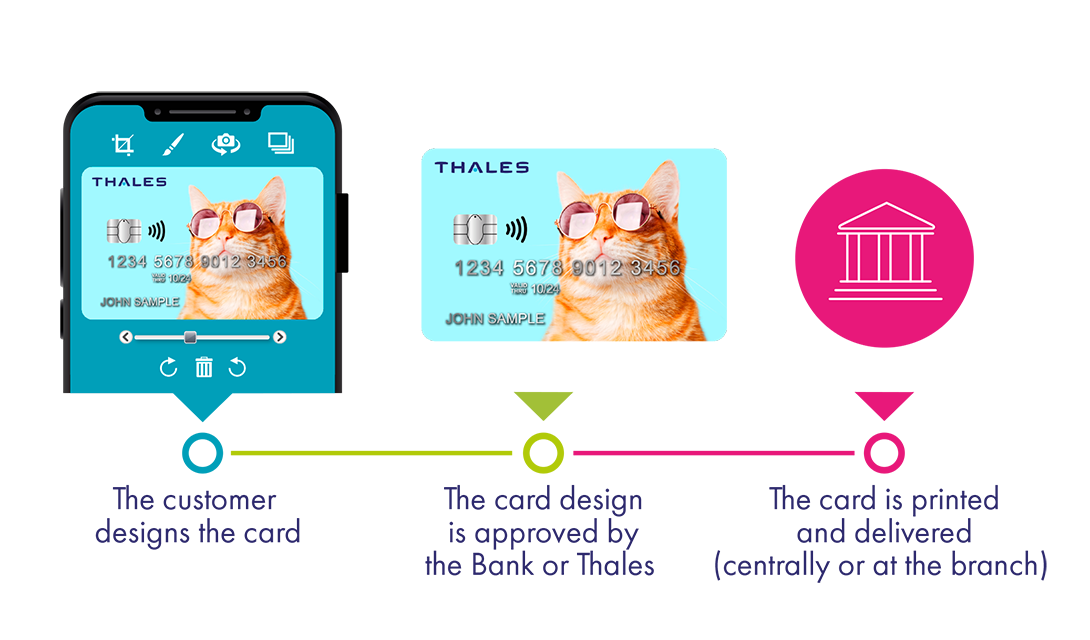 A valuable marketing tool for card programmes
Banks using personalised cards as an integral part of their marketing campaigns rate AllAboutMe as the most valuable tool in their arsenal. 
What about you? 
You could react quickly to the latest trends and events, meaning that you could run campaigns with minimal effort but make a maximum contribution to your strategic marketing objectives. 
The solution's flexibility and the cumulated expertise of our experts open up a wide range of possibilities and give your cardholders the chance to feel special. 
From seasonal and corporate campaigns, segmented targets such as youth and kids, green offers, social engagement, charity support, or personalised gift cards, our solutions and teams are ready to help. 

Link to social media
Engaging with your cardholder community is essential to any marketing plan, and social media is a crucial channel to harness. 
Personalised picture cards are inherently creative. This creativity is the opportunity to engage with your cardholder community via social media.  
For example, you can invite cardholders to submit images for display online in a dedicated gallery expressing gratitude for or showing solidarity with essential workers, frontline personnel or people in general. 
Image protection service 
Our optional image verification module works seven days a week and offers a 24-hour turnaround time and covers compliance with VISA and MasterCard. Numerous card issuers selected this option and verified millions of images every year. 
The software checks: 
Copyright protection  
Logos, branded products, incidental branding 
Ambiguous content, protests, sensitive political or religious imagery 
Drugs, alcohol, weapons, graffiti, gang-related images 
General nudity, hand gestures 
Celebrities, memes and viral images 
AllAboutMe represents a flexible customisation platform selected by over 50 card issuers and a decade of experience.  
Thales Gemalto AllAboutMetal
With their luxury perks and premium benefits, metal credit cards have taken the world by storm for the past few years.   
Still relatively few in numbers, these payment cards all come with the intent to be the card of choice for affluent customers and succeed as a must-have for millennials.  
They've proven to be an innovative tool in differentiation and retention strategies. 
Today, you can give customers one more opportunity to satisfy their desire for style and panache with Thales Gemalto AllAboutMetal. 
This Visa and Mastercard-compliant option creates a tangible link with your customers and makes high-net-worth cardholders feel exclusive.  
Adding a signature on their metal cards will symbolise the strong relationship they have with their cards and your bank. 
The process is simple: 
The user signs with a pen on a piece of paper.  
The user captures the signature through the AllAboutMe interface with their smartphone camera.  
The user previews the signed card and confirms if satisfied or retries.  
The Thales Image Checking Team will verify the signature to avoid unwanted drawings. 
After validation, the signature is laser engraved during the card personalisation. 
Then, the card is sent to the customer for an exceptional unboxing experience. 
Now it's your turn. 
We believe hyper-personalisation can be a key success factor for your next card programme. 
We've many outstanding examples to share. 
We'll be delighted to talk with you about your project, so don't hesitate to contact us.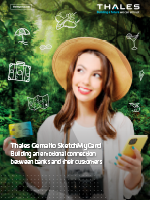 Thales Gemalto SketchMyCard
Building an emotional connection between banks and their customers
Read our brochure


Thales Gemalto AllAboutMe™
Your Image - Your Card. AllAboutMe allows issuers' customers to personalize their payment cards using their own photos. This means they identify with their card, which in return creates loyalty and higher card usage rates.
AllAboutMe™ [PDF 1.9mb]