Card customisation: play the clever card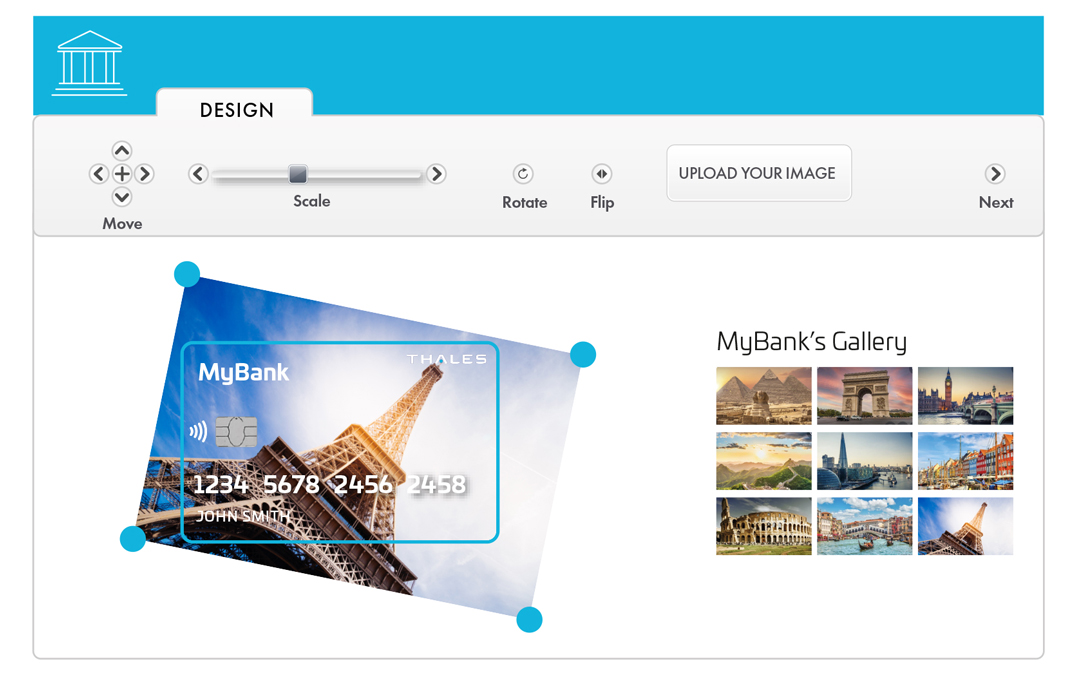 Can I customise my bank card? Gemalto AllAboutMe makes it truly personal.
Gemalto AllAboutMe, is Thales's Award Winning Personal Card design software that allows issuers' customers create their own personal cards online. 
Available via PC, Tablet, Mobile or even selecting a photo from a Facebook album, it enables cardholders to select their favourite photo of a loved one, pet, memorable event, or favourite place thanks to a Gallery. All of this happens through an online interface that blends seamlessly with your brand and can be easily implemented with Gemalto's team of experts.
Gemalto AllAboutMe gives the opportunity to cardholders to add a little creative twist to their card which in turn generates an increase in Acquisitions, Activations, Retention, Loyalty and increase of card Transactions and Spend amount.
Your benefits:
Account Activation increase
Customer Usage increase
Customer Acquisition Rate increase
Customer Retention increase
Revenue impact
What makes it different? 
Consumer-centric software which placing issuers' customers at the center of the communication plan & the business
An easy way to use interface helps customers adjust their photo. They can move, zoom, rotate or focus on one part of the picture.
A set of marketing tools with a wide range of options to boost issuers picture card program (Photo contest, viral marketing, Image gallery content, SMS campaign...).
A fully turnkey solution from A to Z easy integrated into the card issuer environment with each screen customized to their specifications. (Gallery management or Web Development & integration can be added as an option)
Fast implementation less than 2 months after project start
Gemalto AllAboutMe is an end-to-end service for fully personalised cards
It includes web services, which allow the end-user to upload and edit the picture as well as the associated secure printing services.
The result?
Customers will receive a unique card with their chosen photo. Web service and card personalisation can also be provided as separate services on demand.
Try the demo


Thales Gemalto AllAboutMe™
Your Image - Your Card. AllAboutMe allows issuers' customers to personalize their payment cards using their own photos. This means they identify with their card, which in return creates loyalty and higher card usage rates.
AllAboutMe™ [PDF 1.9mb]