Metal cards have become a status symbol in many countries. 
They are strongly associated with top-of-the-line, high-value services and are perceived to reflect financial and even social success.

No surprise, metal credit cards have exploded in popularity even among millennials, who are supposed to be more opposed to credit cards. 
The look and feel of metal will take your EMV cards to the next level of quality and excellence, exceeding your most valuable customer segments' expectations. 
Metal cards: A complete portfolio
Discover a complete portfolio of metal cards that will convey just how much your brand values them to your cardholders. 
You can offer elegance, cutting-edge design, and a surprisingly different touch.
As a world leader with a reputation for quality, Thales, along with its network of partners, can rise to your challenge and provide cards with a unique value proposition.
Create the most exclusive credit cards
Thales can deliver innovative metal credit cards (and metal debit cards) that scream premium quality – and deliver them on budget and to a tight timescale. 
All cards are EMV chip compatible.
If you have a question about metal cards or want to know more about our references, please leave a comment in the box below. We look forward to hearing from you.
Let's satisfy your customer's desire for style and panache. 
---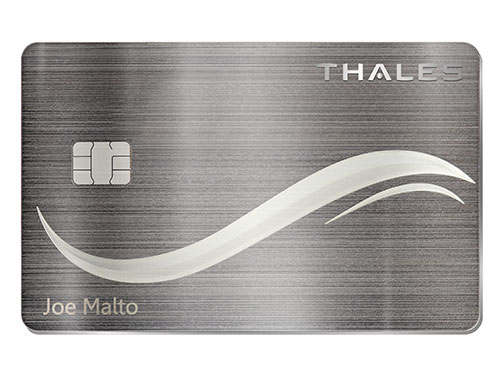 28 grams
Contact only
Solid metal, edge to edge
Luxury embellishments (gold plating engraving, embedding  of diamonds and Swarovski crystals)
Full Metal Card
The Thales Gemalto Full Metal Card delivers the ultimate in payment card elegance, power, and exclusivity. Its solid metal body is eye-catching, and its weight is unlike anything your cardholders have ever experienced.
Its metal surface and mechanically engraved elements make it a striking flagship for your brand values and an exclusive new experience you'll want to offer your ultra-high-net-worth customers.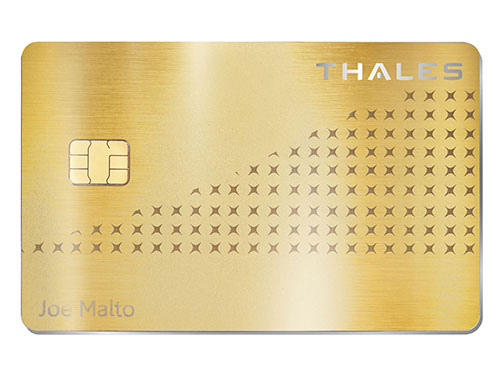 21 grams for contact
16 grams for contactless
Contactless capable
Metal front, PVC  back
Luxury embellishments (gold plating engraving, embedding  of diamonds and Swarovski crystals)
Hybrid Metal Card
The Hybrid Metal Card offers all the Full Metal Card's outstanding design features and values, plus a smart way to add contactless payment via a card back made of PVC. 
The striking metal front shouts quality and status, while the weight gives it a luxury feel. Your artwork and engraved logos will be showcased like never before. The card's PVC back in no way compromises its metal look and feel, meaning that it still delivers the wow effect that your most valuable customers are seeking
---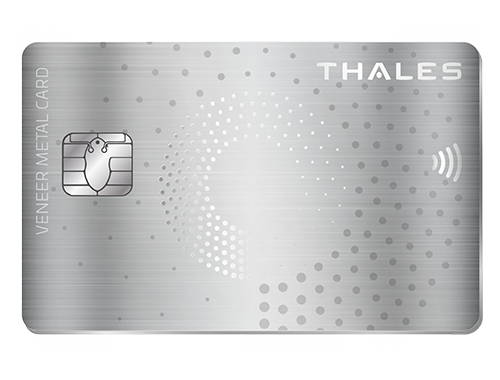 16 grams
Contactless capable
Metal front embellished with a special varnish, PVC back
Color printing and mechanical engraving available for flexible designs
Tailored for large deployments
Veneer Metal Card
With its stainless-steel core, a range of printing techniques available for its front, and a PVC layer on its back, making it contactless capable, the Veneer Metal Card is a superb demonstration that top technologies can coexist with excellence in design.
The Veneer Metal Card has a distinctive metallic touch and feel, courtesy of the 'cold touch' metal on its surface, the visible metal on its edges, and the mechanically engraved logos.
It offers many design possibilities regarding colors, patterns, engraving features, and texture, making it a favorite with innovative banks looking to create a buzz.
---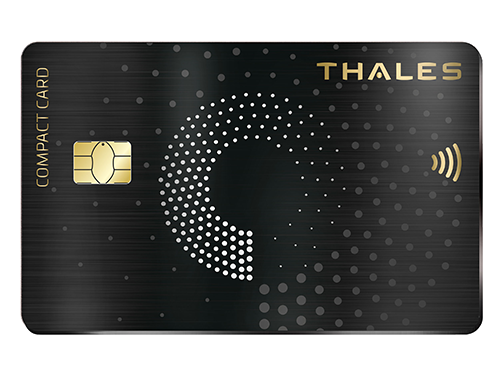 18 grams
Contactless capable
Fully certified for payment schemes
Heavyweight tungsten core encapsulated in a PVC shell
Various printing techniques and options for flexible designs
Tailored for large deployments
Compact Metal Core Card
When weight is key to your offering, take a look at the Compact Metal Card. Weighing an impressive 18 grams, it will impress you the second you pick it up.
Combining functional features such as a dual interface with innovative printing options, this elegantly designed card makes no compromises.
It is certified by global payment schemes and chosen by issuers worldwide for their key portfolios. Boost your high-end-to-middle-tier card portfolio with a product that makes a bold statement.
---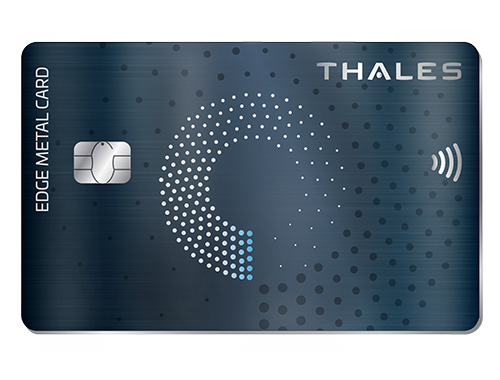 12.5 grams
Contactless capable
Fully certified by payment schemes
A sleek layer of stainless steel
Bright metallic edges
Various printing techniques 
Tailored for large deployments
Edge Metal Card
The Edge Metal Card is the first product of its type to offer edge-to-edge metal and full contactless certification from the major payment schemes. It combines a stainless-steel core with PVC layers front and back to deliver the optimal weight for consumers of 12.5 grams.
Its functionality, weight, contactless certification,
 innovative printing features, and elegant metallic edges
 combine to create a card that will truly put your brand at the top of your customer's wallet.
---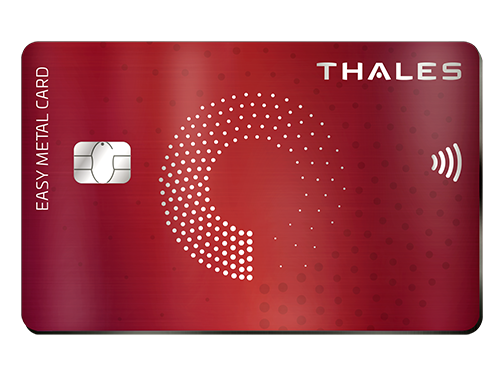 10.5 grams
Contactless capable
Fully certified by all major payment schemes
Various printing options available for flexible designs
Sleek, stainless-steel core encapsulated in PVC
Tailored for large deployments
Easy Metal Core Card
The Easy Metal Core Card has undoubtedly proven to be the choice for mass affluent portfolios. The lightest product in our metal card portfolio still weighs 10.5 grams to make it feel noticeably different from any card you've used. This authentic mainstream card offers the best mid-tier segmentation options and large deployments. Delight your customers with a card that's got it all – a premium feel courtesy of its discernable weight, full certification from global contactless payments schemes, cost-effectiveness, and rich designs. The Easy Metal Core card's potential is unlimited without compromising style.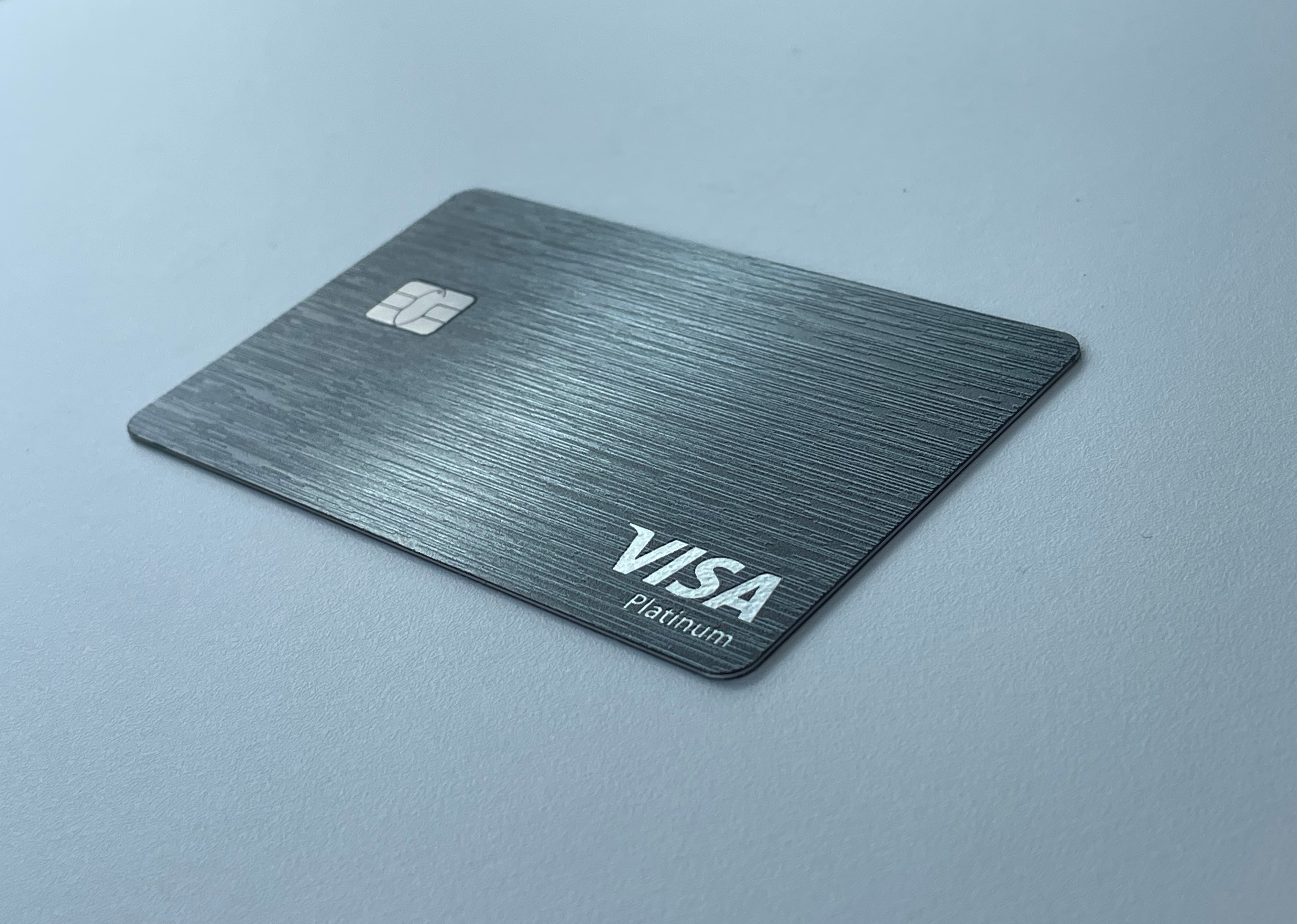 Thales recently won the prestigious Élan Awards of Excellence for the Viseca Visa Platinum Metal Cards. Those cards are made of brushed tactile finish and premium quality printing.
More on Metal Credit and Debit Cards