What is eSIM? Explained.
Want to know more about eSIM? Then you're in the right place. 
On this Q&A page, you'll discover six key facts and trends shaping the eSIM ecosystem in 2022. 
Let's get started.

#1 What is an eSIM? What's the difference between SIM and eSIM?
We're all familiar with the SIM card that we have to pop out from our previous phone and insert into our new device to get wireless service. 
But things are changing. 
ESIM has become a generic term used worldwide to describe a new vector of mobile connectivity for consumers and IoT devices in just a few years. 
As its name suggests, the embedded SIM card or eSIM is built into the phone's board.
It's rewritable and compatible with all leading carriers.
In short:
The chip and its super secure software come embedded inside the phone.
The SIM (Subscriber Identity Module) credentials, necessary to sign on to our preferred carrier's cellphone network, are downloaded.
The eSIM works precisely as a SIM card. 
eSIM specifications (data format and security mechanisms in particular) are standardized to allow interoperability and enable remote SIM provisioning of any mobile device. 
It sounds easy, and it is.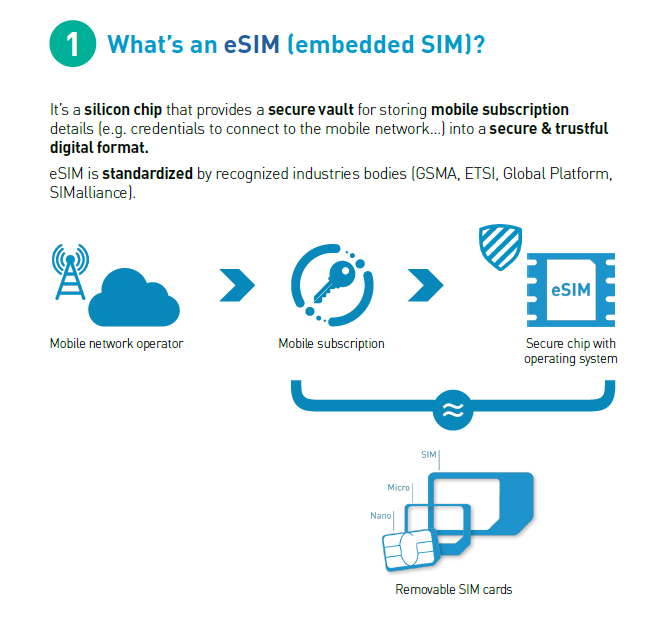 eSIMs are found in a wide range of consumer products such as smartphones, wearables, and computers.
They are also included in smart meters, medical IoT devices, home automation, and security systems, connected cars, IoT asset tracking devices, or handheld POS (Point of Sales) systems, to name a few.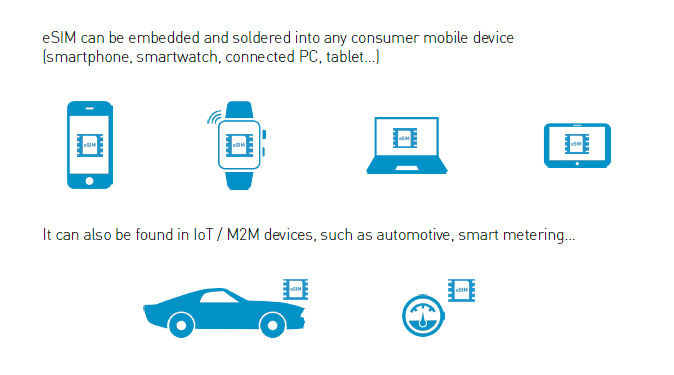 #2 What is the size of an eSIM?
An eSIM module is very tiny. 
More precisely, the eSIM size is 2,5mm by 2,3 mm, and the thickness is 0,2 mm. 
OK, we know what you're thinking. 
The answer is, "NO." 
You won't have to plug it in. The embedded SIM secure elements come either plugged-in or soldered.
As a reminder: 
A regular SIM or 2FF (Second Form Factor) measures 15 mm by 25 mm.
The micro-SIM, or 3FF SIM card is 12mm by 15mm and 0,76 for thickness.
The nano-SIM or 4FF is 8.8 mm by 12.3 mm.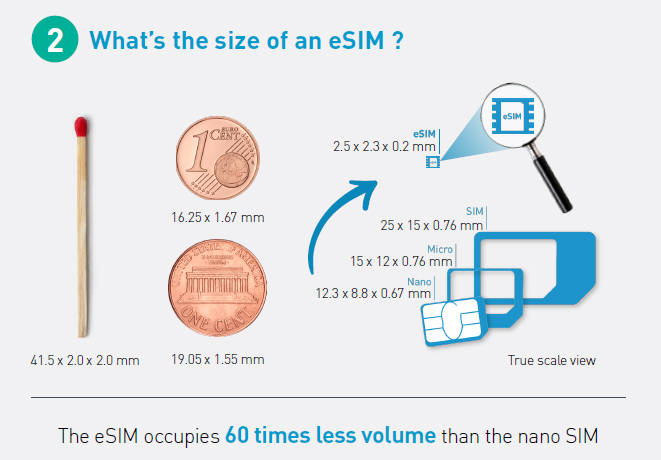 #3 What are the eSIM advantages? 
eSIM brings new advantages to all stakeholders.
For the end-user, the onboarding experience is straightforward. The eSIM allows an electronic device to be used as soon as it is switched on. As the eSIM is rewritable, the end-user can also pick up a local pre-paid phone number when traveling abroad, avoiding premium roaming fees.
For service providers, logistics and support are simplified: no more SIM cards to managed at the customer's level. 
For eSIM carriers, eSIM is extending mobile connectivity to many new consumer-connected devices, creating new business opportunities.
 
For designers, new devices can be smaller, more dust resistant, and waterproof.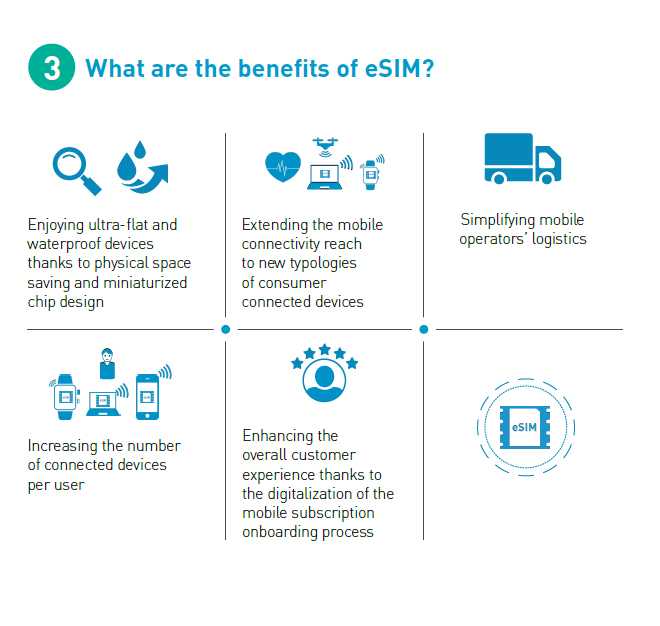 #4 Which smartphones support eSIM, other than iPhone?
The list of compatible eSIM devices is getting longer as we speak. It's only a matter of time before many devices from phones, wearables and tablets, and portable PCs embrace embedded SIM cards. 
Why? 
It's because major operating systems such as Google's Android and Wear OS, Apple's IOS, and Windows 10 support eSIM. 
These ecosystems are creating a powerful momentum for eSIMs. 
Phones: Currently, Apple iPhone, Google Pixel, Motorola Razr and Next Gen Razr, Huawei P40, and Samsung Galaxy Fold and Galaxy Note, S20 and S21 phones support eSIM. 
Watches: The Apple Watch, Huawei Watch 2, the Samsung Gear and Galaxy Watch, OPPO Watch are eSIM-ready. 
Other devices: Apple iPads, some HP, Lenovo, and Microsoft PC models have adopted the eSIM format. Huawei also has eSIM-enabled models.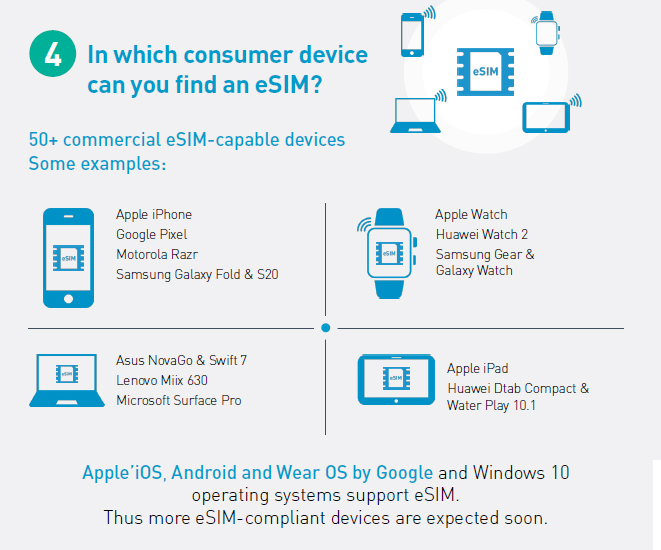 #5 How many smartphones support eSIM?
The trend is upward.
According to an ABI Research study published in July 2020, eSIM-enabled smartphone shipments will double in 2021 to 781 million units from 255 in 2020.
There's more. 
The company forecasts a minimum of 781 million eSIM-powered phones to be delivered in 2025. 
The support of eSIM by major operating systems, the launch of Samsung's S21 and S20 devices in particular, and the increasing eSIM readiness of carriers are three significant elements considered in the market analysis.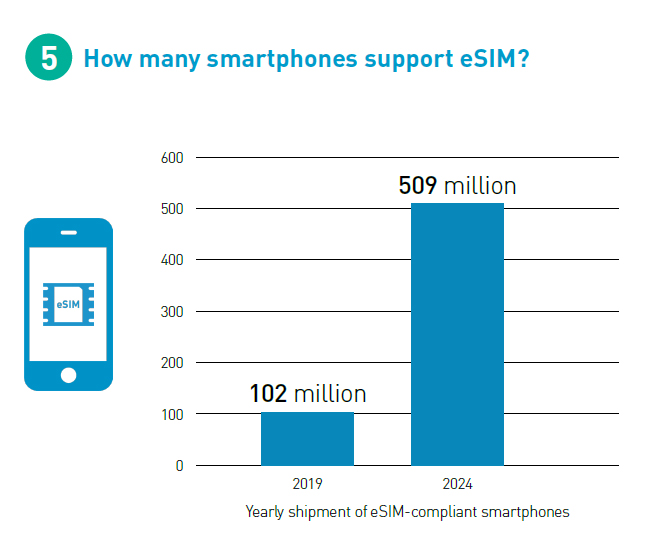 #6 eSIM carriers
According to our company, over 200 mobile network operators plan to launch eSIM services.
It's true that in early 2020, many carriers are not eSIM-ready yet. But it's just a matter of time. As we said earlier, all significant networks support the eSIM standard.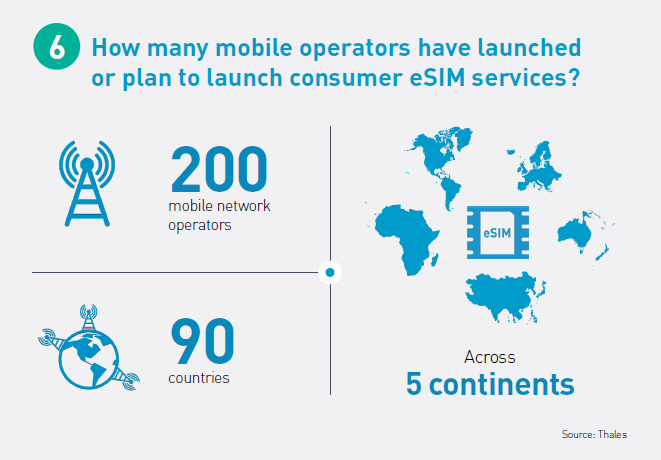 Where do we fit in?
Thales is working with nearly 450 MNOs globally. The company has been awarded over 200 eSIM management platforms to mobile operators, MVNOs but also OEMs and carmakers. 
We have the largest SIM and eSIM customers and partners worldwide. 
There's more. 
Our team of experts for SIM and eSIM-related technologies is the largest in the industry. It keeps coming with new ideas and products that have won critical acclaim at innovation award ceremonies. 
The result? 
You can count on us now and in the future.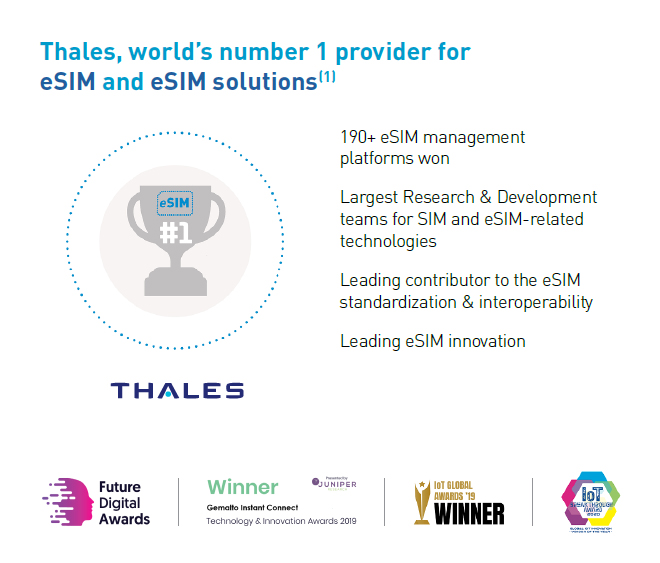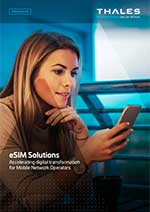 eSIM Solutions: accelerating digital transformation for Mobile Network Operators
Read our white paper