Last updated 26 November 2022
What is an eSIM card? Explained.
Want to know more about eSIM? Then you're in the right place. 
With this Q&A page, you'll discover six key facts and trends shaping the eSIM ecosystem. 
Let's get started.

#1. What is an eSIM? What's the difference between SIM and eSIM?
We're all familiar with the SIM card that we have to pop out from our previous phone and insert into our new device to get wireless service. 
But things are changing. 
ESIM has become a generic term used worldwide to describe a new vector of mobile connectivity for consumers and IoT devices in just a few years. 
As its name suggests, the embedded SIM card or eSIM card is built into the phone's board.
It's rewritable and compatible with all leading carriers.
In short:
The chip and its super secure software come embedded inside the phone.
The SIM (Subscriber Identity Module) credentials necessary to sign on to your preferred carrier's cellphone network are downloaded.
The eSIM works precisely as a SIM card. 
eSIM specifications (data format and security mechanisms in particular) are standardised to allow interoperability and enable remote SIM provisioning of any mobile device. 
It sounds easy, and it is.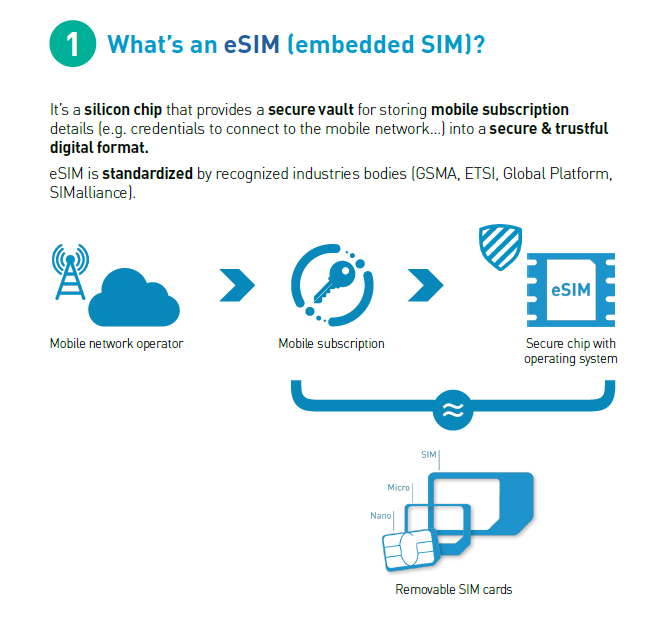 eSIM cards are found in a wide range of consumer products, such as smartphones, wearables, and computers.
They are also included in smart meters, medical IoT devices, home automation, security systems, connected cars, IoT asset tracking devices, and handheld POS (Point of Sales) systems, to name a few.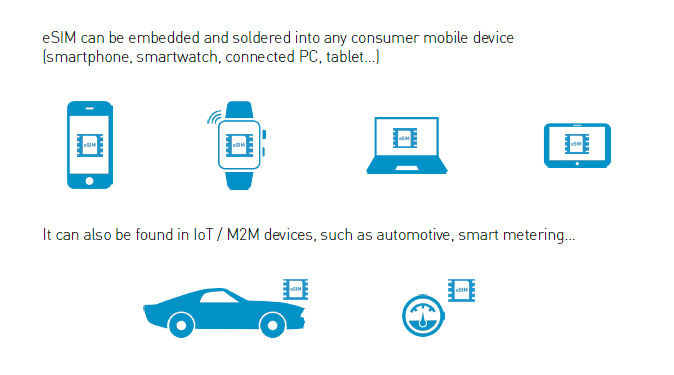 #2. What is the size of an eSIM card?
An eSIM module is very tiny. 
More precisely, the eSIM size is 2,5mm by 2,3 mm, and the thickness is 0,2 mm. 
OK, we know what you're thinking. 
The answer is "NO." 
You won't have to plug it in. The embedded SIM secure elements come either plugged in or soldered.
As a reminder: 
A regular SIM or 2FF (Second Form Factor) measures 15 mm by 25 mm.
The micro-SIM, or 3FF SIM card, is 12mm by 15mm and 0,76mm in thickness.
The nano-SIM or 4FF is 8.8 mm by 12.3 mm.

An eSIM occupies x60 less space than a nano SIM. In addition, iSIM does not occupy any space as it
is part of the cellular modem chipset. see our infographics: what is an iSIM?
#3. What are the eSIM advantages? 
eSIM brings new benefits to all stakeholders.
For the end-user, the onboarding experience is straightforward. The eSIM allows an electronic device to be used as soon as it is switched on. As the eSIM is rewritable, the end-user can also pick up a local pre-paid phone number when travelling abroad, avoiding premium roaming fees.
For service providers, logistics and support are simplified: no more SIM cards to manage at the customer's level. 
For eSIM carriers, eSIM extends mobile connectivity to many new consumer-connected devices, creating new business opportunities.
 
For device makers, OEMs and designers, new devices can be smaller, more dust-resistant, and waterproof.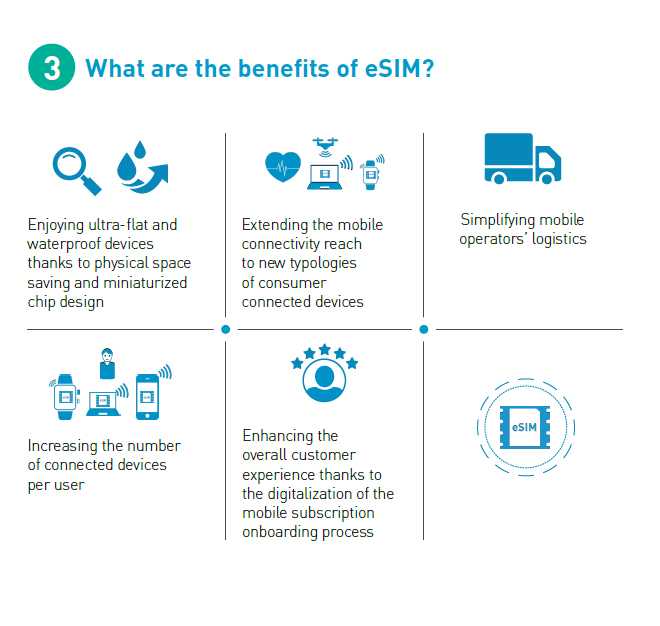 #4. Which smartphones support eSIM, other than iPhone?
The list of compatible eSIM devices (click on the links below for each segment) is getting longer as we speak.
It's only a matter of time before many devices, from phones, wearables and tablets, and portable PCs, embrace embedded SIM cards. 
Why? 
It's because major operating systems such as Google's Android and Wear OS, Apple's IOS, and Windows 10 and 11 support eSIM. 
These ecosystems are creating a powerful momentum for eSIMs. 
Phones: Currently, Apple iPhones, Google Pixel series, Samsung Galaxy series, Motorola Razr series, Huawei, Oppo, Rakuten, and Sony, to name a few, support eSIM. 
Watches: The Apple Watch, Huawei Watch 2, the Samsung Gear and Galaxy Watch, and OPPO Watch are eSIM-ready. 
Other devices: Apple iPads, many ACER, ASUS, DELL, HP, Lenovo, and Microsoft SURFACE models have adopted the eSIM format. Huawei also has eSIM-enabled models.
iPhone 14 is eSIM-only (in the US) 
We expected it. Apple did it in September 2022.
The new iPhone 14 range in the US no longer has a physical SIM card slot. Apple is moving to 100% eSIM technology.
When you set up your iPhone, you don't need to worry about opening the SIM tray or damaging or losing your SIM card. It makes the process of connecting to any carrier seamless and instantaneous.
You can install up to eight eSIMs and use two phone numbers simultaneously.
In practice, setting up your iPhone 14 is just a matter of turning it on and following the instructions on the screen.
Outside the US, the iPhone 14 models offer a nano-SIM card slot.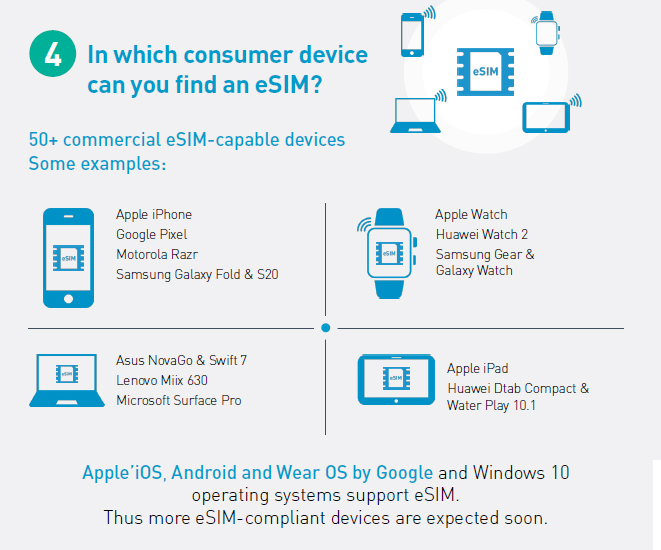 In India, Telcos and handset players quarrel over e-SIM. 
According to the Times of India (10 August 2022), telecom operators are pressing the Department of Telecommunications to have handset manufacturers add e-SIMs in all phones over Rs 10,000 (125 USD) in addition to SIM slots.
Telcos argue that SIM card prices have been multiplied by 4-5 over recent months. They say that the situation will only improve at the end of 2024.
On their side, the handset manufacturers state that adding e-SIM would create additional product design and implementation costs and seriously impact phone prices.
They believe the e-SIM feature should not be mandated and that mobile handset manufacturers should be able to decide for themselves.
#5. eSIM and 5G
Both 5G and eSIM are being extensively adopted by industry stakeholders worldwide.
According to the GSMA Mobile Economy 2022 report:
5G connections will surpass 2 billion by 2025,
5G will account for over a fifth of total mobile connections by the end of 2025,
More than 40% of the world's population will live within reach of a 5G network.
But there's another reason why eSIM and 5G are taking the world by storm.
They are also great for connected devices.
eSIM and the Internet of Things
The GSMA states that 5G adds momentum to the use of cellular connectivity for the Internet of Things (IoT), pushing eSIM adoption as well.
Kaleido Intelligence, a leading connectivity market intelligence and consulting firm, expects eSIM connections to exceed 4.5 billion in 2027, driven by a booming consumer market.
5G and eSIM are thus being rolled-out globally, and -when combined- lead to very innovative services that were not possible until now.
5G and eSIM (aka IoT eSIM) are ideally suited in applications such as smart metering for remote operated management, robotics and asset monitoring, surveillance cameras in smart cities and factories, connected ambulances, medical monitoring devices and more.
But that's not all. They are also great for enterprises and operators.
Enterprises and operators will benefit from 5G and eSIM
Thanks to network slicing, private networks are easier to set up with 5G.
It is a feature of 5G that allows carriers to break up their networks into different slices, or "micro-networks." They are then dedicated to specific customers and can be tailored to meet their needs. Each "slice" can have its own network environment, with different bandwidth and latency requirements.
5G private networks bring control and security to enterprises allowing their workers to connect with the latest smartphones, tablets and other must-have connected devices.
For example, 5G private networks give connected airports complete control over their network and data. Indeed network slicing solutions allow keeping all connected devices securely linked between them. 5G can support a vast number of connected devices when there is a strong demand for connectivity.
Private networks also allow global operators to offer their customers the fastest eSIM data services.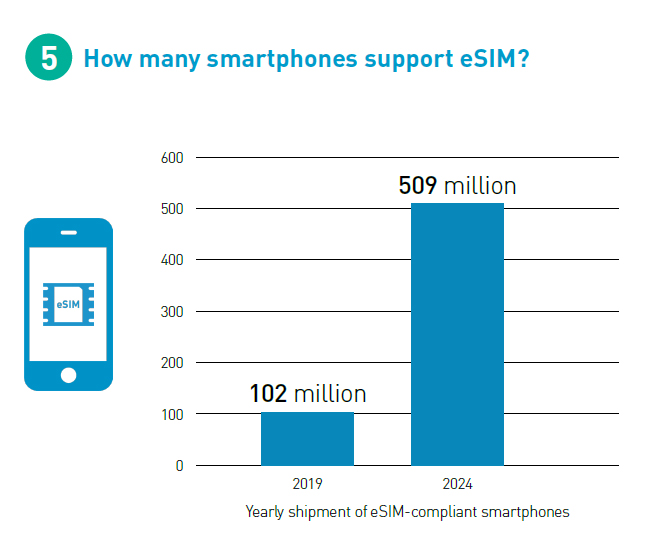 5G eSIM services are compatible with 5G-enabled devices supporting eSIM, such as the Samsung Galaxy S20. Over 50% of all eSIM smartphone models today have 5G technology.
#6. eSIM carriers
According to the GSMA, over 260 mobile network operators in 90 countries support eSIM services for consumer devices in June 2022.
As of November 2022, Apple lists these wireless carriers offering eSIM plans worldwide.
As we said earlier, all significant networks support the eSIM standard.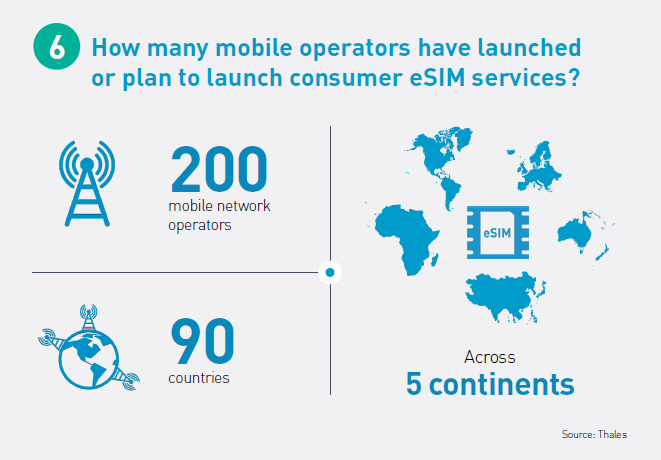 Where do we fit in?
Our award-winning solutions have been adopted by numerous MNOs, MVNOs and key industry players worldwide.
Responsible for more than 360 projects, we are the world leader in Remote SIM Provisioning platforms, employed in both consumer and M2M/IoT environments.
We have the largest SIM and eSIM customers and partners worldwide. 
Thales 5G eSIM technology brings the best of 5G to end users.
There's more. 
Our team of experts for SIM and eSIM-related technologies is the largest in the industry. It keeps coming up with new ideas and products that have won critical acclaim at innovation award ceremonies. 
The result? 
You can count on us now and in the future.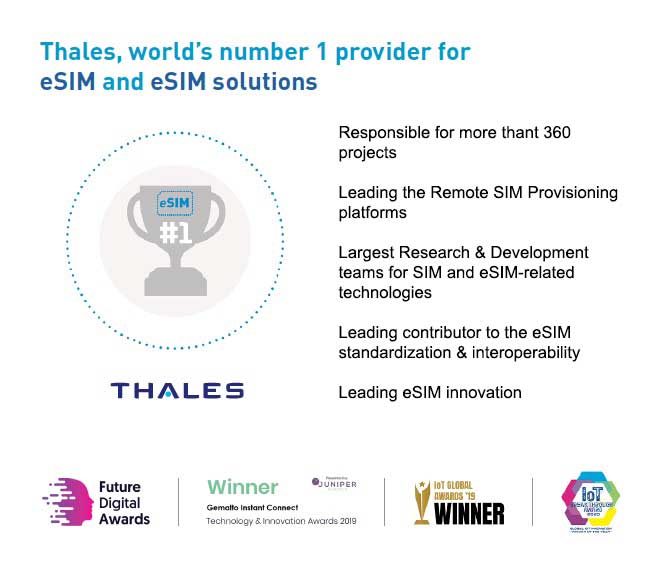 Thales DIS has been awarded Platinum Winner of the eSIM Innovation of the Year Award by Juniper Research for our Smart Profile Matcher.
Find out about our innovative approach for maximising the successful download of profiles for all eSIM-capable devices on the market from the moment they are launched.
Read more on Thales Smart Profile Matcher.
iSIMs bring smaller, better, faster IoT and consumer devices
Catch the latest Trending Tech Podcast to hear how integrated SIM technologies will change Internet of Things and consumer communications, enabling smaller device footprints, greater system integration, higher performance, and increased memory capacity.