Are you wondering what an integrated SIM (iSIM) is? Look no further, you have found the answer!
In this Q&A page, you'll discover eleven key facts and trends shaping the iSIM ecosystem in 2021. 
Let's get started.
Download the Infographic
If you don't have time to read this page, we suggest your download our "What is integrated SIM (iSIM) for Consumer Electronics" infographic
#1 What are the main trends for mobile connected devices?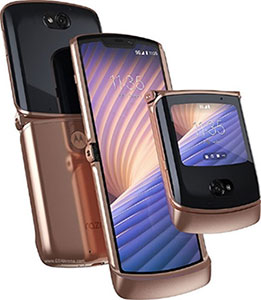 More than 2.3 billion connected consumer devices (incl. smartphones, wearables, tablets and laptops) are expected to be shipped in 2025 (source: ABI Research – eSIM In The Consumer and M2M Markets, February 2021).
Indeed such mobile connected devices have become the innovation hub of the consumer world, as end users want sleek, powerful and power efficient devices.
Consequently, device makers face the following challenges:
Lower power consumption,
Optimized Bill of Material (BoM) and space,
Ease of testing & enablement,
Improved security for new services.
All this makes great sense.
Let's see how the iSIM can help OEMs reaching these goals.
 
#2 How many iSIM-based consumer devices will sell?
First, the future for iSIM looks bright.
According to Counterpoint Research, almost half a billion consumer electronics will support iSIM by 2025. 
The main contingent is smartphones, followed by smartwatches and then, by CPE (customer-premises equipments).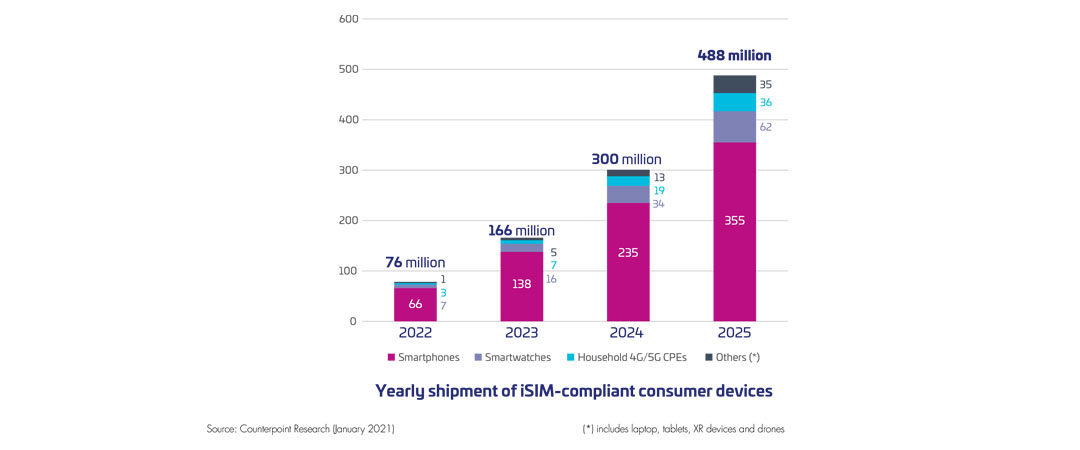 As the iSIM leverages the eSIM (we'll detail it below in the question #5), it's interesting to look at the current eSIM trend.
#3 How many mobile operators have launched or plan to launch consumer eSIM services?
eSIM is going mainstream.
As of June 2021, close to 400 mobile network operators have or are planning to launch eSIM services, across more than 100 countries, according to our company.

#4 What's the adoption trend for eSIM?
As explained, eSIM is increasingly getting popular among mobile operators.
By 2025, 2.4 billion smartphone connections will use eSIM globally (source: GSMA Intelligence – March 2021). 

According to Gartner, eSIM is one of the "9 technologies and trends that product leaders must evaluate and determine their potential impact on devices".

Gartner Research's has expressed three recommendations about eSIM for OEMs:
"Partner with eSIM chip providers and design eSIM into products by working with chip vendors that offer ready-to-connect solutions and provisioning processes for turnkey solutions."
"Work with mobile service providers or MVNOs to develop eSIM subscription management platforms to minimize development efforts and establish a quick go-to-market effort."
"Prioritize integration of eSIM for main use cases:
- that require high bandwidth or low data transmission persistence,
- where customer choice is placed at a premium over network provider relationships or cost of implementation."
#5 What is an iSIM? What's the difference between iSIM and eSIM?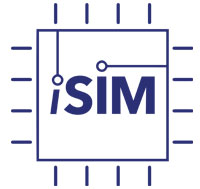 An integrated SIM a new eSIM form factor –built as a trusted area (or TRE, i.e. Tamper Resistant Element)– into a multi-function chip (SoC, i.e. System on Chip).
The Trusted Connectivity Alliance defines the TRE as a secure enclave that is integrated within a  System on Chip (aka SoC)
A System on a Chip is an integrated circuit (also known as a 'chip') that integrates all or most components of a computer or other electronic system
Just like eSIM, the iSIM provides a secure vault for storing mobile subscription details (e.g. credentials to connect to the mobile network…) into a trustful digital format.
It also leverages the SoC advanced capabilities (e.g. computing capacity, speed, power consumption…).
iSIM is standardized and recognized by industries bodies (GSMA, 3GPP, Trusted Connectivity Alliance, ETSI, Eurosmart…). In particular, the iSIM is compliant with GSMA Remote SIM Provisioning Consumer and M2M specifications, and ETSI SIM specifications.
It is fully compatible with 2G, 3G, 4G and 5G.
iSIM can be used into any cellular consumer device (smartphone, smartwatch, connected PC, tablet…). iSIM can also be found in IoT and M2M devices.

#6 What is the size of an iSIM?
With iSIM, we're going one step further in terms of miniaturization.
In almost 25 years, the SIM card has gone through all sorts of formats, the latest being the iSIM – created in 2020.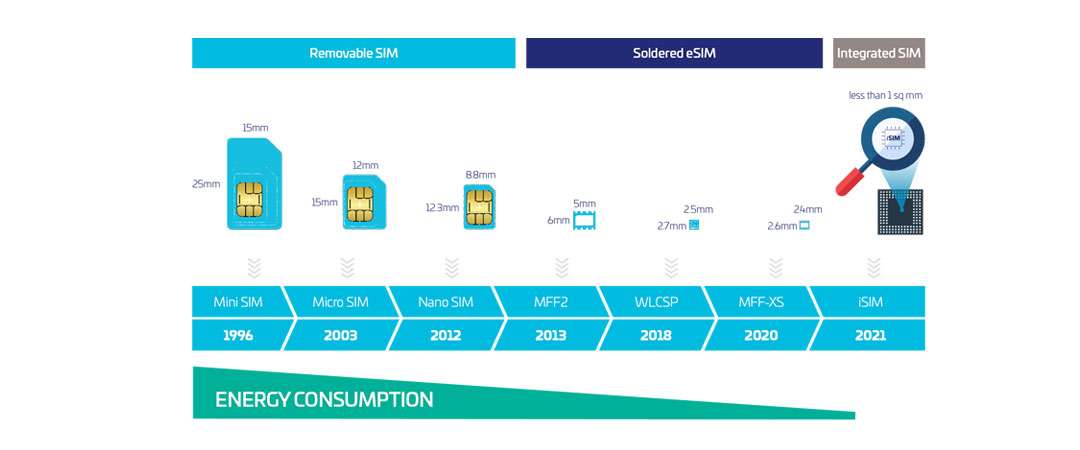 #7 How secure the iSIM is?
When it comes to security, the iSIM follows the same paths as the eSIM, and reaches the highest security certification level.
Let's see how this is made possible.
 

First, the iSIM is fully standardized and endorsed by the industry.
For example, the GSMA has started the specification and certification of the integrated UICC in 2015, and has finalized it in 2020.

Importantly, a particular attention was brought to integrated eUICC security, reusing the methodology applied for embedded and removable SIM –while addressing SoC integration specificities.
 
#8 How interoperable the iSIM is?
But that's not all.
The iSIM is subject to the same interoperability tests as eSIM.
Hence the iSIM is as interoperable as eSIM.
Compliant with Trusted Connectivity Alliance interoperable profile specification,
Tested according to GSMA SGP.23 (test plan specifications),
Validated with mobile network operators' eSIM infrastructure (profiles, eSIM management platforms).
 
#9 How to activate an iSIM in Consumer Electronics devices?
Now, let's see how the iSIM works.
There are 3 steps to activate an iSIM in connected consumer devices:
iSIM enablement service to activate the eSIM feature
eSIM Operating System integrated into the cellular chipst trusted area
System on Chip (SoC): cellular chipset with a certified trusted area provided by a SoC partner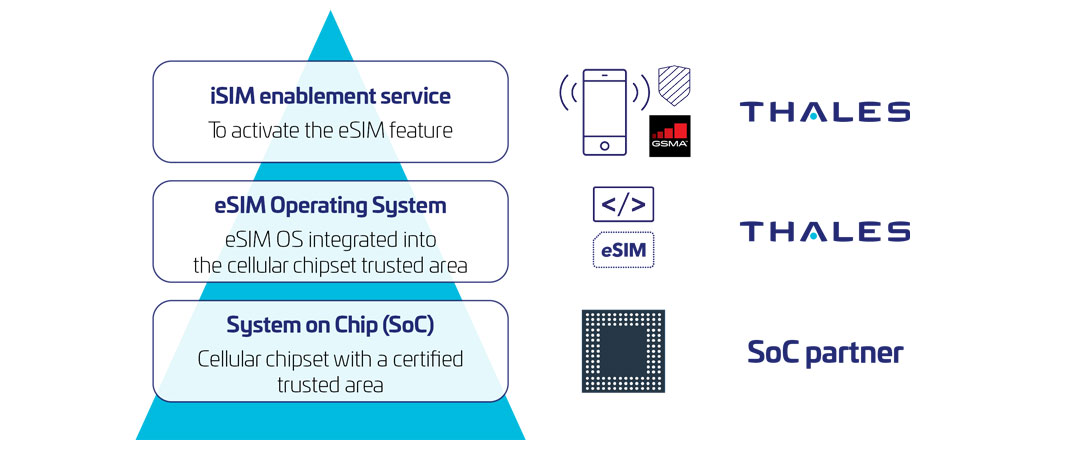 #10 How to enable subscriptions in iSIM-compliant Consumer devices?
There's a good news:
the integrated SIM fits perfectly into the existing eSIM activation process for connected devices.

#11 What are the benefits of the iSIM?
At last, let's review now the 7 benefits of the iSIM for OEMs and mobile operators:
Simplify the integration of mobile connectivity into new connected devices
Free up space on Printed Card Board for new features and ultra-flat & waterproof device design
Leverage existing eSIM ecosystem
Provide same hardware-based security as eSIM
Ensure complete life cycle management of subscription and eSIM Operating System software
Ensure lower energy consumption
Reduce device Bill of Material
Gartner Inc., Emerging Technology Horizon Devices, CK Lu, Annette Jump, Annette Zimmermann, Tuong Nguyen, Nick Ingelbrecht, Roberta Cozza, Anshul Gupta, Tracy Tsai, Adrian Lee, Bill Ray, Danielle Casey, 31 December 2020.
GARTNER is a registered trademark and service mark of Gartner, Inc. and/or its affiliates in the U.S. and internationally, and is used herein with permission. Gartner does not endorse any vendor, product or service in its research publications and does not advise technology users to select only those vendors with the highest ratings or or other designation. Gartner research publications consist of the opinions of Gartner's Research & Advisory organization and should not be construed as statements of fact. Gartner disclaims all warrantiess expressed or implied, with respect to this research, including any warranties of merchantability or fitness for a particular purpose.