The burgeoning growth of eSIM-enabled devices creates a new landscape for Connectivity Service Providers (CSPs) who must optimise profile management and cellular activations for consumers and Internet of Things (IoT) devices. 
To navigate this change, CSPs must proactively adapt their strategies. 
In this context, we will explore the Thales Smart Profile Matcher, a key solution in addressing these challenges. This innovative product is designed to maximise the success rate of eSIM subscription downloads.
A short overview of Thales' solution will offer further insights into its functionality and benefits.
Unveiling the growing adoption of embedded SIM technology
According to The Economist, a leading international current affairs magazine, 'eSIM' is one of a handful of tech terms that will weave their way into the popular vocabulary this year. 
It's not hard to see why the eSIM ecosystem (embedded SIMs) will make its mark. This highly compact, tamper-resistant element is already being adopted at pace in both the consumer and IoT markets.
In 2019, the Motorola Razr became the world's first eSIM-only smartphone. 
The launch of the iPhone 14 in September 2022 is Apple's first handset to take the same approach and will undoubtedly have a significant impact. 
Many more OEMs (Original Equipment Manufacturers) are likely to follow suit. 
Reflecting this, an estimated 5.3 billion eSIM-capable devices (consumer and IoT) will be on the market by 2026, according to Thales' own intelligence and industry analysts.
What's the reality of the explosion in the growth and diversity of eSIM devices?
The eSIM revolution has profound implications for every CSP. The population of deployed eSIMs is already growing fast. But that's only part of the story. 
The eSIM ecosystem will also comprise a huge variety of eSIM devices.  
An ever-wider range of products will make the switch from a removable SIM to one that is embedded in the device during manufacture. 
The consumer domain will include a host of different smartphones, tablets and wearables.
In the world of IoT, there will be an even greater variety of use cases – and, subsequently, many more types of eSIM-enabled devices.  
Moreover, this new wave of eSIM-enabled consumer and IoT technology also covers multiple cellular technologies such as 4G, 5G (with variants), LTE and NB IoT, adding further diversity.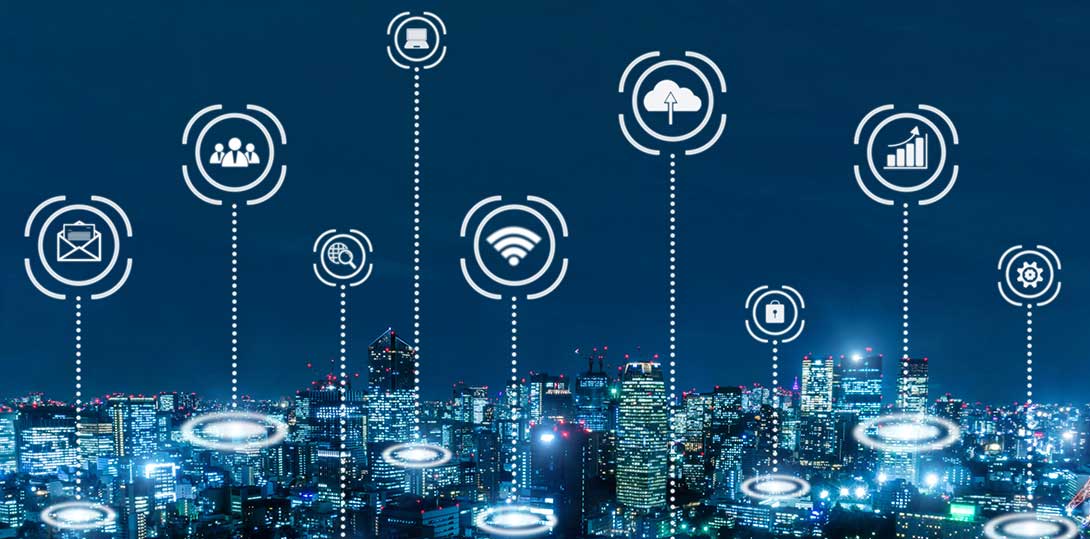 For the consumer market, how do CSPs provide the best UX in the context of the eSIM revolution?
To take advantage of the commercial opportunities offered by the eSIM, CSPs must first address some critical operational challenges to ensure that users enjoy the best connectivity experience. 
With an eSIM, new subscriptions (or profiles) can be downloaded and activated over the air. But the profile must be a correct match for both the device and the mobile services to be used.
The challenge for CSPs?
When a customer wants to activate a new subscription for their eSIM-enabled device, CSPs must therefore be able to instantly adapt and download precisely the right profile for the device and network services. 
Getting this vital first step wrong will inevitably compromise the end-user experience. 
However, given the sheer diversity of eSIM devices on the market, making the right match is a more complex process with many commonly employed solutions.
For the IoT market, how do CSPs deploy connectivity for the eSIM ecosystem?
The IoT is characterised by the scale of connected objects and the multitude of market segments such as energy and water utilities, automotive, smart cities, etc.
This leads to a  multitude of different devices with different characteristics and, therefore, a multitude of varying subscription profiles.
Given the number and wide variety of devices unattended in the field, the successful download of subscription profiles adapted to each type of IoT device is business critical.
Indeed, once deployed in the field, IoT devices must work immediately as soon as they are powered up. 
In addition, IoT devices and associated services typically have long lifespans and must be managed without costly on-site human intervention. 
Effective connectivity management during the life cycle of these devices is, therefore, a must to ensure resilience and quality of service.
Why does the eSIM also have significant implications for profile inventory management?
CSPs also need to consider another important factor. 
To optimise operational efficiency, they must maintain tight control over their inventory of profiles. 
Without adapted solutions, managing a host of different profiles for eSIM-enabled devices, both for the consumer and IoT market, will inevitably add cost and complexity to the business. 
As more eSIM-enabled devices come to market and 5G is rapidly deployed, CSPs are also at risk of being left with a stock of obsolete and unusable profiles. 
What solution is available?
Fortunately for CSPs, solutions to these challenges now exist. 
In this regard, Thales' Smart Profile Matcher (SPM) is designed specifically for CSPs that need to match new profiles to eSIM-enabled devices accurately and reliably in real-time. 
For the consumer market, when the end user initiates downloading an eSIM subscription, SPM automatically analyses the device in question. 
It then prepares precisely the right profile for that particular device. In the first instance, the SPM will seek to identify a matching profile in the CSP's inventory.
However, without a suitable profile, SPM's intelligent engine can convert an existing non-matching profile, adapting a compatible subscription that can be downloaded to the device.
For example, a 4G eSIM profile can be regenerated from an existing 5G profile in the CSP's inventory and downloaded immediately to the subscriber's 4G device. 
In doing so, the SPM also reuses the original subscriber credentials held on the CSP's system. 
The same principles also apply to the IoT market when devices require connectivity in unattended mode: SPM responds in real-time with the right profiles to ensure successful profile download and enable connectivity.
Why do CSPs need to act now?
In both the consumer and IoT markets, remote activation of eSIM-enabled devices combines happier end users with a more streamlined and digitalised business model. 
It also opens the door to a vast, growing market of deployed eSIM-enabled consumer and IoT devices that can be easily connected to the chosen cellular network providers. 
However, success is not a given. 
In a fiercely competitive environment, the enterprises that reap the richest rewards will be those that successfully square the circle of outstanding end-user experiences and rigorous inventory management. 
More resources on the eSIM ecosystem
Smart Profile Matcher
To better serve our customer, Thales "Smart Profile Matcher" adapts profiles in real-time to maximize the success of eSIM subscriptions download on most of eSIM-capable devices.
It also puts the Mobile Network Operators in full control of their subscription profiles, which can be updated at any time.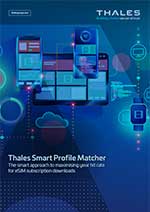 Thales Smart Profile Matcher
The smart approach to maximising your hit rate for eSIM subscription downloads
Download the eBook