Spectacular growth in adoption of the eSIM (embedded SIM) means that MVNOs must adapt quickly. The ability to onboard eSIM capable devices efficiently is now an imperative. However, MVNOs have business models that are clearly distinct from those of their host network operators, and consequently a unique set of requirements for remote provisioning of eSIM subscriptions. 
In response, Thales has introduced a new packaged offer, derived from its proven "On-Demand Subscription Management Platform".
Designed to meet the essential needs of MVNOs without further customization, this turnkey service enables MVNOs to grasp the opportunities presented by the growing eSIM ecosystem.
Adopters are realizing the benefits, and this eBook concludes with a case study of a European MVNO that is strengthening its digital transformation with the help of eSIM Essentials.
Download the whitepaper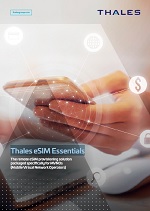 Thales eSIM essentials