The new Thales Gemalto ABC eGates combine expertise in document verification, passenger biometric authentication with an optimized and modular hardware solution to automate border control.
They provide greater flexibility with regards to the airport floor and passenger flow management and process passengers faster.
Now you can deliver a smoother passenger journey and facilitate entry and exit management.
New eGates key benefits
Automation of the border control process with state of the art passenger authentication software leveraging biometric data contained in the ePassport and captured live at the gate,
Reduced waiting times and passengers carrying out the checks themselves in just a few seconds, allowing for greater empowerment and more dwell time in a duty-free area,
Flexibility in terms of hardware design and process management for the benefit of both airports and border authorities.
An end-to-end ABC solution with greater flexibility
Designed to fit with your entry and exit processes:
Regardless of the hardware configuration, the ABC gate system includes gate central management, gate monitoring, and integration to the border system.
The ABC gate solution supports face and fingerprint biometrics. Iris is also available as an option.
Several models are available.
Two-door models
2-door e-Gate with a mantrap
Available with a segregated or an integrated process management
Ideal for Entry Management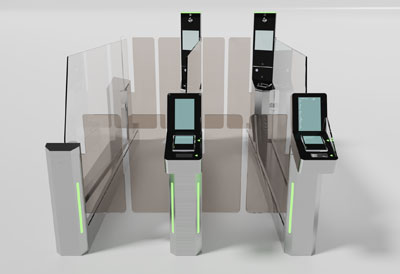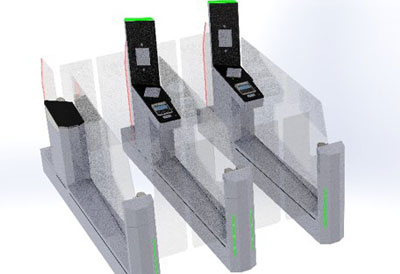 One-door model
Minimal footprint with 1-door gate
No mantrap, integrated document, and identity authentication process.
Ideal for expediting Exit Management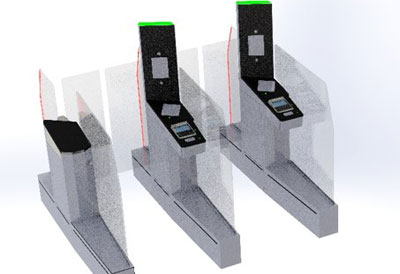 Besides the strong demand for self-service to handle entry and exit controls, there is a need for greater deployment flexibility. Thales's latest ABC solution combines strengthened security, enhanced passenger experience with greater operational flexibility.
Thales's latest ABC gate design allows for accelerated border control processes while giving a modular hardware design flexibility.
Speed up your exit controls and optimize airport floor management with one door ABC gates
Strengthen and streamline your entry management with 2-door ABC gates.
Comply with the latest regulatory standards and embrace the full potential of biometrics with multi-modal biometric authentication
Pursue your self-service strategy and enter the era of digital security​
The new e-Gate offers speed, convenience, and security through:
A user-driven design to maximize traveler acceptance, without compromising on security
A reduced footprint and deployment flexibility with hardware modularity
Frictionless and accelerated border control in less than 15 seconds
Last generation e-Passport readers
Facial Recognition software with liveness detection
Multiple biometric modalities with face,  fingerprint, and iris​
​​The three key benefits our clients value most. 
Flexible and modular
A choice of form factors to adapt to the floor space, control level, and future evolutions in passenger traffic: one door, 2-door ABC gate, integrated or segregated control process, ABC kiosks.
 
Fastest facial recognition
Designed to have passengers look intuitively towards the camera to capture their face on-the-fly and provide fast matching results. Enabled with best in class face recognition software allowing for matching in less than 2 seconds.
 
Best Document Authentication

Equipped with document readers recognized worldwide and with a document authentication software allowing to manage updates from one central post, and automatically delivered in the field. Border guards can add new travel documents to the eligible list and add or modify verification actions
The future of border control
Biometrics and facial recognition, in particular, is transforming the immigration experience and the overall airport experience. Indeed, there are non-security benefits of biometrics for airports too.
Not having to wait in a line gives travelers more free time to spend in airport retail stores and leisure facilities. It is a powerful revenue booster and differentiator for airports, who are competing against each other.
Many airports have extended their airports to absorb growing traffic, and many more are planning to do so.
The bad news? The capacity to increase space or build new terminals is not infinite.
They have an array of technologies at hand to enable their vision and improve the current bottlenecks that are hurting passenger experience and the airports and airlines' top line.
The first generation of ABC gates was leveraging self-service and biometrics to automate and expedite border crossing at airports. They are widely deployed across Europe and the Middle East, to some extent, in Asia.
Space constraints are leading to a transformation of the front end equipment used for Automated Border Control.
Yes, the hardware footprint must reduce. Processes must get smarter and more flexible.
The market is calling for smaller, modular ABC gates. The control processes are evolving, and airports and governments work closely together to consider both perspectives and find the best solution to reconcile security and facilitation.
Deployment of ABC systems now requires greater flexibility than just the unique form factor with two doors and a mantrap.
Why Thales?
Thales has been active in the Government security technology sector for over 15 years, delivering software and solutions to manage document issuance, border and visa clearance, citizen registration in a centralized and systematic manner.
Through the years, Thales has developed strong document verification expertise to detect fraud with high-quality checks on the electronic chip (authenticity, data), document security features, and photo/data integrity.
Its in-house biometric verification software (facial, fingerprint, iris, or combined), which includes live quality assurance checks and globally-recognized matching engines, ensures the document is authentic and that the passenger is the rightful owner of the document.
The acquisition of 3M Identity Management in 2017 reinforces Thales's legitimacy in this area of expertise and firmly positions Thales in biometric technology.
Today, Thales is leveraging unique experience in ABC deployments and state of the art biometric technology to provide greater flexibility and increased security and passenger processing speed.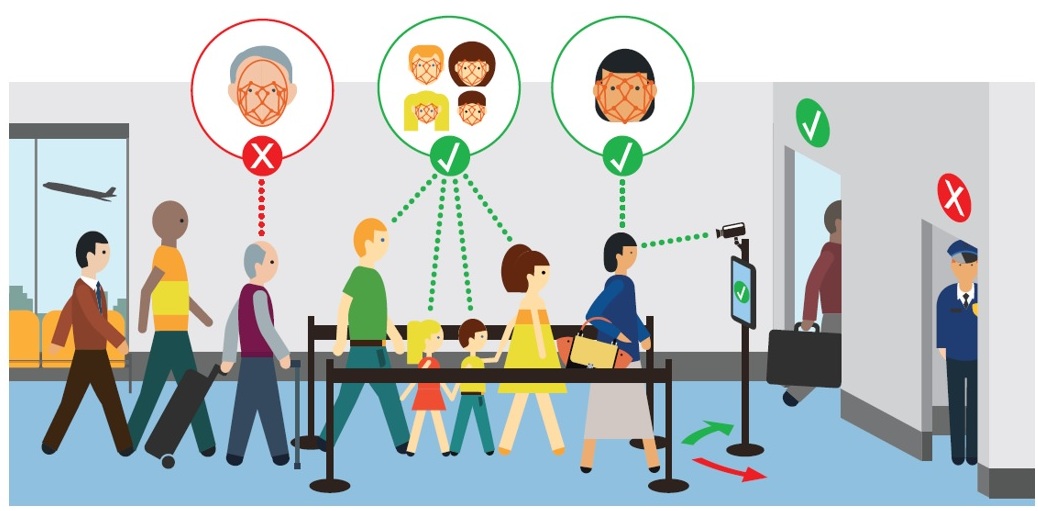 Thales's vision is twofold.
Automated passport control and biometrics
First, leverage the e-Passport containing the holder's biometric data stored in the chip to allow for automation of border control using ABC gates.
Border control is then transformed into an efficient and secure process by systematically checking the traveler's travel document and his identity, by comparing live biometric captures against the reference biometrics in the e-document's chip.
As a result, waiting times are reduced, and passengers can carry out the checks themselves in just a few seconds, meaning less hassle and more dwell time in the duty-free area.
Zero footprint solution and tokenized identity
Second, moving ahead, Thales will leverage unique expertise in automated biometric recognition systems to provide traveler identification solutions with limited to zero footprint.
With ABC systems to match travelers to reference biometry on file and not only against a passport and live biometric recognition, but new solutions are also able to capture and check passengers on the move.
Good news: the travel experience is set to become as seamless and secure as a walk in the park!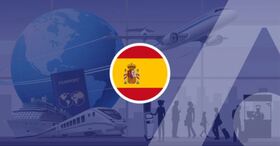 Smarter Border Management at Spanish Airports
AENA, the Spanish operator,  has entrusted Thales and INETUM with the supply and deployment of latest-generation ABC gates at six international airports including those of Valencia, Fuerteventura and Bilbao. This large-scale project represents more than 120 ABC Gates , integrating the latest Thales technologies, including the Thales Cogent FRP biometric facial recognition "matcher" SDK . The first Gates were certified by the Spanish border police, and successfully commissioned in 2020 at the airports of Valencia,  Bilbao and Fuerte Ventura
Read more
Switzerland
In 2018, Thales was chosen by the Police of the Canton in Zurich to deploy a complete Automatic Border Control Gates Solution including the delivery of 13 ABC gates plus additional 16 optional units and associated monitoring.
Norway
Thales' eBorder solution uses automatic passport verification and facial-recognition technology to provide citizens with a quick journey through Oslo's Gardermoen Airport.

Thales Gemalto ABC solution (Automated Border Control)
Where security, convenience and efficiency meet
Gemalto ABC [PDF - 2.3MB]