​​

The next generation of automatic biometric identification systems
Thales' Cogent Automated Biometric Identification System (CABIS) is a scalable and customizable solution that allows you to perform various tasks for processing, editing, searching, retrieving, and storing fingerprint, palm print, etc. face and iris images and subject records. 
Forensic examiners need to find answers quickly with hundreds of case files to process daily. 
They need a multi-biometric tool that can help them find answers quickly and efficiently. 
That is why we have put the know-how of 27 years of experience working with public authorities and law enforcement into our biometric software version 7, now available.
Thales Cogent ABIS makes it easier than ever for examiners to run complex multi-biometric solutions with remarkable matching accuracy and speed and helps government agencies better protect and serve our communities.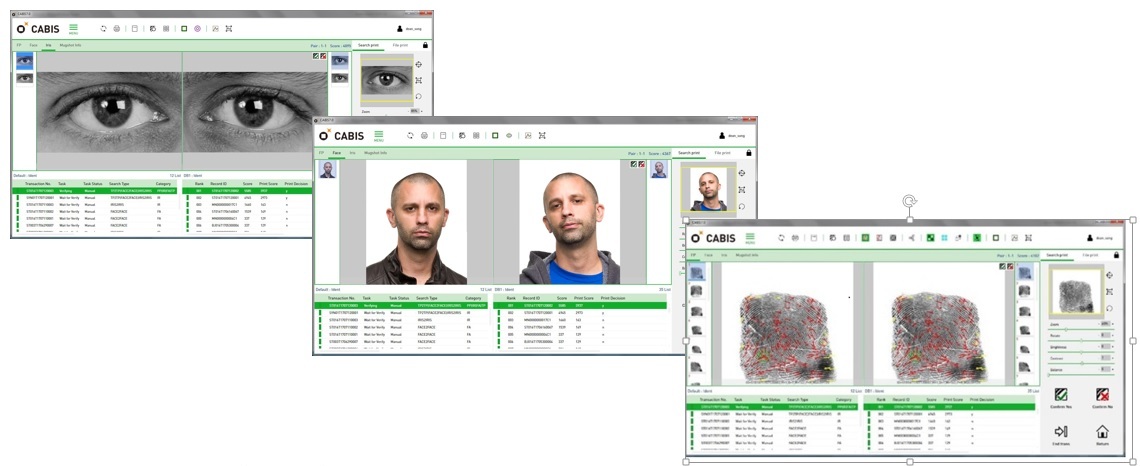 ​Its customizable workflows meet agencies' business requirements and allow easy integration with industry-standard biometric recording workstations/devices and 3rd party systems.
Is a Regional/Local ABIS Right for Your Agency?
While every law enforcement agency in the US has access to their state's ABIS, in many cases, the needs of local agencies are more granular than what is generally available within the state systems.
This whitepaper will discuss how smaller agencies can benefit from using their own local ABIS to solve crimes and keep their local communities safe more efficiently.
Thales, A Trusted Partner To Help Achieve Customer Goals
Every large scale project, whether a new AFIS system or a performance upgrade of an existing system, requires a trusted partner to meet the agency's technical needs and manage the project from planning to delivery. 
This Customer Success Story will guide you through one customer's experience working with Thales on not only a system upgrade but how this was incorporated into the overall project timeline of a move to a brand new facility to serve their citizens better.​
Deployed in more than 80 countries
CABIS offers a wide array of features and functions for processing ten prints, palm prints, finger latents, palm latents, faces, and irises. 
As one of the most accurate systems globally, CABIS ensures service resiliency while providing information safety through the use of built-in safeguards such as fault-tolerant architecture, disk mirroring, automated database backups, and high availability options.
Accuracy: Superior algorithms and a comprehensive set of powerful tools that analyze and enhance the quality of prints increase the probability of a hit.
Speed: While transactions are processed in the background, users can concurrently perform multiple tasks swiftly and precisely.
Flexibility: Operates in a multitasking environment and is built for expansion as demands and upgrade requirements arise.
Scalability: Manages cost-effective growth in response to increasing customer demands.
Interoperability: Non-proprietary NIST record formats are used in database storage. As a result, the system can be interfaced with external ABIS systems, criminal history systems, Livescans, mobile devices, web-based solutions, and other information systems.​
Cogent AFIS technologies have been used in over 200 applications deployed in more than 80 countries, from national biometric civil identification projects to border control and criminal records systems.  
Examples of long-term customers 
Thales Cogent has provided biometric identification technology to the US Department of Homeland Security (DHS) Automated Biometric Identification System IDENT since 1994 and has successfully ensured fast response times while accommodating continuous, dramatic expansion in database size and daily workload volumes. The DHS system processes 100,000 daily traveller transactions at US ports of entry that return results well within the required 10-second SLA, including network time.
Thales provides the most extensive pan-European biometric system, EURODAC, under a contract initially awarded in 2001. Thirty-two countries use the system to manage asylum applications. EURODAC​ was recently updated to accommodate changes in legislation, implement new law enforcement transactions, and provide additional database capacity and greater throughput to accommodate a vast increase in transaction volumes due to the European migrant/refugee crisis.
We'll be glad to support your AFIS/ABIS project and share our expertise and best practices. 


Thales advances Rhode Island's Automated Fingerprint Identification System (AFIS) to better serve their citizens.
Read our case study