Connected IoT devices and smart solutions are quickly expanding into every industry and all aspects of our lives.
That's because if you can connect devices, equipment, and operations, then you can leverage real data and analytics to improve efficiency, productivity, and profitability.
Getting connected is essential, but it can also be challenging.
Deploying geographically diverse and global IoT installations often requires multiple product SKUs, complicated installation logistics, and a variety of Mobile Network Operator (MNO) service agreements.
For many enterprises, the complexities of managing SKUs, delivering the right product to each endpoint, and provisioning services are daunting.   
The good news is Thales can help you streamline the IoT journey!
The award-winning Cinterion® IoT Connectivity Activation service simplifies and optimizes the process of getting and staying connected for the lifetime of IoT devices.
No matter which cellular technology your application is leveraging - 2G, 3G, 4G, LPWA, or 5G – they all depend on seamless and reliable connectivity, from the first use of a device to the end of its life.
Thales is tackling the challenge of IoT Connectivity Activation, MNO selection, and subscription provisioning, offering a powerful remote solution to streamline the IoT journey from the factory to the field.
The Cinterion Connectivity Activation solution raises the bar on traditional remote SIM provisioning providing "a little bit of magic" to simplify the IoT ecosystem.
By offering a native bootstrap along with an "empty shell" eSIM, a single IoT device, SKU can be remotely configured for any cellular operator when it is turned on for the first time.
You know the story here.
Geographically diverse IoT deployments have traditionally required multiple MNO-specific product SKUs, service agreements, and complicated installation logistics to get connected.
The new IoT Connectivity Activation Service is changing all that.
With one product SKU, the award-winning solution remotely and flexibly connects to predefined MNO networks and allows to swiftly and seamlessly pivot to new service providers without physical updates.
Remote SIM Provisioning made easy with Thales IoT Connectivity Activation
In the video, Thales Analytics and IoT expert Jose Sanchez talks about the benefits of the Connectivity Activation solution and how it operates.
IoT Connectivity Provisioning at the Last Stage of Production
Want to simplify IoT manufacturing and logistics and automate IoT connectivity? The Connectivity Activation gives you the flexibility to select any global MNO subscription at any point during manufacturing. Check out the video to see how it works!
IoT Connectivity Provisioning at the Installation Site
Not sure which MNO will be best at the site of IoT installation? No problem with Connectivity Activation. IoT devices automatically determine and download the best subscription for any global site. Check out the video to see how to solve the last mile connectivity challenge!
 
What makes IoT connectivity activation and management so challenging?
Traditional methods of connectivity activation and management – switching SIM cards, global roaming, and multi-IMSI cards, to name a few - were designed to support the needs of consumer devices with a lifespan of 2-5 years.
The Cinterion Connectivity Activation solution was engineered specifically for IoT devices that need to operate reliably for 10-15 years.
It was purpose-built to solve the top challenges and bottlenecks facing the IoT ecosystem, including:
Complex manufacturing and an SKU explosion
Delivering a solution that could operate with any cellular service provider required a different product SKU for each cellular network. Designing, manufacturing, warehousing, and managing a multitude of MNO-specific product SKUs drive up production and logistics costs. With the Cinterion solution, one product SKU operates with all global MNO networks, which significantly simplifies manufacturing and logistics.
 
Complex and lengthy installation
Traditionally, technicians needed to test connectivity at each deployment site before deploying MNO-specific devices in the field. The time-intensive process required a visit from a trained technician who had to keep all possible product SKUs on hand in their truck. If a part was missing, multiple visits to the warehouse were required adding time and expense to the installation. With the Cinterion solution, one product SKU is installed at all sites, which can be remotely and automatically provisioned with the best service provider for each location.
 
Unreliable connectivity and complex global roaming
IoT solutions require uninterrupted connectivity throughout the lifetime of the IoT device, even as mobile installations crisscross network borders or fall into connectivity shadows as networks evolve. To maintain constant service, complicated and costly global roaming agreements with a wide variety of service providers, MNOs was necessary. The Cinterion solution tackles the challenge of global roaming with swift, secure, and simple remote MNO network updates across the lifetime of any device.
 
Unpredictability
As challenging as it can be, legacy cellular technologies like 2G and 3G sunset and MNO contracts run their course. Customers need to guard against ecosystem unpredictability and remain in the driver's seat when making decisions about cellular service. But the fact is, to get connected, you need to be connected. The Cinterion solution provides inherent bootstrap connectivity so customers can connect to a new network for the first time and change to their preferred network when needed.  
The Cinterion Connectivity Activation solution uses the power and flexibility of the Cinterion IoT eSIM deeply integrated into the latest Cinterion IoT modules and IoT products along with the Cinterion IoT Suite to get connected, stay connected, and pivot swiftly and seamlessly to new service plans and providers as needed.
The solution helps to mitigate network disruption, boost ROI, and meet SLAs. It is part of a broader array of IoT services that provide efficient and secure remote lifecycle management of Cinterion IoT devices.
This infographic describes how elements of the Cinterion Connectivity Activation offer work.
From the first use of a device all the way to the end of its life, the Cinterion Connectivity Activation solution helps to keep IoT devices connected to the best MNO network for each endpoint without expensive service visits, even as cellular networks evolve and service updates are required. Key benefits include:
No physical SIM handling is required.
A Cinterion IoT eSIM is integrated inside the Cinterion IoT Module during secure manufacturing enabling remote, flexible, updatable MNO service provisioning without a technician inserting or changing the SIM.
 
Optimized logistics
One product SKU supports all MNO networks. Regional variants are remotely personalized at the last stage of installation.
 
Fast and easy device installation
A smart MNO selection feature automatically identifies the best service provider for each installation site based on user-defined policies and specifications.  
 
Always-on connectivity  
IoT devices automatically switch to a user-defined fallback MNO in case of an unexpected or sudden service disruption.
 
Fewer service trips
As networks and connectivity needs evolve, implementers can easily and automatically change connectivity providers via a web portal versus a technician visit.
How does the solution work in the real world?
The Cinterion Connectivity Activation solution simplifies manufacturing and helps keep IoT devices seamlessly, cost-effectively connected, 24/7 and 365 days a year.
In a podcast with Petri Ounila, Director of IoT Devices at Aidon, and Francis D´Souza, VP Strategy & Marketing for Analytics and IoT Solutions at Thales, we learn how Aidon uses the solution to optimize and improve smart metering across Scandinavia. Listen to the podcast.
Want to simplify and speed up your next IoT project?  
Book a live demo or connect with a Thales expert to learn more about the groundbreaking Cinterion Connectivity Activation offer.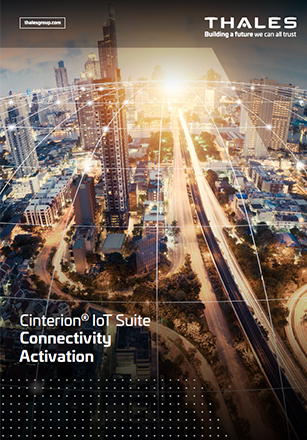 Expanding the power of remote SIM provisioning
Are your IoT projects bogged down by the complexities of managing and deploying multiple MNO-specific product SKUs? Is the cost of maintaining IoT connectivity to keep pace with network evolution biting into business profitability?
Thales is tackling the challenge of MNO selection, IoT connectivity activation, and subscription provisioning with a powerful solution that remotely connects to any MNO network and seamlessly pivots to new service providers and plans without physical updates saving up in Total Cost of Ownership.
Cinterion IoT Suite Connectivity Activation Launch Party 
Want to learn more about our solution that is changing the IoT connectivity game? Then watch the On-Demand webinar!
Our Head of Portfolio Management IoT & Strategy for Analytics & IoT Solutions, Francis D´Souza, our Head of Product Line Management Solutions, Jose Sanchez, and Michel Anslot, IoT Services Innovation provide an overview of the essential solution components that create all this "magic".
June 8, 2021: Thales revolutionises IoT "out-of-the-box" connectivity to any cellular network worldwide
Breakthrough connectivity solution greatly simplifies and digitalises the IoT journey allowing 'empty' eSIMs to be personalised with chosen mobile operator credentials in the factory or in the field at first power-on
The award-winning solution combines a Cinterion® IoT Module, an IoT eSIM, and the Connectivity Activation services integrated with existing mobile operator infrastructure
The solution can help reduce the Total Cost of Ownership by more than 30%
(businesswire.com)