As connected vehicle technology is enabling access to a wide range of digital services, car makers and tier 1 suppliers need to ensure that such connectivity will not be the gateway to cyber attacks. Cybersecurity has become a priority for car manufacturers to achieve the seamless security required of connected cars. Automotive Cybersecurity is all the more relevant as it is now part of a European and international framework that is decisive for the spread of connected and autonomous vehicles, especially in terms of vehicle approval and road safety.
This whitepaper provides car manufacturers and equipment suppliers with an overview of the current automotive cybersecurity challenges, as well as presents the scope of the UNECE WP.29 regulation, dedicated to Cyber Security Management System (CSMS) and Software Update Management System (SUMS).
It provides guidance, best practices and recommendations to move towards the implementation of a robust automotive cybersecurity infrastructure, which is not only secure at the time of vehicle deployment but along the connected car´s long life.
Download the whitepaper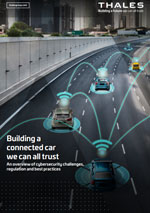 "Building a connected car we can all trust"