The birth of eCall
Many governments have attempted to introduce safety measures to reduce collisions. The majority of these initiatives tend to focus on enhancing road infrastructure.
But many countries worldwide woke up to the opportunities offered by technology to improve road safety.
The European Union has pioneered this approach with eCall, an emergency call solution, and this initiative may eventually become standard practice across the world.
Let's jump right in.

Why eCall?
Road traffic crashes are the 9th leading cause of death and account for 2.2% of all deaths globally. 
Sadly, the human and economic impact of these tragedies is huge.
Just think about it:
Nearly 1.3 million people die in road accidents each year, and an additional 20-50 million are injured or disabled.
In the EU 27, there were around 22,800 fatalities in road accidents reported in 2019. 
9% of road accident fatalities in 2018 occurred on motorways, versus 53% on rural roads and 38% in urban areas.
There's more.
Estimates suggest that traffic incidents cost countries between 1% and 3% of their gross national products each year, largely due to the price of treatment for victims and lost productivity.
Europe decided to act. As of 31 March 2018, every new type of car sold in Europe had to be equipped with the 112 eCall system.
 
What is eCall?

E-Call is a pioneering European emergency-call system for vehicles that aims to bring rapid assistance to road traffic incidents anywhere in the European Union.
It aims to advance Europeans' protection and safety and reduce fatalities caused by road accidents, related injuries, and property loss.
The mandated deployment of eCall for new cars and light trucks applied to the European Union from 31 March 2018.
eCall sounds simple. And it is.
 
How does eCall work?
 Emergency call:  eCall is activated automatically as soon as the vehicle's sensors have detected a severe crash. The system autonomously dials the European emergency number 112.
Positioning: It establishes a telephone link with the appropriate emergency call center and sends details of the accident, including the position. Galileo, the European GPS, is pivotal in making the positioning of the distress signal extremely accurate.
Public Safety Answering Point: Operators can then dispatch appropriate assistance. 
Quicker help: eCall can speed up emergency response time by 40% in urban areas and 50% in the countryside. It can reduce the number of fatalities by at least 4% and the number of severe injuries by 6%.
 
​
What makes the eCall system successful?
eCall's success hinges on two key elements:
An upgraded Europe-wide interoperable Public Safety Answering Point (PSAP) infrastructure
Installed or embedded Machine-to-Machine (M2M) communication devices in all vehicles.
In the event of a serious road incident, the In-Vehicle Equipment (IVE) must be able to automatically dial 112 and reliably communicate incident details over wireless networks.
These details are collectively defined as "the minimum set of data" or MSD and include:
Time of the incident,
Cause of activation,
GPS coordinates,
Vehicle Identification Number (VIN).
eCall benefits
By enabling qualified and equipped paramedics to get to the scene within the crucial first hour of the incident, the eCall system has the potential to:
Save about 2,500 lives in the EU each year
Reduce the severity of injuries by 10% to 15%
Save €26 billion a year
eCall roadmap
2009-2014
A few years ago, the EU launched its eCall initiative, a pan-European, in-vehicle M2M (machine-to-machine) emergency call system designed to bring rapid assistance to drivers involved in collisions.
An eCall-equipped car automatically dials 112 (the Europe-wide emergency number) in a serious road incident.
It gives emergency operators information relating to the incident, including GPS coordinates, the time of the incident, and the vehicle identification number.
Decision No 585/2014/EU was published on 3 June 2014.
2014-2018
All new models of cars and light commercial vehicles in the European market come with the eCall system from 31 March 2018 onwards.
2018-2035
100% penetration should be achieved by 2035.
The European Union aims to cut the number of road deaths and serious injuries by 50% between 2020 and 2030.
 
What is the cost of the ecall system?
Initial concerns about data protection and the potentially prohibitive cost of implementing such a system have proved unfounded.
The IoT technology it uses already exists.
Rolling it out across the EU costs less than €100 (US$110) for each device when fitted in the factory.
This cost is expected to decrease in the future thanks to two factors:
The trends of electronic components' costs
The economy of scale
According to the EU mandate, 112 eCalls are free of charge for the users.
It is estimated that eCall could help prevent 2,500 road deaths and save €26 billion a year.
 
What eCall is not
eCall does not allow vehicle tracking outside of emergencies.
The M2M (Machine to Machine) module (the eCall device) is dormant. It is only activated when the vehicle sensors react in a severe crash.
In other words: It is not a tracking system constantly recording the vehicle's position and recording the driver's moves.
More precisely, 112-based eCall regulation protects end-user data and privacy.
Following Directive 95/46/EC and Directive 2002/58/EC, vehicles equipped with 112-based eCall systems must be protected against continuous tracking and tracing during normal operations and day-to-day travel.
To meet regulations, digital security technology is embedded in eCall equipment to provide privacy protection and prevent surveillance and misuse.

What is 112?
112 is the emergency number in all 27 EU member states and many other countries.
You can reach medical assistance, the police, or the fire brigade.
112 is free on the mobile of fixed lines.
Where do we fit in?
To be implemented widely across all EU countries, a project of this magnitude takes unprecedented collaboration across a complex ecosystem of government agencies, automotive manufacturers, and leading ITS and M2M technology companies.
Since its infancy, IoT technology leader Thales has contributed to the eCall Europe initiative. 
We provided the expertise needed to support ETSI/ERTICO interoperability and cross boarder testing.
Thales-enabled Public Safety Answering Point (PSAP) reference solutions were used for many field tests offering outstanding reliability and success.
Our Cinterion Automotive Grade modules, equipment testing, development kits and engineering support contributed to significantly faster deployments.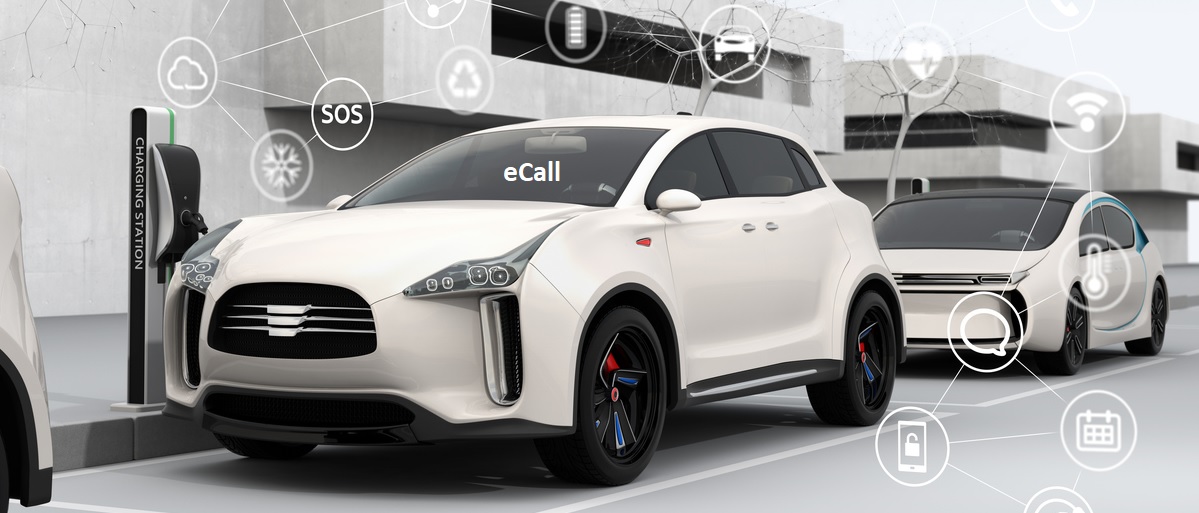 eCall Demo and Testing
Before the eCall In-Vehicle Equipment (IVE) can be embedded in vehicles, they need to be tested for performance and reliability.
Thales and its partner Rohde & Schwarz offer a compact solution for reproducible, end-to-end, functional, and standard-compliant conformance testing of eCall and ERA-Glonass solutions.
Leveraging Thales Cinterion M2M modules and R&S software, a simulated PSAP is established, and a cellular network is emulated within the confines of a lab environment.
The set-up allows verification if an eCall solution can trigger an emergency call, send the MSD data, and establish a voice call independent of a voice call.
Network independence is crucial when testing solutions in multiple countries with varying cellular network technologies.
Other road safety initiatives
Thales is proud to contribute to other road safety initiatives, such as our secure digital driving license and the EU and AETR digital tachograph.
Thales is working with Intrado, a leading provider of 9-1-1 technology solutions in the US. Our cloud-based platform translates crucial data and sends alerts to emergency teams to improve response times and outcomes while continuously monitoring developments as they occur.