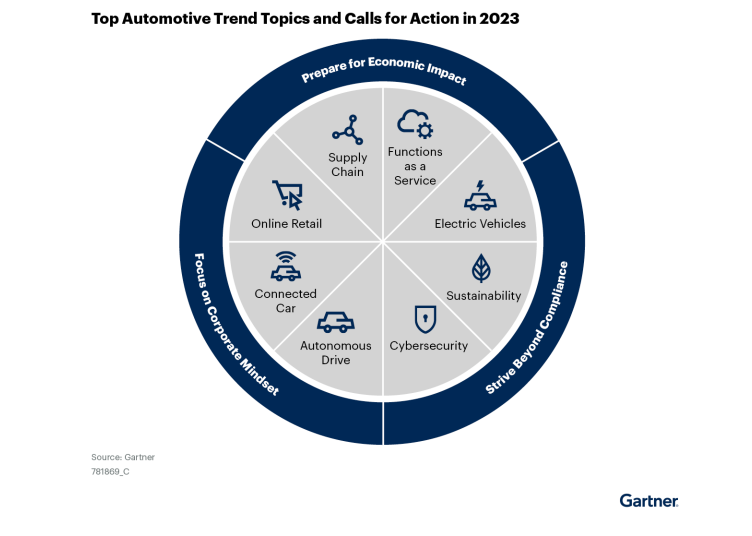 The impending economic crisis is an opportunity for companies focused on the automotive sector with vision and dynamism to seize market share from rivals.
Many automotive players stick to the minimum in compliance areas like electrification, sustainability or cybersecurity. Instead, companies going above and beyond in these areas will be rewarded by customers, employees, public opinion and investors.
Gartner® Report – February 2023
Download a complimentary copy of the Gartner research to find out about this year's automotive trends in eight different critical areas that are aligned under the following umbrella themes:
Prepare for economic impact. Automakers and retailers experienced supply shortages that, on one hand, have been trying to mitigate but, on the other, delivered greater margins per vehicle sold. This has changed priorities, like less focus on retail technology. However, a potentially impending economic crisis asks for automotive companies to, more than ever, use digital technology to boost their competitiveness in a market that will see growing cannibalization.
Focus on the corporate mindset. Automakers have been investing immensely in software, electrification and others. However, the transformation demanded from them entails a lot more than budget and headcount. They must start by changing the corporate mindset in order to avoid realizing further down the road their transformation is too slow and unsuccessful.
Strive beyond compliance. A lot of changes in the auto sector are today driven by current or future regulation: electrification, cybersecurity, sustainability. The temptation of sticking to compliance is big as this is the most financially viable way to achieve it — but only in the short term. Instead, automotive companies must set the bar way above regulatory demands — failing to do so will impact, sooner or later, their sales performance and market value.
Download the Gartner Report       

Published 16 January - ID G00781869
By Analysts: Pedro Pacheco, Mike Ramsey, Jonathan Davenport, Bill Ray, Gaurav Gupta, Lillian Oyen-Ustad
GARTNER is a registered trademark and service mark of Gartner, Inc. and/or its affiliates in the U.S. and internationally, and is used herein with permission. All rights reserved.