From science fiction to science fact: a career in biometrics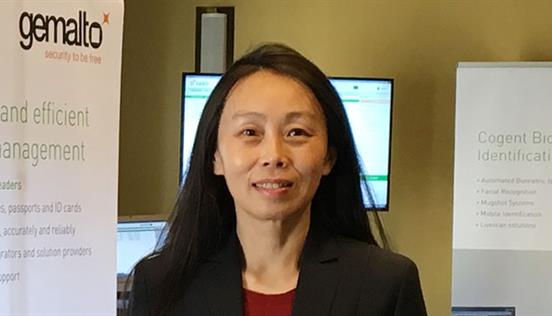 When Anne Wang was presented with a prestigious Women in Biometrics Award at a ceremony in New York City in November 2018, it was recognition for a career dedicated to the advancement of biometric identification technology.
That career began in the early 1990s when Anne (who had majored in applied mathematics and computer science at university) landed a job as a research scientist with Cogent Systems, a small, Los Angeles-based start-up specializing in biometrics.
Let's take a closer look.
Early stages
"I had very little knowledge of biometrics application when I started at Cogent," she remembers.
"Fingerprints had been used for identification by law enforcement since the late 18thcentury, but in the early 90s, automated biometrics identification was still mostly something you saw in science fiction movies. I liked the fact that it was an emerging technology. It was not only very challenging technically but also useful to society.
The use of biometric identification in law enforcement is a use case that has continued to occupy her. "Our goal is to automate 
fingerprint identification
 in computer systems," she explains. "The challenge is to do it both accurately and quickly, to make it suitable for large systems as well as small devices like a phone."
Although fingerprint technology has been Anne's main focus, she has worked on many other biometrics projects over the years at Cogent, and now at Thales. (3M bought cogent in 2010; in 2017, Gemalto, in turn, acquired 3M's identity management business.)
In particular, she has been active in developing standards for biometrics, working with the US National Institute of Standards and Technology, and participating in several biometrics standards subcommittees.
She also worked on collaborative projects with professors in universities to explore new research topics.
Breaking down barriers
While biometric ID technology is becoming ever more sophisticated, there are several barriers to its wider adoption.
One is privacy concerns: "Take facial recognition, for example," says Anne.
"There are cameras everywhere these days that can capture your image, so you can be monitored and tracked without you being aware of it. That raises concerns about the misuse of this technology."
There's more.
Cost and usability issues are further deterrents, as is the question of the security of the data collected.
As Anne points out, having a PIN stolen is one thing; you can change it.
But if a biometric credential is stolen (for example, if a criminal manages to copy your fingerprint), the risk of identity fraud becomes higher.
She stresses that the industry is actively working on this issue in particular.
Recognition
That industry has now recognized her contribution to the advancement of biometrics. "I'm lucky to be working for a company that gives me a platform where I can achieve things," says Anne, who still lives and works in California.
"But it's not all about me – it's a team effort, and I'm just part of the team."
In that team, as in most tech world areas, women are still in the minority. "The challenge is that the technology is constantly progressing, and you need to keep pace with it – which can be particularly challenging when you become a mother and want to spend more time with your children," says Anne. 
"But Thales is very supportive, and things can be worked out. There's no reason why more women can't work in this field if they have the training and skills. I'd like to see that happen."
Related contents: