Aircraft carrier's fighter jets to arrive at new UK home
Britain's next generation of fighter jets will start arriving in the UK next month in preparation for future duties on board HMS Queen Elizabeth, the Ministry of Defence has revealed.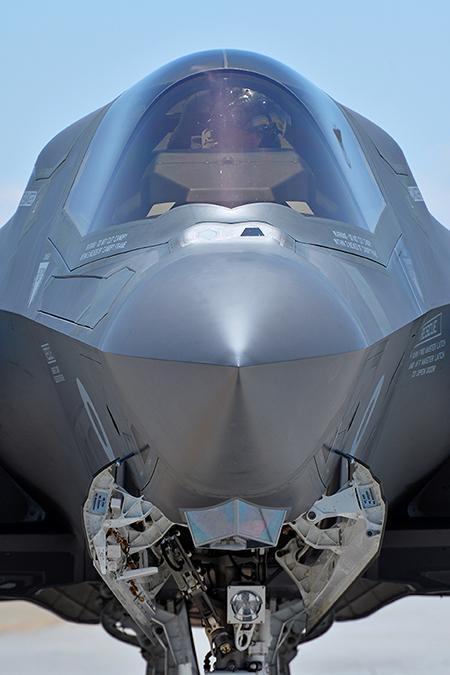 The first F-35 Lightning stealth jets will arrive at their new land base at RAF Marham in Norfolk in June where they will be operated by the newly formed 617 Squadron. The squadron's personnel are currently in the United States training with the new aircraft.
The announcement coincides with the recent 75th anniversary of the original Dambusters mission in 1943. Find out more about Thales's involvement here.
617 Squadron's Commanding Officer, Wing Commander John Butcher, said: "The original Dambuster Squadron did not know what their mission was going to be until the last moment."
"Yet they had to make sure they were ready and that is as true for us today. The spectrum of missions we can undertake in the F-35 will be huge and we have to make sure we are ready to do whatever is asked of us."
The F-35B Lightning, multi-role fighter jet is the first to combine radar evading stealth technology with supersonic speeds and short take-off and vertical landing capability.
The jets will be jointly manned by the Royal Air Force and the Royal Navy and can operate from land and sea, forming a vital part of Carrier Strike when operating from the Queen Elizabeth Class aircraft carriers.
On board the carriers, Thales was responsible for design and integration of the ship's aviation systems such as aircraft lifts, fuelling, aircraft electrical supply, visual landing aids and also the lead on ship air integration working closely with F-35 team.
As part of its aviation lead responsibilities, Thales led the procurement of the flying control tower from the Special Projects division of Ipswich-based key supplier Tex ATC Ltd, one of the world's leading providers of military and civilian airfield visual control rooms.
The ship will control all flying operations of the F-35s, Merlins and other aircraft from this floating air traffic control tower – including using Thales communications systems to talk to all personnel on board.
Read more about the Thales-Tex ATC aircraft story here.