Carrier Strike Group and the land of the rising sun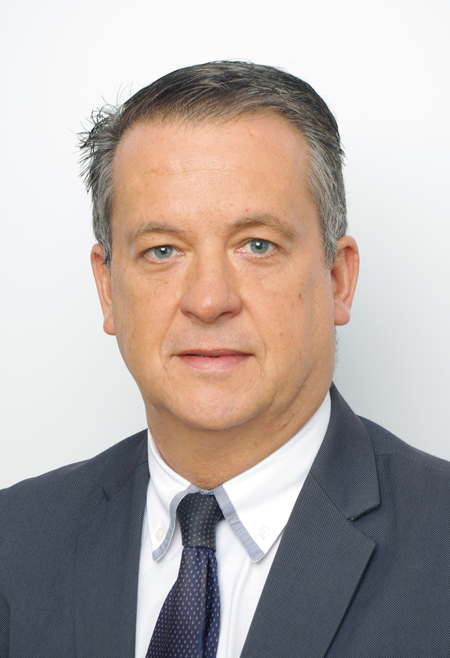 As the Carrier Strike Group continues its deployment in the Indo-Pacific region, we sat down with Cyrille Dupont, President and CEO of Thales in Japan. He spoke about Thales Japan's portfolio, collaboration with wider industry, and his regret at missing the opportunity to go on board HMS Queen Elizabeth.
How did you come to join Thales?
Before joining Thales, I held Sales and Marketing and General Manager roles in Safran and Selecom respectively, accumulating nearly 15 years' experience between the two. My Thales career has spanned 20 years and has included Project Manager, Sales and Marketing, and Business Development Director roles, before becoming the Chairman and CEO of Thales Hellas and Country Director for Greece, Cyprus & Eastern Balkans. For the last three years, I've been President & CEO of Thales Japan.
What does your current role entail?
First and foremost my role, with the support of my local team, is business development. That means promoting the full Thales portfolio, no matter what country a solution originated in. It could be Australia, France, Germany, the US, the Netherlands and, of course, the UK, which has a very strong footprint in Japan in the defence sector.
What markets and industries does Thales serve in Japan? 
Historically, our footprint in Japan has been in defence and focused on the Japanese Armed Forces, especially the Navy and Army. But since we acquired the Gemalto Group in 2019, two-thirds of the team here is dedicated to our digital ID and security business. This is a fast-growing area for us and encompasses cybersecurity, data protection, digital security, identity control and biometric systems, in particular for industry and the financial services sector. 
We also have a strong footprint in the medical industry, offering a wide range of high-end x-ray flat-panel detectors, imaging solutions, and digital radiography systems. Plus, we also provide in-flight entertainment systems to Japan Airlines. So all in all, a diverse portfolio. 
Do you deal directly with the Japanese Government?
The business model's a bit different in Japan, as we don't sell directly to the end-users like the Japanese, Navy, Army or air Force. Instead, we go through established local industry partners like Mitsubishi Electric, Mitsubishi Heavy Industry, Hitachi, and Toshiba. Usually, we do this via technology transfer, so they integrate our tech into their products and solutions before selling them to the end-users.
Do Thales Japan and Thales UK work together?
We're working very closely on naval projects, particularly underwater systems. We're also looking to support the Navy as their information warfare needs develop. There's an increasingly close relationship between the Japanese Navy and the Royal Navy, which is very encouraging for Thales in both countries.
Can you talk a bit about Thales's VIGILE-D capability?
VIGILE-D is our shipborne ESM (electronic support measure) system. It detects radio signals and identifies them as friend or foe – even in dense electronic signal environments with multiple overlapping signals. For example, it can distinguish the radio frequency (RF) waves between a mobile phone and a missile, which in the past was extremely hard to do. VIGILE-D is also a real breakthrough because it's fully digital, when most ESM systems are analogue. It provides Navies with a key advantage and will certainly be a key differentiator for the Japanese Navy in the current geopolitical environment.
All in all, Thales has a lot to offer the Japanese Navy in terms of mine warfare, mine hunting, optronic systems, sonar technologies, and onboard communications – both for submarines and surface vessels.
Did you get a chance to go aboard the HMS Queen Elizabeth, while it was in the Yokosuka Naval Base?
Sadly, due to Covid-19 and quarantine measures in Japan, I was unable to go aboard or see her up close. But I did see a lot of pictures and watched various videos. All of us here in Thales Japan encourage CSG to return and visit us again in the future.
Anything else you'd like to add?
Only that, historically, Japan has relied heavily on the US for support, but Japan is now willing to expand its alliances with other friendly nations that share the same values. So it's really encouraging to see the Japanese Navy develop and cement an ever-closer relationship with the Royal Navy. And this deepening Navy-to-Navy relationship between Japan and the UK, I think, will encourage more industry-to-industry relationships for technology transfer between the two countries. Not only to sell to Japan, but to export to other allies around the world.
Banner image © Crown copyright