Discover the key to mission readiness in the air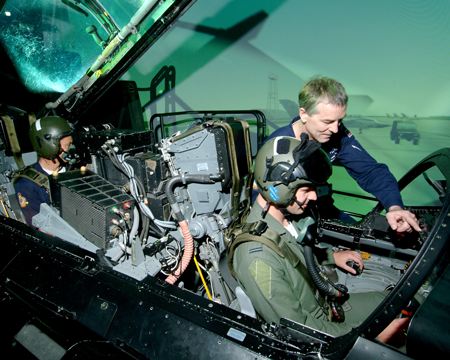 Civil and defence organisations alike rely on Thales to keep their crews ready for mission-critical operations: in the air, on land, at sea and in cyberspace. Visit us at I/ITSEC 2019 to find out more.
Our objectives? To keep your people safe and to ensure mission success.
From ab initio desktop training right the way up to networked, full-mission multi-platform simulators, we can meet your training requirements for every mission, on all platforms, in any environment.
We have already delivered more than 1,000 simulators to customers in 40 countries, and we operate nine training centres around the world. You're in good hands with Thales.
Digital Transformation
With threats evolving and new risks emerging every day, digital transformation is not just desirable it is essential.  That's why everything we do builds on the latest advances in our key technologies; Connectivity, Big Data, Artificial Intelligence and Cyber Security. By embedding these four pillars in traditional simulation solutions as well as innovative new training services, we solve your problems of today while preparing you for the risks of the future. This is training which gives you an edge.
At Thales we offer a unique blend of our key technologies to ensure mission-readiness with the world's most advanced training and simulation solutions.
Our training and simulation solutions
Connectivity – NUADA
Exploiting recent advances in connectivity, NUADA makes it easy to plan, prepare and deliver even the most complex networked simulation events.  It's a cloud-based orchestration tool which brings together multiple simulation services and applications, connected to multiple external simulator sites, for realistic training and experimentation.
NUADA saves time and money by automating the process of creating simulations, letting you replicate and repeat them without having to start from scratch.
You can learn more about using NUADA to create a complex simulation event, by using assets, environments and scenarios, populated with AI-driven computer-generated forces (CGF), and integrated on Thales's own or other simulators, hosted on a private cloud.
Then see how NUADA uses NATO standard protocols to coordinate simulations across the US and with partner nations, by deploying the event you created across assets at I/ITSEC and across the Atlantic in the UK. 
Artificial Intelligence – AI Driven Computer-Generated Forces (CGF)
At Thales we use fuzzy logic-based Psibernetix AI technology to sweep away the constraints and predictability of ordinary simulations.
The technology has been pitched against Top Gun pilots in simulated aerial combat, and it consistently defeated them even when it was severely handicapped. The participants described its human-like behaviours, reporting that the technology made it much more difficult to anticipate responses compared to other CGFs.
Psibernetix AI, which creates a complete mapping of a combat scenario, can make decisions 250 times faster than its human opponents can blink!
At I/ITSEC you can have a personal demonstration of our latest Human Machine Interface (HMI) for controlling the synthetic environment. While you're there, you'll witness a thought-provoking one-on-one autonomous engagement and get a useful insight to how Thales's TrUE AI (Trustable Understandable and Ethical Artificial Intelligence) powers practical, portable and trusted training solutions.
Big Data & Artificial Intelligence – HuMans (Human Performance Monitoring)
Learn how even the best simulation is only one part of the training equation, and what you can do about it.
HuMans unlocks the full benefit of synthetic training by monitoring, recording and objectively analysing individual and team performance. With that data in your hands, it becomes possible to identify underlying learning issues and to focus on cognitive improvements.
You'll see how the data is contextualised with flight parameters measured from the simulator, plus video and audio recordings of the cockpit and trainee, presented to the user in an easy-to-understand dashboard form.
We'll also show you how HuMans uses non-invasive sensors to capture physiological data such as gaze-tracking, in conjunction with the pilot's inputs and audio communications, and give you an insight to future development.
HuMans can be used with any training device in the civil as well as military domains.
Big Data & Artificial Intelligence – FireForce 200
Visit us for an opportunity to shoot virtual and real targets, using replica guns equipped with Thales devices, and to discover how FireForce 200 supports the instructor by providing an individual and accurate data about the trainees.
If you prefer, we'll do the shooting for you. Either way, you'll see how the information is clearly displayed at the debriefing station for discussion between the trainer and trainee.
Created for use by all armed forces including Special Forces, FireForce 200 can be used with any firearm. Its instant ballistic analysis is useful for improving marksmanship and for judgmental training.
If you would like to find out more please see details below or visit booth 649 at I/ITSEC from 2 – 6 December.
Contact
Jackie Lucas, UK Aerospace Media Relations
+44 (0) 7799 337 329
jackie.lucas@uk.thalesgroup.com