Royal Navy Merlin crews hunt submarines with Thales sonar
Thales sonar systems have been playing a critical role in supporting a demanding Royal Navy submarine hunting exercise in Norway.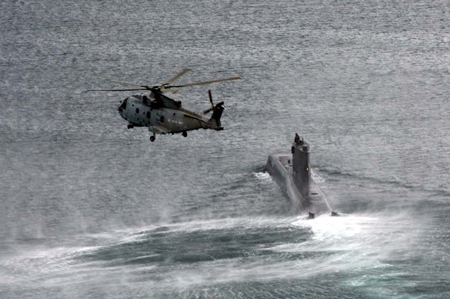 Merlin helicopters from 824 and 820 Naval Air Squadrons from RNAS Culdrose spent a fortnight in Bergen tracking and hunting submarines in Norway's narrow fjords as they honed skills to meet the growing Russian challenge.
These specialist Merlins are fitted with Thales Sonar 2189, a Folding Light Acoustic System (FLASH), which includes an active sensor dipped into the water by winch to locate submarine targets.
FLASH-equipped Merlins and their highly-trained crews can operate over deep and shallow water, making them highly flexible and mobile platforms.
During this recent exercise, the deployed Merlins were described by the Royal Navy as "the world's number one submarine-hunting helicopter."
With the Royal Navy – and NATO – re-focusing their efforts in the North Atlantic in light of increased Russian activity, anti-submarine warfare in the Royal Navy – normally delivered by a combination of Merlin helicopters, Type 23 frigates and Trafalgar or Astute-class submarines beneath the waves – is undergoing a renaissance.
The Norwegians offered their naval base at Haakonsvern as home to the Merlin detachment, plus the frigate Roald Amundsen at sea, for the exercise.
Hiding in the North Sea and fjords around Bergen – where the water temperature is similar to that off the Cornish coast, but depth and salinity are completely different – were two diesel-powered submarines: Norway's Utsira and Germany's U-36.
The Merlins flew sorties to locate, track and attack the submarines, first in open waters, then in the more confined environment of the narrow, deep fjords of the Hordaland region.
To come here and operate against a foreign submarine in their own backyard is both a privilege and a challenge
said Sub Lieutenant Micky Hutton, a student observer – in charge of the submarine hunt by operating the hi-tech suite of sensors in the rear of the Merlin.
"We're extremely thankful to the Norwegian and German crews for the opportunity to further develop our skills."
You can read more about our helicopter capabilities here.
Original article & photos courtesy of RNAS Culdrose