Scottish apprentice goes into extra time with Night Shifts
Based out of Thales's Glasgow site, Samir's greatest achievement to date has been working nightshifts for Thales's Manufacturing Team as they produced PPE for NHS frontline workers.
The 25-year-old said: "I was delighted to put my skills to good use during lockdown as part of the nightshift team who were making PPE for NHS staff. It was a rewarding experience as we were delivering a vital service as efficiently as possible.
The former Bannerman High School pupil started his Engineering: Design and Manufacture Graduate Apprenticeship at Thales in 2017 and has established himself as a key member of the team.
Graduate Apprenticeships are jobs which provide work-based learning up to master's degree level. They are designed by employers and offered in key sectors that require highly skilled employees.
"My Graduate Apprenticeship has allowed me to develop both professionally and academically. It has opened doors for me to explore other avenues of engineering, such as management and design."
Samir's commitment and dedication has led to him becoming a finalist in the Graduate Apprentice Rising Star category at this year's Scottish Apprenticeship Awards. This category showcases the dedication and commitment of Graduate Apprentices who have chosen a work-based learning pathway to further their career and who make an active and significant contribution to their organisation's performance.
The Awards, delivered by Skills Development Scotland, will take place virtually on 4 March during Scottish Apprenticeship Week.
Having previously completed a Modern Apprenticeship at Govan-based Thales, he was aware that a Graduate Apprenticeship was the natural progression. 
"I didn't feel that I was ready to go to university when I left school, so a Modern Apprenticeship was the best option then. I progressed through my modern apprenticeship to become a technician, towards the end I knew I wanted to take my career further and the Graduate Apprenticeship was the perfect fit, which is the one I am on just now," he explains.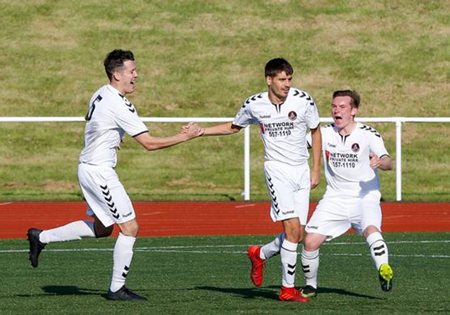 Samir, who also plays for Shettleston Football Club, explained: "Now that I'm older, I knew that a Graduate Apprenticeship was the perfect next step for me to gain a degree and progress my career after my Modern Apprenticeship."
The graduate scheme lasts four years, throughout which studying time is facilitated by Thales, and the rest of the time the individual is immersed within their team to apply what they are learning to real-life work scenarios.
"Not only has there been support from the Thales, but the support from colleagues has also been brilliant. There is vital knowledge that you cannot get out of textbooks that we are learning first hand. We can go to those who are specialised in these areas when we are struggling or don't quite understand something the way the lecturer has explained it, and these guys will explain it superbly, sometimes even showing an example of it, which makes the understanding a lot easier.
"This award nomination is also a direct reflection on the support and encouragement my Thales colleagues have given me which has allowed me to grow professionally." Samir adds.
Thales in Glasgow offers circa ten apprentices per year the opportunity to access one of these schemes, including modern and graduate apprenticeships. Glasgow is home to the company's armoured vehicle centre of excellence, and it is also where many of the electro-optical systems for the air, sea and land domains are developed. 
"I started working on naval periscopes and now I am working on armoured vehicles," Samir adds. "The fact that this equipment is going to make a difference in the field is inspirational. It makes you take care of what you're doing – you are not just making any old thing; you are making equipment that makes a difference."
"Finishing my graduate apprenticeship is only the start, and it will open the door to potentially becoming a design engineer or even management," Samir says.
"While I'm not 100% sure which avenue I will end up taking, I know this has certainly opened doors for me in my engineering career."
Find out more about our Early Career and Apprenticeship schemes