Together we are stronger. A British response to COVID-19
A message from Alex Cresswell, Chief Executive and Chairman, Thales UK
It is hard to think of anything good coming from COVID-19. At the time of writing, it has already cost the lives of more than 62,000 people in the UK and infected a further 1.75 million. Globally, the pandemic has now killed 1.56 million innocent people.
But now, as vaccines are beginning to appear and with many countries seeing a decline in reported cases, we have an opportunity to pause for a moment, draw breath and take the time to see what lessons can be learned.
For me, the big takeaway was the response of our nation: the individual sacrifices so often unseen - but never unappreciated – and, in the bigger picture, a solid sense of national unity. We stood together. We still stand together. And we are stronger for it.
This unity is not just from or between members of the public or the emergency services. We have also seen an astonishing response from British industry, with businesses and academia coming together in various consortia with a shared determination to fight this terrible pandemic.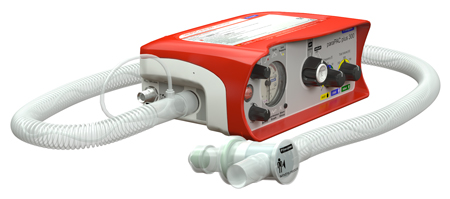 I am proud that Thales joined one of these: the Ventilator Challenge UK Consortium.
Thanks to the ceaseless efforts of its members, VCUK was able to produce 20,000 ventilators between 19 March to the end of November 2020, under painfully restrictive COVID-secure conditions.
Let's be clear. Ramping up production in these circumstances so quickly is extremely impressive. Doing it with two types of carefully regulated lifesaving medical equipment is off the chart.
Sharing skills. Transferring knowledge
Of course Thales doesn't manufacture medical equipment but we do know a lot about manufacturing and training. So our focus was to help other members of the consortium to maximise their efficiency and productivity.
Our Training and Simulation team worked with Smiths Medical to provide essential training for those who were building and operating ventilators. Under normal circumstances, this would be done in person. But in the light of the social distancing requirements, we adapted that training and delivered it through an eLearning platform.
Our Flight Avionics team was responsible for all of the Printed Circuit Board Assemblies needed for production, helping NEMCO to increase its manufacturing capability so that it could manufacture the required volume as quickly as possible.​
The crucial work of the Ventilator Challenge UK Consortium and other consortia has not gone unnoticed. In our case the Rt Hon Michael Gove MP, Chancellor of the Duchy of Lancaster, wrote to express the Government's gratitude, and the consortium has also been recognised by the Royal Academy of Engineering with a President's Special Award for Pandemic Service. 
There are signs that the pandemic is being brought under control. The second wave seems to be receding; three highly effective vaccines are coming on stream and more are anticipated in the near future. Perhaps the worst really is over.
What is certain is that, in 2020, we witnessed the very best of Thales – a selfless and absolute commitment to making a real difference under the most challenging of circumstances. That is beyond admirable. When this pandemic is eventually consigned to history, our team can look back with pride and reflect upon the part we played in the UK national response to this emergency.
Doubtless, there will be other challenges to face, other disasters which cannot be predicted, only mitigated. But, whatever the future holds, Thales stands ready to support our partners across industry and academia. Those people we all rely on to make the world go round - they can rely on Thales.