TX Ship: A new concept in autonomous naval vessels
Thales and Steller Systems have launched a new concept in warship design at DSEI, offering an evolutionary link from manned warships, through lean-manning, to a fully autonomous platform.
The Transition Ship (TX Ship) concept was developed by Thales in partnership with Naval Architects Stellar Systems to deliver mass and lethality for naval forces at an affordable financial and manpower cost, while distancing sailors from dangerous, dirty or simply dull tasking.
"This is a thought leadership concept design for navies to talk about and understand," said Matt Hunt, Mine Warfare Product Line Manager and lead for maritime autonomy for Thales in the UK.
There's a requirement from countries for a Large Unmanned Surface Vessel to give navies both mass and lethality that larger, more expensive but isolated platforms can't give you.
"However, it's not just a pretty-looking boat; it's got credible engineering and rigour behind it from our partners Stellar Systems who have a reputation as disruptive thought leaders."
The 70m trimaran platform would have a range up to 6000 miles, heavy-lift flight deck and extensive payload mission bay. It could be lean manned, with a crew of 15, or operate in autonomous or remotely controlled modes.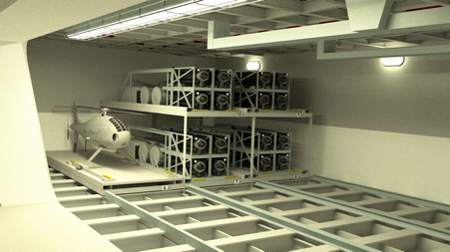 Modularisation and a capacity for ISO containers, including self-contained crew accommodation, puts the emphasis on versatility. TX Ship's trimaran hull gives it the stability to accept heavy lift helicopters, such as the Royal Navy's Merlin, on its flight deck and a large mission bay as well as port and starboard launch and recovery systems under each wing.
The mission bay could accommodate specialist equipment for tasks including:
Mine countermeasures operations
ASW picket ship or unmanned decoy
Role One casualty medical facility
ISTAR
Covert forces insertion/extraction
Emergency or transit Helicopter Landing Site
Amphibious support/littoral strike using land weapon systems such as MLRS from its deck 
TX Ship's versatility extends to its concept of operations, from close support to extended reach, operating independently or as part of a task group, its activity would be integrated through Thales's M-Cube and MAPLE mission control systems.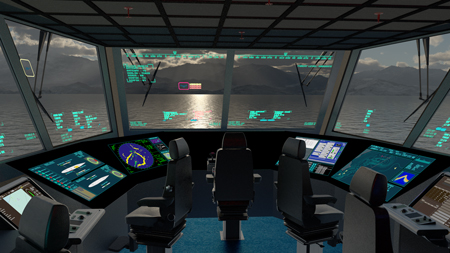 Payloads would also include unmanned vehicles so TX Ship could also act as a mothership in its own right, alongside manned ships in hybrid operations.
Autonomy brings engineering challenges. However, Thales is looking to collaborate with likeminded partners to provide solutions.
TX Ship's digital launch is the start of a journey; Thales aspires to put a prototype on the water at the earliest opportunity, so that they, and potential customers, can begin to learn and understand the many levels of complexity surrounding a concept of operations for such a revolutionary ship.
Images courtesy of Steller Systems
The ship, designed in collaboration with Steller Systems, will be able to operate as a lean-manned vessel with as few as 15 crew. Successful and continued operation of TX Ship will give forward-thinking navies a clear route to gain confidence in and to move towards fully crewless autonomous