The Roaring 20s - ATL2 as a testbed for SEARCHMASTER®'s AI functions
The Maritime Patrol Aircraft (MPA) has been flying over the Baltic Sea for a few hours and is now approaching the area of interest. Upon approach, environmental conditions become evident: scattered floes are starting to appear and, as the sea is a little agitated today, white caps and sprays are forming on the surface. The radar operator is focused on fine tuning the search, selecting the right smart radar functionality for the scenario he/she sees building on the screen. This will greatly enhance the search for potential targets among the deluge of data, however it does require to concentrate on multiple tasks. If there was a way to automate the radar's functionality selection, the operator thinks he/she would be even more efficient... 
Of Men and Technology
The breadth and range of missions that navies are called upon to carry out today is continuously increasing, and with it the number of systems designed to provide decision support. MPAs are no exception to this trend. 
In fact, the Marine nationale's modernised Atlantique 2 (ATL2 STD 6) – accepted in Full Operational Capability (FOC) in November 2022 – is the perfect example of MPAs' transformation into bona fide Swiss army knives. Today operating in harsh desert conditions, tomorrow flying over complex maritime environments, a wide range of operationally proven smart systems now assist ATL2 operators in small target detection in all circumstances and domains.
The SEARCHMASTER®, for example, provides ATL2 STD 6 crew with a wide range of new functionalities across land and sea. 
"Where previous ATL2 radar operators could track approximately ten or so targets simultaneously, today's SEARCHMASTER® can track up to 1,000 targets simultaneously," says Nicolas Léger, Radar Expert at Thales."
"Similarly, it can be rather challenging for a dedicated crew operating the SEARCHMASTER® over several hours to leverage the radar's full range of capabilities designed to help detect even the smallest targets in the most complex maritime environments," Léger adds. The amount of information provided would simply be too much to handle.
That is why Thales, together with the DGA (Direction Générale de l'Armement) and the French Navy, has been using the ATL2 STD 6 as a unique tool to test the integration of Artificial Intelligence (AI) in the next generation of SEARCHMASTER® radars.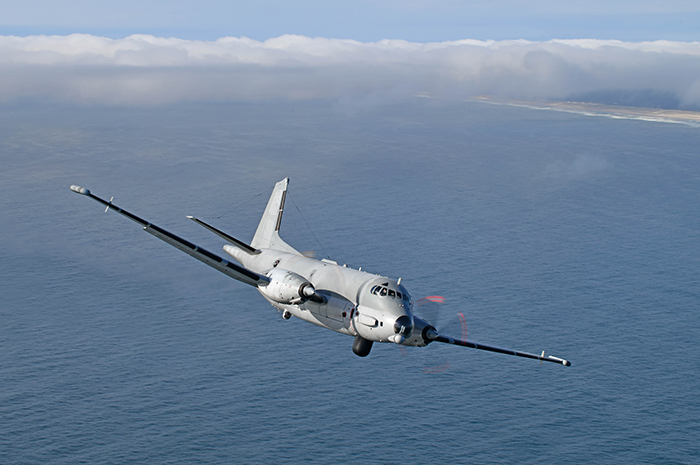 © Anthony Pecchi - Thales
Of Context and Calculcations
"Have I got this straight, Jonesy? A $40 million computer tells you you're chasing an earthquake, but you don't believe it, and you come up with this on your own? Including all the navigation maps?" 
This famous quote from the movie "The Hunt for Red October" illustrates perfectly what man-machine teaming should look like. Including when using a smart radar onboard an MPA. 
For Thales, the introduction of AI in radars such as the SEARCHMASTER® is not about replacing human intelligence. AI's inability to contextualise information renders it incapable of judgement. Its key benefit is its ability to gather, process and analyse large quantities of data in very short timeframes to present radar operators with a much clearer picture. Like Jonesy in the movie, an ATL2 operator would then be free to focus on contextualising the information before deciding whether to act on it or not. 
The introduction of AI in the SEARCHMASTER® can also assist radar operators by auto-adapting and interleaving radar detection, tracking and identification functions according to each operational environment and tactical scenario.
"Through such function, AI ensures that SEARCHMASTER®'s functionalities are used across the board and to their full potential, thus considerably enhancing detection and, consequently, mission success," Léger says. 
Of Collaboration and Development
"AI is an automatization of the cognitive process", Léger points out. To enable smart operations, the AI within the radar must be trained with a constant flow of data representing multiple scenarios – threats, environments, obstacles, etc. "This is what Thales is doing with the Marine nationale: all the information collected by the SEARCHMASTER® during trials with the ATL2 is used to continue improving our algorithms, so that the radar remains up-to-date with threats and challenges," says Léger.
Collaborating closely with its French client, Thales is also making sure that AI is not being used for the sake of digital innovation alone. Each new use-case is being tested in the context of real customer requirements, so that the final solution will truly act as a game changer for end-users. As such, while currently the Marine nationale has identified maritime operations as the key priority for integrating AI, Thales and its client are also envisaging AI integration for land operations. 
"Thanks to our tests with the SEARCHMASTER® onboard the ATL2, and our constant collaboration with our client, we have developed a method of design thinking that gives us confidence in the added value of AI for MPA operations," Léger concludes.